DC "Infexious" Coleman has won the final European player slot for Capcom Cup 2020, putting together an absolutely incredible performance at the Capcom Pro Tour Europe West 2 online qualifier.
Infexious showed why he was considered one of the heavy favorites during the competition, by defeating Europe's top Street Fighter V: Champion Edition contenders, losing only two games throughout his tournament run.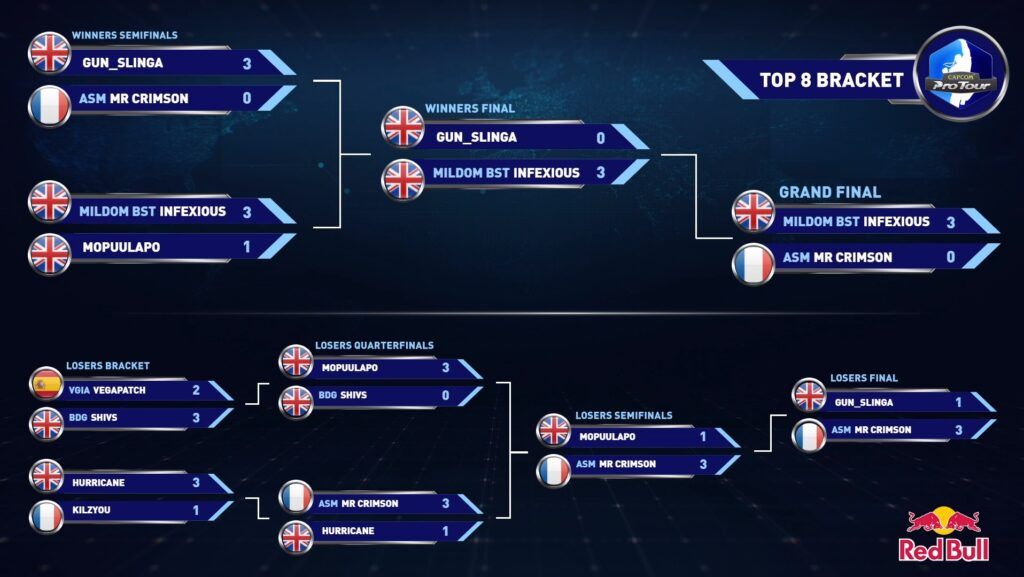 Infexious capped off a near perfect tournament run by sweeping his grand final opponent, Nathan "Mister Crimson" Massol, without losing a single round.
During the grand final match, Mister Crimson decided to use G, instead of his main character, Dhalsim. This provided him more attack options because of G's command grab.
But Infexious was well prepared for the character switch, proven by how he jumped each time Mister Crimson attempted a command grab.
Mister Crimson gained some momentum in the match after he finally landed a command grab that started a corner carry combo, trapping Infexious in place. And Mister Crimson was just one hit away from winning his first round, when Infexious made the right call by using a wakeup ex-DP that ultimately won him his third straight round.
After a back-and-forth round, Mister Crimson mistimed his anti-air, giving Infexious the opening he needed to go up 2-0.
---
---
During the final game, Infexious continued to counter Mister Crimson's forward pressure and command grab attempts to get to match point. Infexious then landed a perfectly executed max damage combo after stunning Mister Crimson, which led to him winning the tournament.
Infexious was later asked by the event's commentators about his thoughts on the Capcom Cup only having two Japanese players because of the CPT online qualifier format.
The European West 2 winner responded that the competition will have players who played particularly well for their respective qualifying days to get into Capcom Cup 2020.
At the end of the interview, Infexious was asked who he considered the top five characters in SFV: CE meta at present. Instead, he named his top four — Seth, Akuma, Rashid, and Poison — and added that Urien was a character that could make the list in the future.
With his CPT Europe West 2 tournament win, Infexious is the final European player to enter Capcom Cup 2020. There are only five online qualifier slots left, set to be filled by Latin America, Asia, China, Oceania, and North America.
READ MORE: Xian is going to Capcom Cup for a seventh-straight year