Japanese food conglomerate Glico Corp has partnered with Capcom's Street Fighter V in their second Pocky K.O. Challenge campaign. They aim to uplift spirits during these trying times and bring SFV fans around the world together. The campaign period spans from December 15, 2020 to January 5, 2021.
Previously, the Pocky K.O. Challenge debuted at Capcom Cup 2019 and captivated the competitive gaming industry with its unique mechanics. It was presented via a special exhibition match, where limited-edition Street Fighter V x Pocky packaging was made available exclusively in the USA to commemorate the partnership.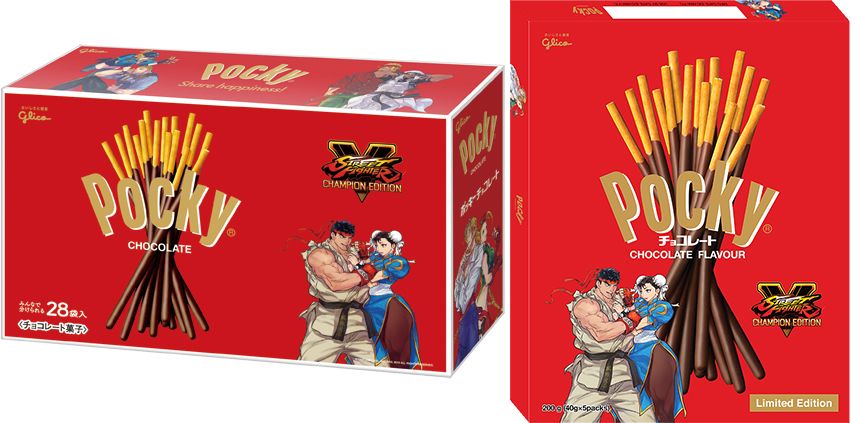 This year, however, Glico has kicked it up a notch by opening the challenge to six countries: USA, Japan, the Philippines, Singapore, Indonesia, and Vietnam. The challenge mechanics have also been updated. Participating gamers must publicly upload videos or screencaps of their Pocky K.O. on Twitter or Instagram with the hashtag, #PockyKOChallenge to be considered for the Pocky K.O. Grand Championship.
---
---
For those wondering what a "Pocky K.O." is, the official page defines it as an occurrence "when a player wins a Street Fighter V match, while the player has a health gauge similar to a Pocky stick." In a creative twist, players may attain what is known as a "Pocky Chance" when the ratio of their health bar-to-damage received is visually proportionate to the chocolate-to-stick ratio of a Pocky stick. 
Quite notably, achieving a Pocky Chance isn't as easy as it sounds. But fret not, for the official page has a Pocky K.O. Checker which will aid interested participants in their quest to attain the truest Pocky ratio.
Following the campaign period, four lucky participants will be selected and granted the right to play against last year's Capcom Cup Pocky K.O. champion, Rob "RobTV" Burney. They will also receive limited-edition collaborative goods, while the overall winner of the live Pocky K.O. Challenge will take home a special prize.
Audiences worldwide will be able to tune in on the action using a specially designed user interface exclusive to the event through the official Glico Twitch channel on January 25, 2021. Interested participants can visit the official page for more information.
Similar to the previous year as well, limited-edition Street Fighter V x Pocky packages will be made available in each of the participating countries through online shopping sites such as Amazon and Lazada.
READ MORE: Daigo's resurgent 2020 continues with a win at Blink All Star Japan