Xorn is one of the best, most talented players in MPL Malaysia. He has put in a lot of work in the Mobile Legends: Bang Bang pro scene for a while now, and is acknowledged for his brilliance.
He especially enjoys using stickers and recalling in-game, a tradition he established long before he became a hit in the competitive scene.
As a pro player, Xorn has the ability to play all roles with a very large hero pool, and is one of the only players to play in five different roles in the competitive scene.
This flexibility is a distinct advantage for him, as seen in the second week of MPL MY Season 7 when Geek Fam swept Red Esports and RSG MY 2-0.
Xorn surprised by starting as Geek Fam's jungler in the first game against Red. Interestingly, he chose to play Fanny, a high mobility hero who heavily depends on blue buff.
---
---
On Fanny, he carried the team, and even picked up the MVP with 3/0/8 perfect KDA. He proved that with the right composition, Fanny can be viable in the competitive scene.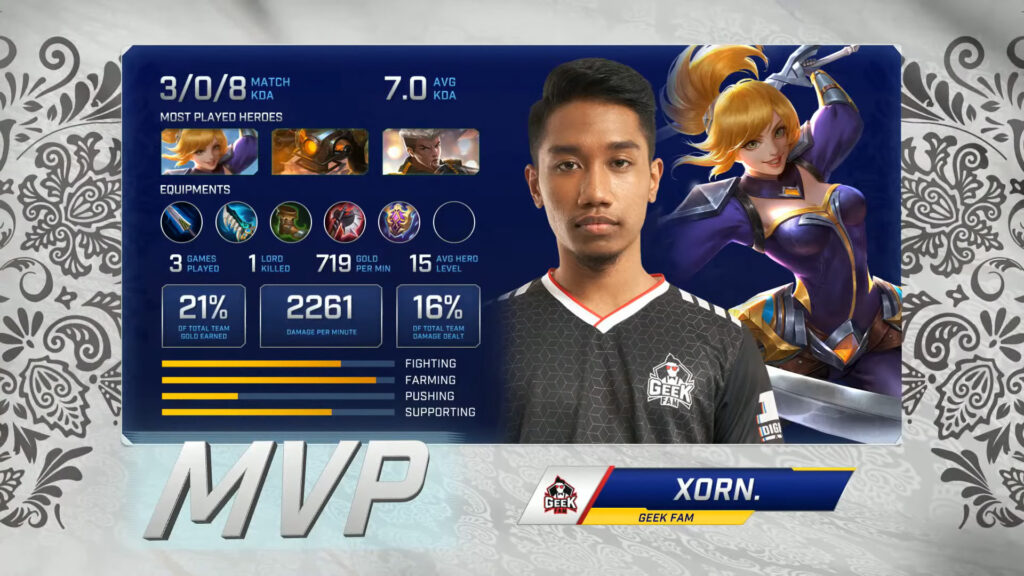 Another unusual thing that Xorn showed in MPL MY was the use of tank Jawhead against RSG — with the Assassin Emblem, Killing Spree.
With this set up, he played hyper aggressively, and picked for kills. Even though he went full tank, he still did a good amount of damage in the early game, and even stole the opponent's red buff in the process!
Besides introducing Fanny back into the meta, and running an unusual Jawhead build, there were also highlights from his signature Chou.
Now that Geek Fam have picked themselves up in Week 2, can Xorn and the rest of the squad take it all the way till the end of the season?
READ MORE: MPL 2021 Spring match results and standings as of March 22