Mobile Legends: Bang Bang has some of the best hero skins out there.
And while the mobile game features lots of folklore, fantasy, and mystical elements, one of our favorite themes has always been seeing our heroes reimagined as robots, cyborgs, and other sci-fi creations.
Here are the five best robot skins of Mobile Legends: Bang Bang.
---
5. Johnson Jeepney Racer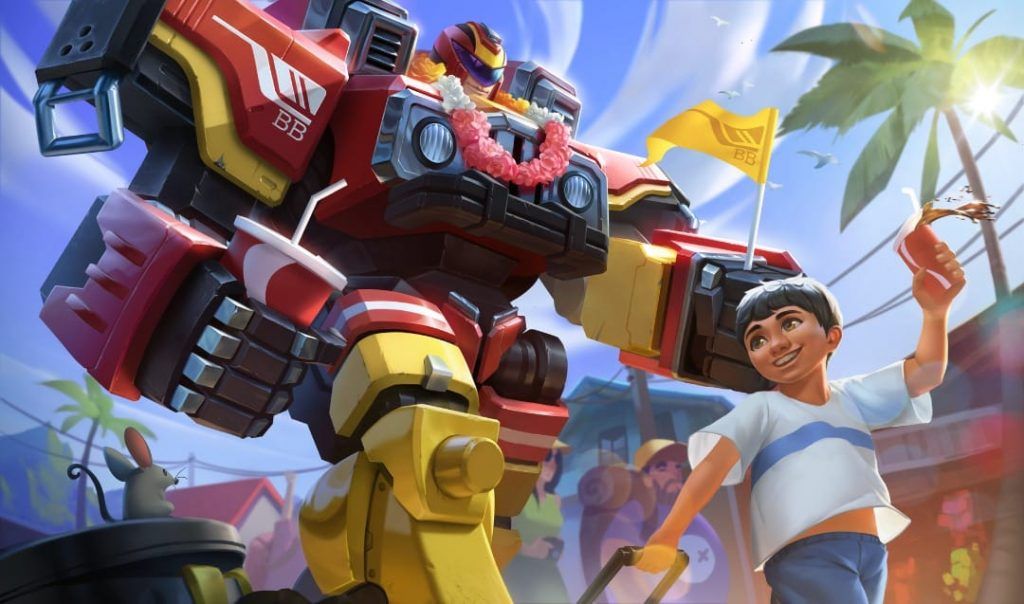 Johnson may already look like a robot-in-disguise, but his Jeepney Racer skin is a definite upgrade from his default appearance.
With his original skin being one of an all-American Mustang, the auto-bot gets a slice of Filipino culture in the Jeepney Racer skin. Johnson now rocks a red and yellow paint job that mimics the likes of Jollibee.
On top of that, Johnson turns into an actual Jeepney during Rapid Touchdown and even has the Philippines flag on its sides. If you're looking to show your #PinoyPride in the game, this is undoubtedly the best way to do it.
---
4. Gatotkaca Sentinel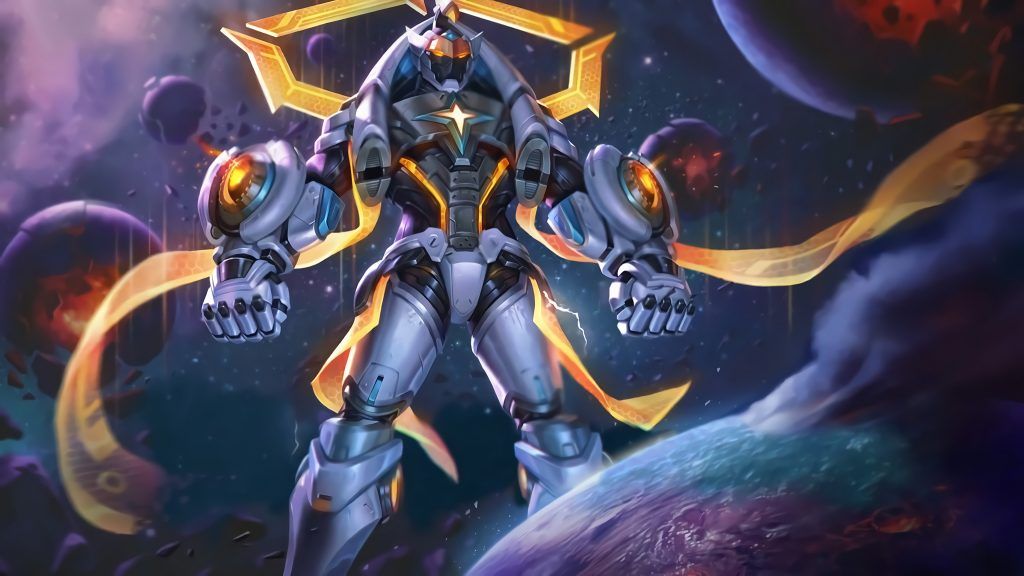 Rumor has it that Gatotkaca has "muscles of iron, bones of steel", but with this Sentinel skin, it turns such statements into a definite reality.
The Mighty Legend brings his power and might to the uncharted galaxies, donning an ivory-white mecha frame with some golden accessories. Despite being more of a technological giant, the new aesthetic still fits Gatotkaca's presence of an unbeatable demi-god.
As for his skill changes, his Blast Iron First now creates three glowing electric craters rather than his usual fist marks while his ultimate, Avatar of Guardian, launches himself into a gigantic glowing target, decimating his greatest foes.
---
---
3. Nana Mecha Baby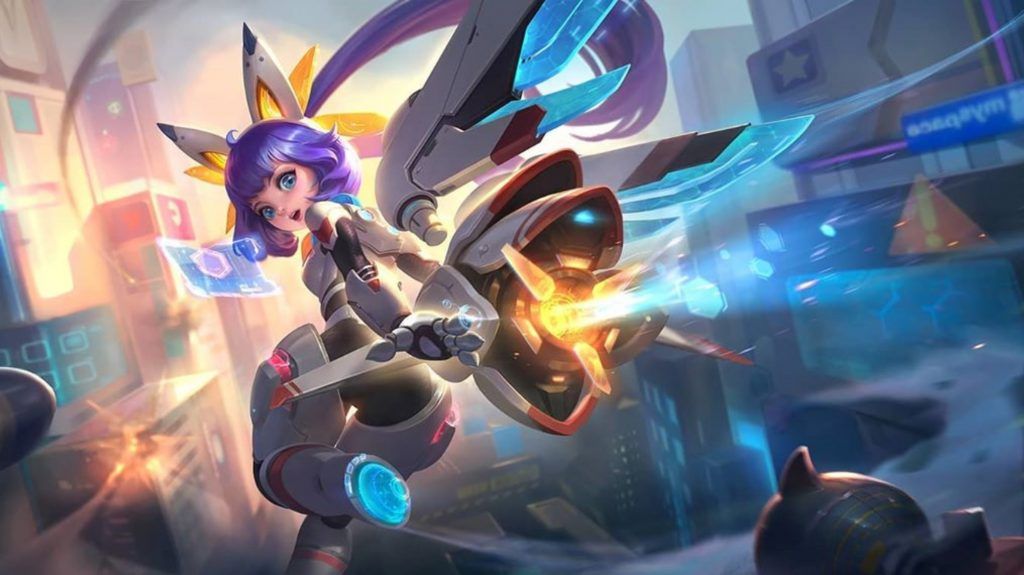 Despite the notion of robots being hardwired to be tough and gritty, Nana's Mecha Baby skin proves that even robots can be adorable.
With the Mecha baby skin, Nana ditches her animal-like demeanors for a classy android look, inclusive of robot wings, a nifty jet-pack, and glow-up cat ears.
The epic skin also modifies all of her skills, giving her a new metal Magic Boomerang and three grid-like explosions for her ultimate, Molina Blitz. If you still enjoy the fluffiness of her companion Molina, the bunny-like creature will still appear hopping into your enemies and hexing them during her second skill, Molina Smooch.
Like it or not, Nana Mecha Baby is a fresh and modern look that easily makes you forget that she's an actual feline wizard.
---
2. Saber Codename: Storm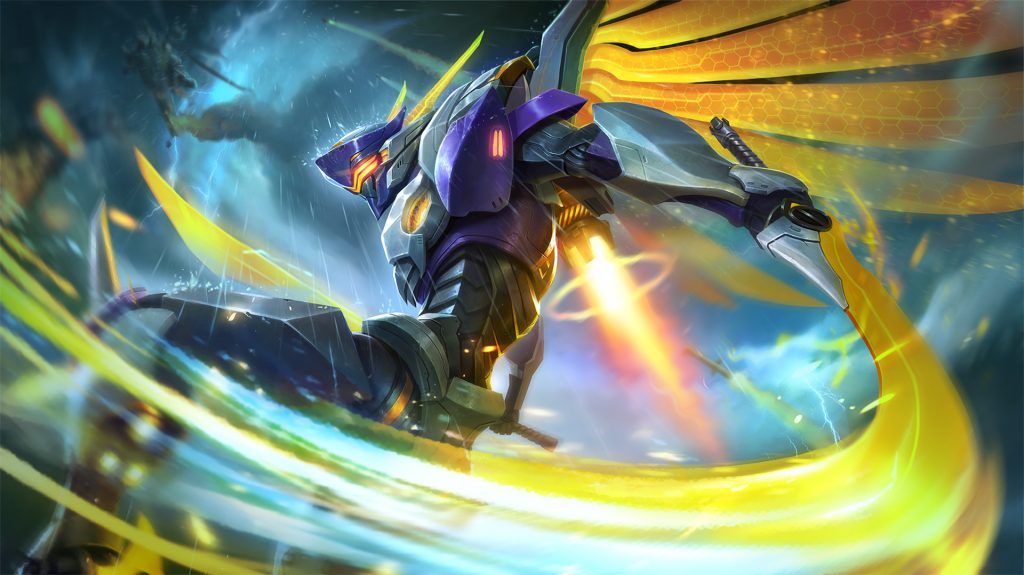 Saber may already be a spacetime swordmaster that can slash through dimensions, but his Storm skin adds another layer of cool by turning him into a bird-like mecha.
Just from the name and look of it, Storm Saber shows a lot of influence from other mech stories like Neon Genesis Evangelion and Pacific Rim. With a brand new set of wings and neon-yellow twin swords, the skin completes its robot guise with a full helmet on Saber's head and a decent paint job of steel silver and purple.
In the game, the Storm skin is a sight to behold. Enemies will fear your every move as you swing your swords, leaving golden light trails in every direction. With his bird motif, Saber's Triple Sweep will now launch his opponents in the air with his talons and drop them with a massive sword slash.
If you're still not convinced of how epic this mecha skin is, Saber also turns into a jet when recalling, giving you a flashy exit from every duel.
---
1. Grock Codename: Rhino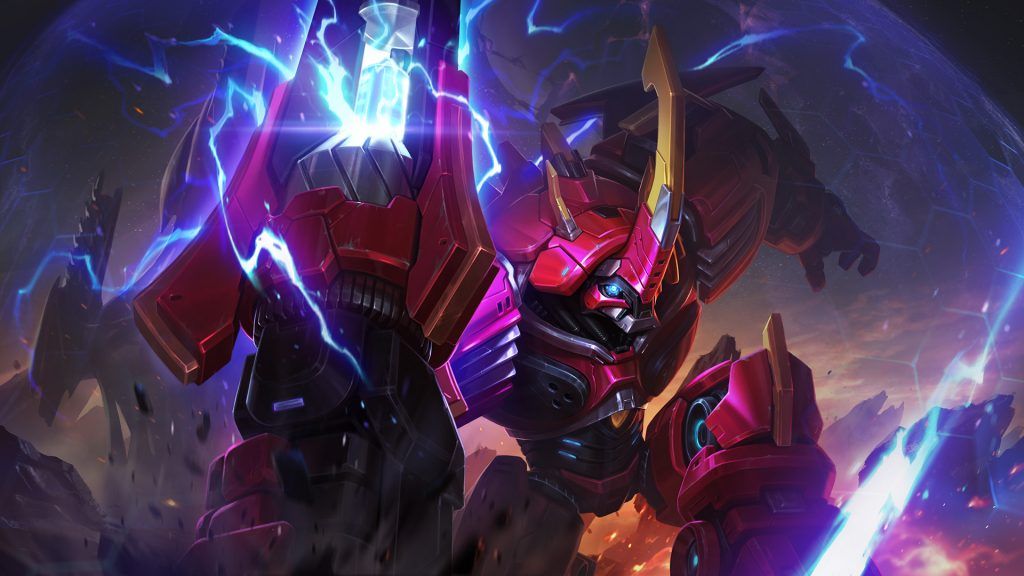 Grock's Codename: Rhino Skin takes the top spot on our list because of its incredible reinterpretation of the character. Instead of being the nature-loving Fortress Titan he usually is, MLBB's designers have turned the identity of Grock upside down into a cherry-red mecha-marvel that also happens to be a rhino.
Trading his rocky exterior in for some heavy metal plating and an electric Javelin, the Rhino skin gives Grock the ultimate robot look. Grock now spins with a sense of electricity in Force of Nature while his Guardian's Barrier now unleashes a blue force field. As for his ultimate Wild Charge, your enemies can get ready for a fast mecha-rhino heading their way, complete with forward-arrow light trails.
If you're a diehard Grock player who wants him to pop out of the lush scenery of the Land of Dawn, this is the perfect skin to complement your tanky gameplay.
READ MORE: The 5 best cyberpunk skins in Mobile Legends: Bang Bang