This article is part of "Code COVID" a series on how the gaming and esports industry is responding to the COVID-19 coronavirus pandemic.
The COVID-19 coronavirus outbreak resulted in the second half of MPL MY/SG Season 5 regular season and playoffs moving fully online, which gave viewers a peek into the private homes of professional esports Mobile Legends: Bang Bang athletes and casters.
Resurgence marksman Lim "ly4ly4ly4" Yang stood out in more ways than one. Giving online audiences a wide view of his bedroom, he became a fan favorite after he was seen competing under his duvet throughout the playoffs.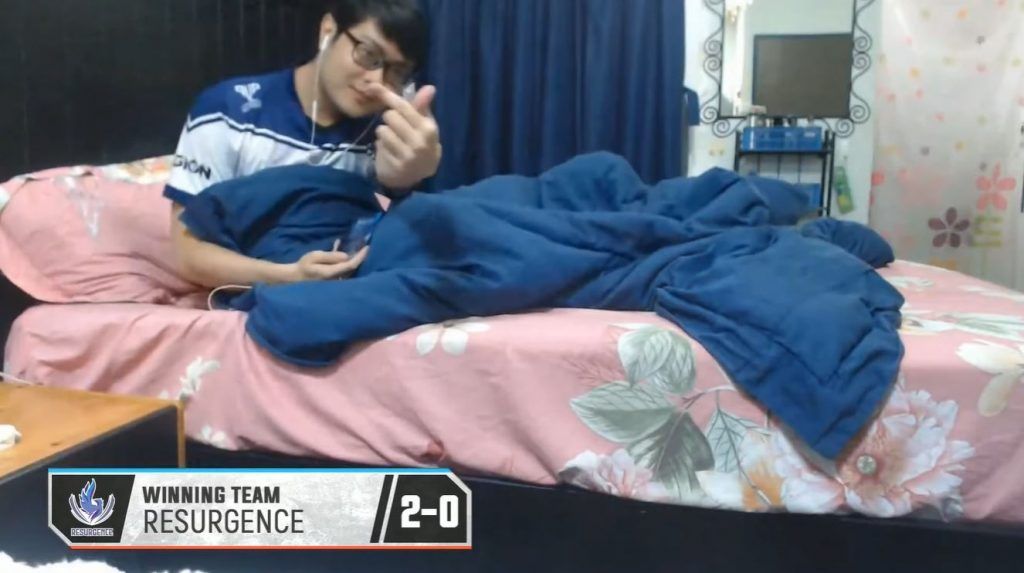 According to ly4ly4ly4, feeling relaxed on the bed helped him "to make better decisions". For his commendable carry performance in Resurgence's 3-1 victory over Geek Fam in the final, he was awarded the MPL MY/SG playoffs MVP.
MPL MY/SG's resident casters also had to work remotely from their homes. While none of them were seen commentating from their bed, live stream viewers did get a firsthand look of their bedrooms.
Equipped with a good webcam and microphone, color caster Gideon "GideonQ" Khew was thankful he already had a proper stream setup in his room. That said, casting from home created a new set of challenges.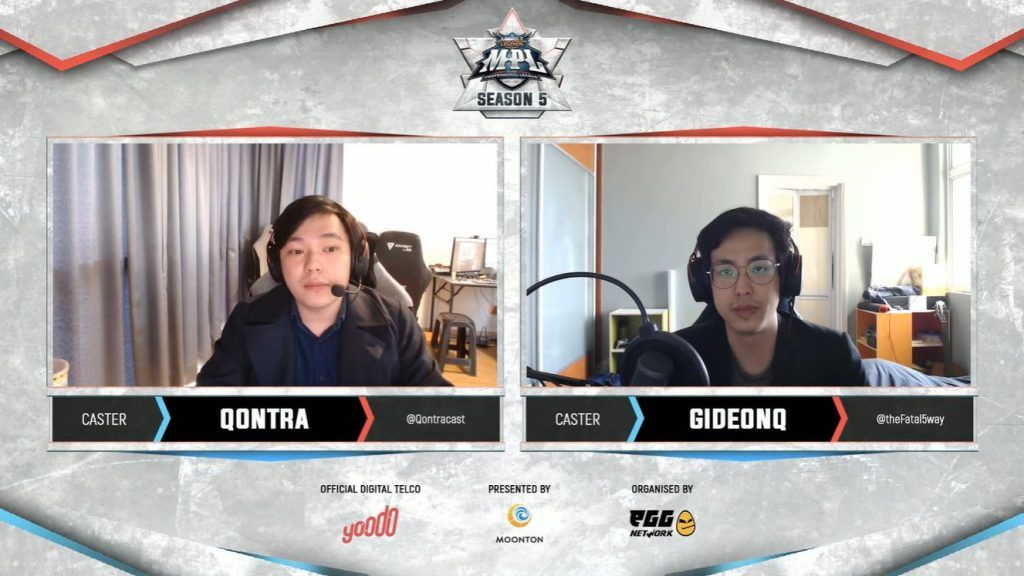 "Remote production is a little awkward. There are a lot more things that could go wrong and way more work for the producers involved. I truly enjoy having the director nearby, for there is a sense of security that the show will go smoothly," Gideon told ONE Esports.
He admits though, that the biggest challenge throughout the weeks of casting from home was keeping his room tidy. Living under the same roof with his family, Gideon was also worried that his brother and sister-in-law would get the wrong idea when they hear shouting coming from his room.
---
---
If it were not for the COVID-19 coronavirus outbreak, his usual work routine would involve traveling to eGG Network's studio located within the Malaysian state of Selangor.
Due to the Movement Control Order (MCO) issued by the Malaysian authorities on Match 18, Moonton decided to put a halt on MPL-MY/SG Season 5. Prioritizing the health and safety of all players and crew, they adhered to the MCO guidelines as the entire country went into lock down.
Mass gatherings and events were not allowed, and all government and private premises except essential services were ordered to close, so studio operations had to be done remotely.
During the one month hiatus, there was a lot of planning and behind-the-scenes work as Moonton had to revise the tournament schedule to accommodate all parties.
Together with eGG Network, they "devised a format that allowed players, teams, marshals and video surveillance to operate remotely" while being "committed to bringing fans all the exciting MPL action they expect, all the way until the end of the season," Moonton told ONE Esports.
From the looks of MPL MY/SG live streams, production throughout the remaining regular season and the playoffs went smoothly despite being run remotely.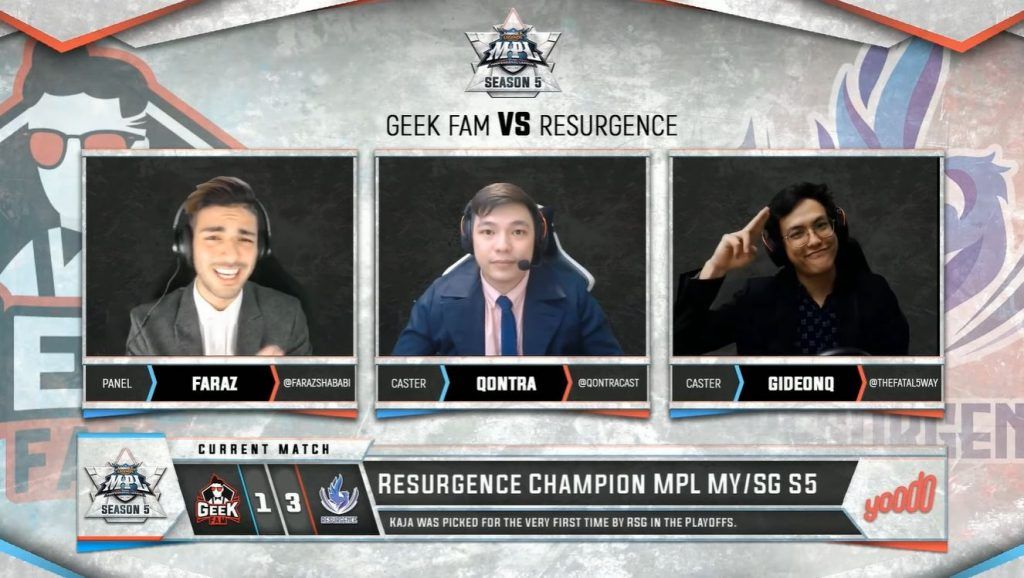 The only minor difficulty was a human-related one, where casters sometimes spoke over each other. Casting remotely means not being able to read the other's body language, so without physical cues, it's not as easy for casters to bounce off each other and keep the pace.
"Yes we can cast remotely, but being there in person helps make that connection easier and narrows our focus on the cast at hand. Being able to meet up with the other casters outside of the cast to get on the same page also helps," said Gideon.
Self-isolation may have kept people apart, but Moonton believes the advantage of esports is that it is capable of thriving in a fully online ecosystem.
For viewers who watched from home, the MPL MY/SG S5 broadcast added a personal touch by giving us glimpses into the homes of players and casters alike. At the same time, the league maintained standards of professionalism as players wore team jerseys while casters commented in blazers.
As for Gideon's choice of bottoms beyond what the camera was capable of capturing, "I can neither confirm or deny this statement, but I can say that I enjoyed the extra leg room a lot more than I should."
---
For MPL MY/SG fans, Resurgence Ho "SyиC" Ee Hong has a special message to share.
READ MORE: Join the ONE Esports MLBB Weekly Community Tournament