Get your wallets ready! There are now more reasons to buy the Starlight membership every month.
Moonton has announced that it is revamping its Starlight membership in Mobile Legends: Bang Bang, tweaking it to include more rewards, new membership perks, and a brand new Starlight shop.
The change aims to reward players who constantly renew their membership every month. Some new rewards include an exclusive Starlight trail effect, the first non-M-series trail effect in the game.
---
---
All the changes in the new Starlight membership system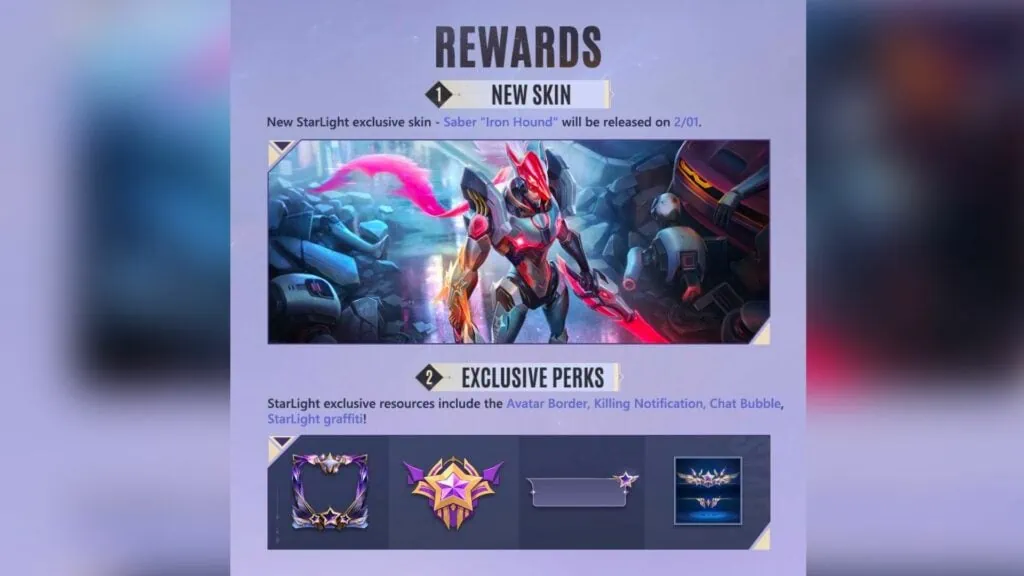 Iron Hound Saber is the Starlight skin for February, the assassin hero's eighth skin in the game, and his second Starlight skin after Force Warrior. The skin is a reimagining of his default skin, but with improved skill effects and character model.
As for the perks, those who purchase Starlight membership starting on February 1 will receive an upgraded avatar, border, achievement badge, chat bubble, and in-game killing notification.
First-time buyers will also receive a first-purchase bundle worth 1700 diamonds, which includes a hero and Special skin collection chest, Starlight fragments, and 300 Starlight points.
To reward loyal subscribers, players who purchased an earlier Starlight membership will receive a separate permanent Starlight avatar border for free.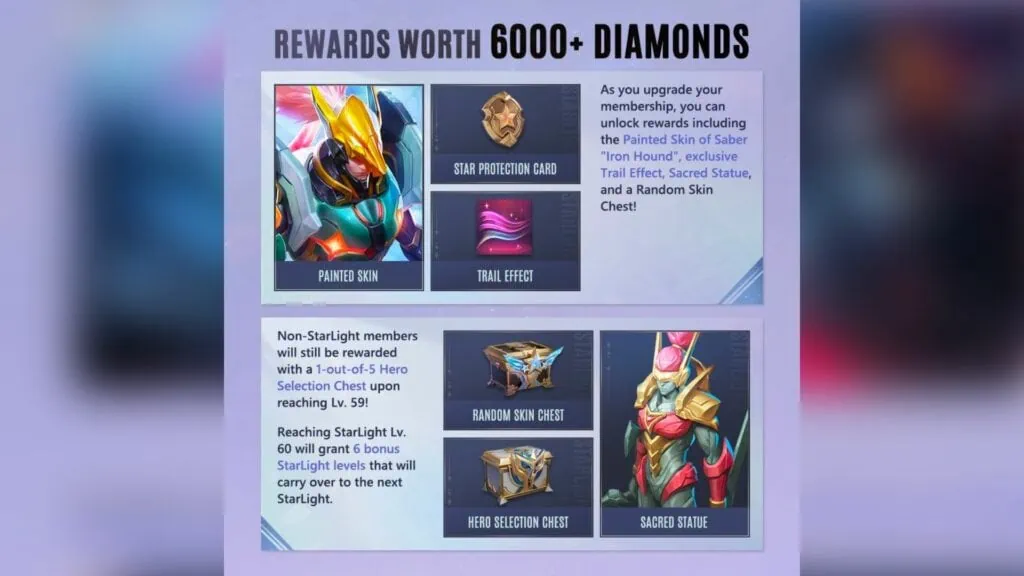 Lastly, the Starlight shop will also be overhauled, with a chance to now purchase the limited edition 2021 Starlight skin Water Lily Kagura. Past Starlight skins will also be available through Starlight chests.
However, there's still no news on whether the new Starlight membership will cost more.
Currently, the standard Starlight member price costs 550 diamonds, which guarantees the exclusive and painted skin for the month. Starlight member plus, which directly upgrades your pass to level 30, costs 1,100 diamonds.
Follow ONE Esports on Facebook for more MLBB news, updates, guides, and more.
READ MORE: Celebrate the Year of the Rabbit with the New Moon Chang'e skin, this year's Lunar Fest skin