The analyst of Nexplay EVOS has spoken.
Neil "Midnight" De Guzman formerly apologized to the Mobile Legends: Bang Bang community for Nexplay EVOS' questionable 2-1 victory against Smart Omega in Week 7 of the Mobile Legends: Bang Bang Professional League Philippines Season 8 (MPL PH Season 8).
What happened during the Week 7 match between Nexplay EVOS and Smart Omega?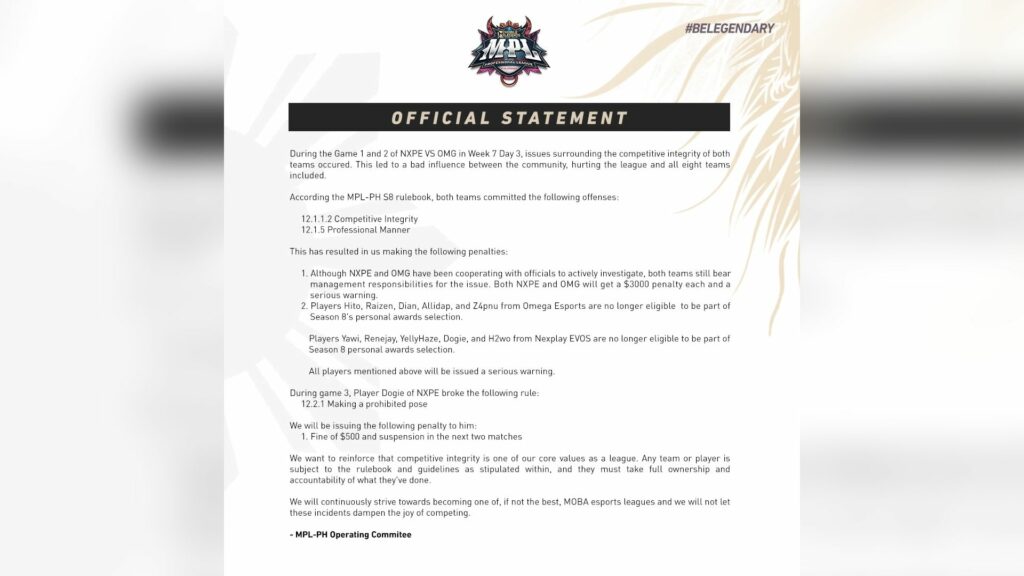 The MPL PH Operating Committee penalized Nexplay EVOS and Smart Omega after both teams were found guilty of breaching tournament rules and regulations.
Both teams will also need to pay a fine of US$3000. Some players from both sides have also forfeited their eligibility in MPL PH Season 8's personal awards selection.
---
---
Nexplay EVOS' Midnight on what really happened during the final series of MPL PH Season 8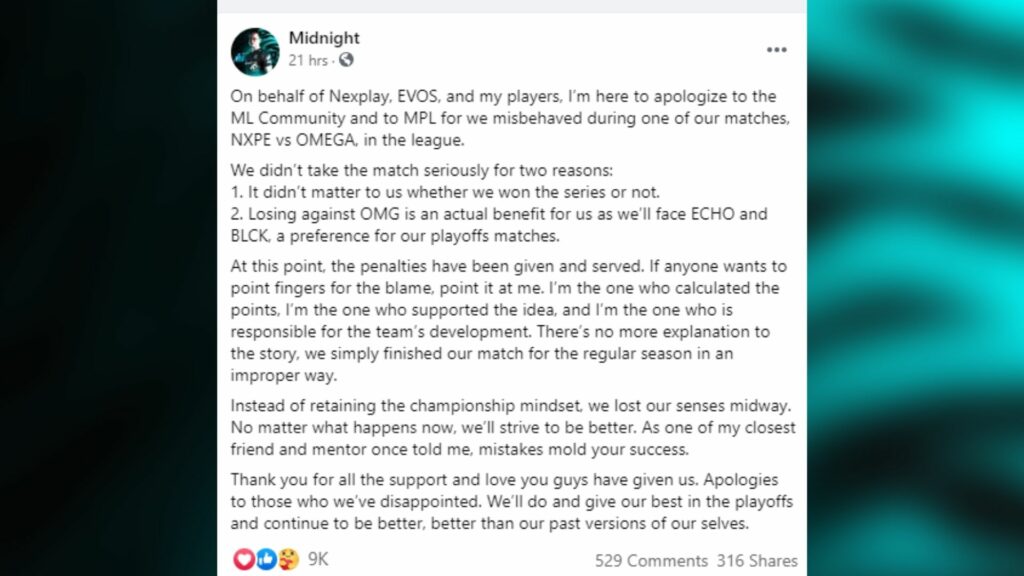 In a Facebook post, analyst Midnight said that the team didn't take the match seriously for they believed losing against Smart Omega will benefit them because they're more comfortable facing ECHO than Blacklist International in the playoffs.
He also took most of the blame, stating he was the one who crunched the numbers and supported the idea.
"No matter what happens now, we'll strive to be better. As one of my closest friends and mentors once told me, mistakes mold your success," analyst Midnight wrote.
Furthermore, he thanked everyone for the continuous support and promised to do better in the playoffs happening on October 21.
"Apologies to those who we've disappointed. We'll do and give our best in the playoffs and continue to be better, better than our past versions of our selves," he wrote.
READ MORE: Every team qualified for MPL PH Season 8 playoffs