Japanese representative 10S Gaming Frost opened the third day of the M2 World Championship with a bang after reverse sweeping fan-favorite RSG 2-1, becoming the first non-MPL team to advance to the playoffs from the lower bracket.
It was a thrilling best-of-three series as 10S Gaming Frost looked to bounce back in Group C after losing their matches to veteran teams Alter Ego and Bren Esports.
The first game was a blowout in favor of RSG, as 10S Gaming Frost weren't able to notch a single kill the whole match. The game ended with a 10-0 kill score thanks to the early game aggression from Kayzeepi's Hilda and Jason's Yi-Sun Shin.
The Japanese team quickly changed the narrative in the second game. They drafted comfort picks Popol and Kupa, Silvanna, Lapu-Lapu, and Kagura. RSG tried to experiment with their picks after locking in Hanzo for Jason, Alice for ly4ly4ly4, and Grock for Kayzeepi.
Unfortunately, the combined crowd control of 10S Gaming Frost stopped RSG from getting good looks in the early to mid game. The game ended at the 15-minute mark after RSG wasn't able to defend their base from the onslaught of the Japanese squad.
---
---
The decider played out the same way in favor of 10S Gaming Frost, who opted for a very similar lineup with Silvanna and Popol and Kupa. On the side of RSG, Jason and the team went back to their main roles — mage supper player Jason on Pharsa, marksman ly4ly4ly4 on Claude, and fighter Sana on Lapu-Lapu.
The momentum and confidence from 10S Gaming Frost however, overpowered RSG, who weren't able to find their groove. The combined crowd control of Koro's Kagura, Sevnea's Popol and Kupa, and Obuyan's Silvanna effectively disrupted their opponent's engages.
Eventually, 10S Gaming Frost marched into the base of RSG and destroyed it in the 16-minute mark, reverse sweeping the series 2-1.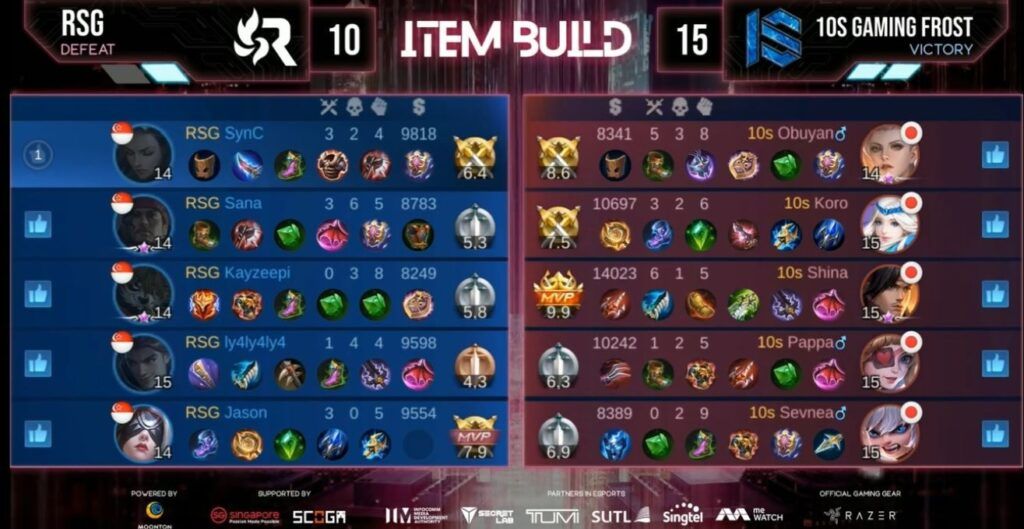 The win made them the first non-MPL team to win a series against an MPL-caliber team at the M2 World Championship. They will next face Alter Ego Esports in the lower bracket on January 24, Thursday, at 11 a.m.
READ MORE: A closer look at the unique way Japan's 10S Gaming Frost uses Popol and Kupa