On day two of the group stage, RRQ Hoshi and EVOS SG both swept DreamMax.
In the last game of the night, these two giants had to face each other head on in a Singapore versus Indonesia clash to determine who heads to the upper bracket.
EVOS Legends coach Bjorn "Zeys" Ong was seen on stage during picks and bans. He had flown back to his home country to help out EVOS SG in what could be their final international Mobile Legends tournament.
In game one, both teams traded power, conforming to the current meta — until RRQ Hoshi surprised by last picking Belerick on blue side, marking his first appearance here at the M2 World Championship. A hero that was absent in pro play in 2020, his passive and first skill was recently buffed on patch 1.5.38.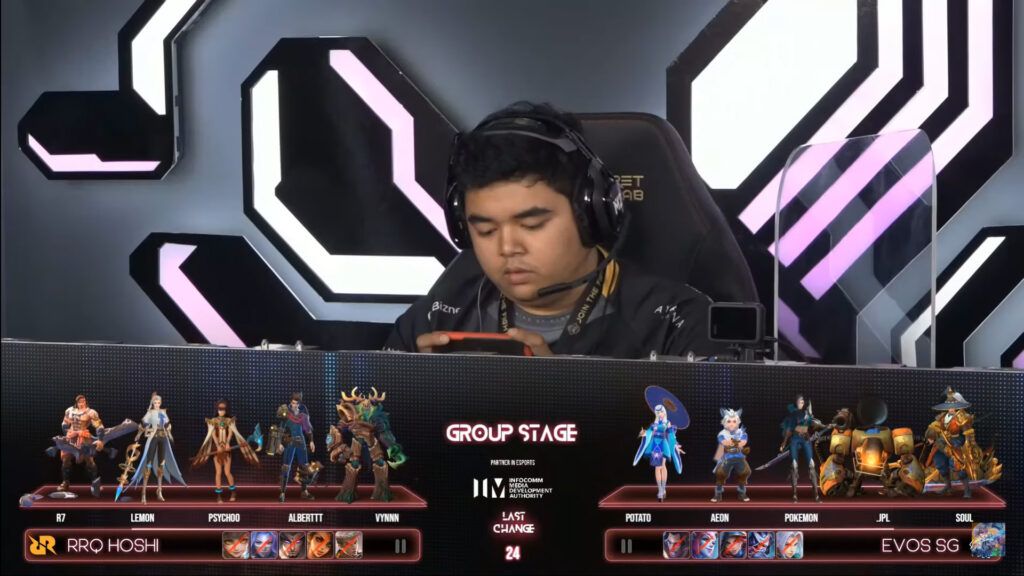 Consistently on the backfoot, RRQ Hoshi was down by 2,000 gold throughout the game. They lost early towers, which opened up the map for EVOS. 14 minutes in, EVOS SG had 14 kills to RRQ's 12, and were looking to close the game.
---
---
Keep your eyes on Lemons' Belerick on the minimap. He first pushed the minion wave in the top lane all the way to EVOS SG's base turret. As the rest of his team hovered in mid lane, keeping all five EVOS SG members occupied, he walked through their jungle and completely surprised them from the back!
The moment he appeared, EVOS SG's Aeon, JPL and Pokemon became sandwiched between Lemon, Alberttt, and R7. Recognizing the situation they were in, these three EVOS SG members tried to retreat to their mid lane tower, but a clutch Wrath Of Dryad ultimate by Lemon's Belerick immobilized two of them.
Stuck between a rock and a hard place, Pokemon was instantly taken out by RRQ, while JPL's Jawhead escaped with a sliver of health. Lemon's strategic decision was crucial at this point in the game because RRQ had already pushed the minion wave at top and mid which EVOS SG had to respond to. As a result, they were in prime position to secure Lord.
EVOS SG tried to challenge them at the pit 4v5, but lost out even more. With Lord, for the first time in the game, RRQ took the gold lead, the game, and eventually the series.
READ MORE: Watch Bren Esports' KarlTzy claim the first Savage of M2