Harley mains, be prepared to enter a dreamlike trance once you get a hold of the new Mobile Legends: Bang Bang Collector skin.
Dream Caster Harley, the Mage Genius' new skin, will be coming to the Land of Dawn soon.
Preview of the new Collector skin Dream Caster Harley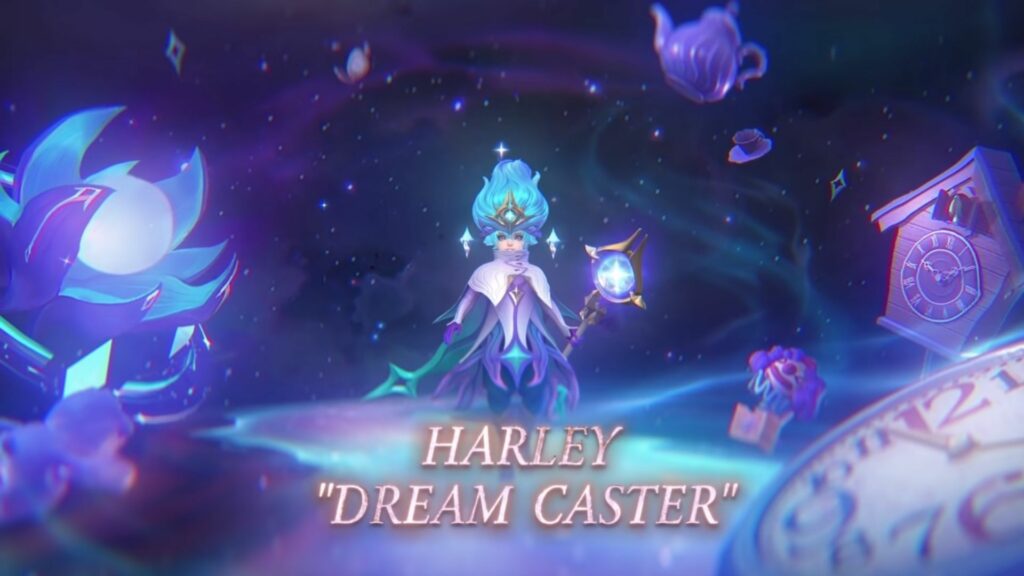 The skin was teased on Mobile Legends: Bang Bang's YouTube page, with turns Harley into a divine being that wields the power to manipulate time and space.
In this skin, Harley now wears a robe that's made with the best materials known to mankind. He also dons a small crown, a magical staff, and an unusually large hairdo that looks like it's illuminating the entire universe.
With its mesmerizing design and unique character model, Dream Caster Harley is a skin worth buying if you have the diamonds to spare.
---
---
Dream Caster Harley's new skill effects
Classified as a Collector skin, Dream Caster Harley includes a complete redesign of his skills to match the dreamlike aesthetic of the skin.
First off, he now shoots three purple energies instead of cards with Poker Trick. Whenever he teleports to another location with Space Escape, he leaves a magical void behind that looks like a smaller version of the Mobile Legends Base.
Lastly, a Shadowy purple clock is projected below an enemy whenever Deadly Magic is used. Truly, this skin makes you feel like you're the master of the universe.
Dream Caster Harley will be available in the Mobile Legends: Bang Bang in-game shop soon.
READ MORE: Yo ho! Pirate Parrot Ruby lets you swing a gigantic golden anchor