Excel mid laner Vincent "Vetheo" Berrié couldn't help but break down during the League of Legends EMEA Championship (LEC) live broadcast.
The young French player cried right after losing to Astralis in Week 2 Day 3 of the LEC Winter Split 2023.
Excel made a huge gamble with their team composition by locking in a Draven-Nautilus pairing in the bot lane, similar to G2 Esports' pick in Week 2 Day 2. Unfortunately, things did not go as well for them.
Excel Vetheo cries after LEC Winter Split 2023 match, admits he "lost all confidence"
Things were already awry for Excel during the early game. Astralis went for an aggressive 4-man tower dive by the eight-minute mark, killing Raphaël "Targamas" Crabbé's Nautilus in the process, setting back Excel's bot lane.
By the late game, Astralis had much more sustain because of Lee "JeongHoon" Jeong-hoon's Nami, combined with three Ocean Dragon Souls that heals and restores health and mana.
The game ended after 31 minutes with a score of 22-6 in favor of Astralis.
Before exiting the stage, Vetheo was spotted crying at his desk, consoled by one of the coaching staff.
---
---
---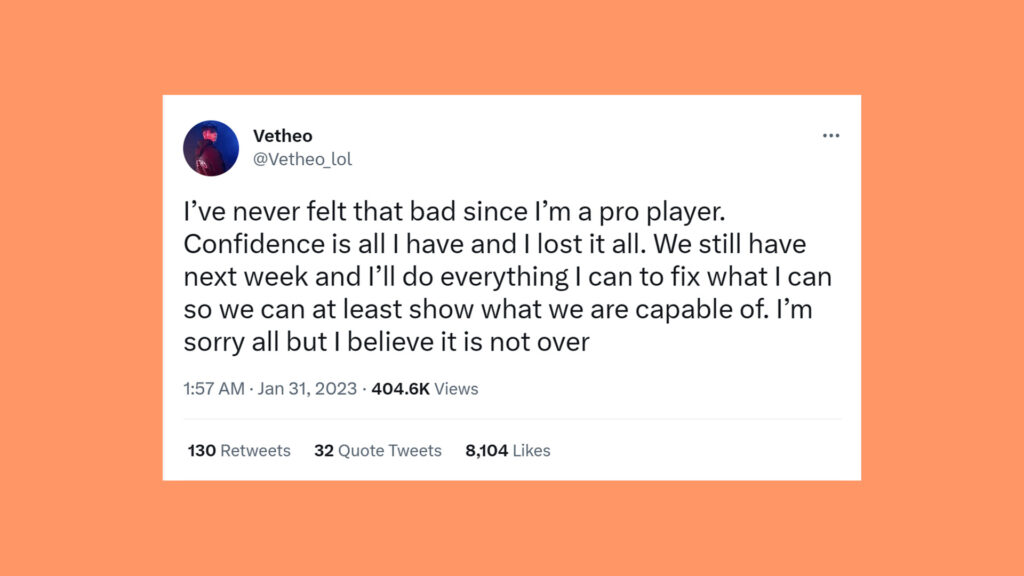 Later on, he expressed his frustrations on his Twitter account, stating that he has "never felt that bad since (becoming) a pro player" and that he has lost all his confidence.
He ended the tweet on a hopeful note that things will get better in next week's matches, where they will face Team Heretics, Team Vitality, and SK Gaming.
Excel showed a better performance last season after qualifying for LEC Spring 2022 and Summer 2022 playoffs. The team gave fans a thrilling best-of-five series against Team Vitality and Fnatic, narrowly losing out 2-3, falling out of playoffs contention after the first round of the lower bracket to finish sixth in both splits.
With the arrival of Vetheo, top laner Andrei "Odoamne" Pascu, and Targamas in the roster, Excel is looking towards a top-three finish during the regular season.
Vetheo showed promising potential last year after being awarded EU MVP and EU 1st All-Pro Team in Spring Split 2022. His signature champion is Zoe, which he used in his LEC debut match in 2021.
---
Follow ONE Esports on Facebook and Twitter for more LoL news, guides, and highlights.
READ MORE: The complete beginner's guide to watching League of Legends esports