It finally happened — phenomenal K-pop boy group BTS and three-time Worlds champions T1 teamed up in an exciting episode of "Run BTS!"
The professional League of Legends team appeared as esteemed guests in episode 114 of BTS's variety show "Run BTS."
All five members of T1 Lee "Effort" Sang-ho, Park "Teddy" Jin-seong, Kim "Canna" Chang-dong, Moon "Cuzz" Woo-chan, and star player and part-owner Lee "Faker" Sang-hyeok met up with superstars Suga, RM, Jin, V, J-Hope, Jungkook, and Jimin for the first time.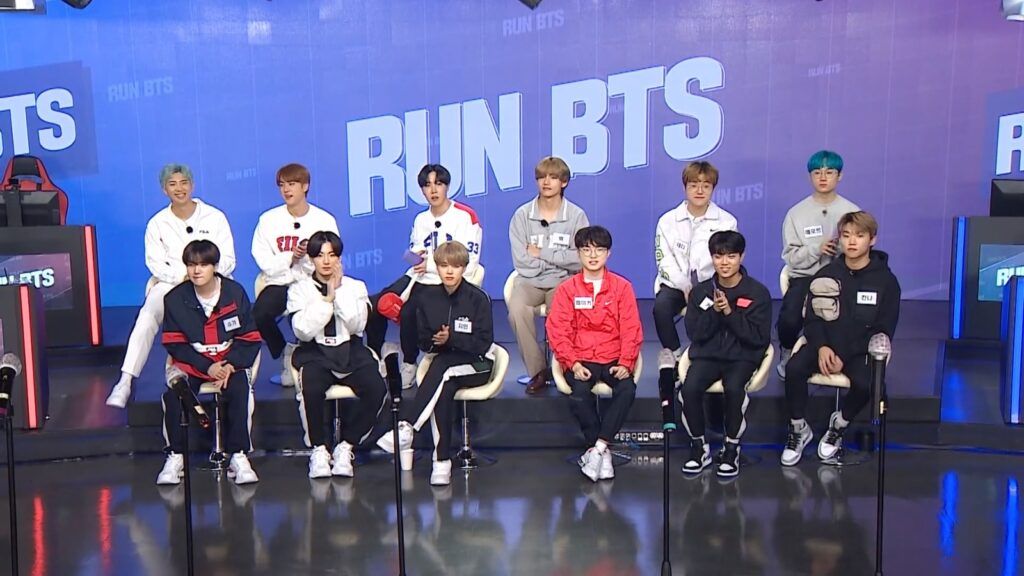 The 12 young lads did what they like doing the most — playing games! Army and T1 fans saw the two groups play five different games, from ice breakers to actual video game titles.
We listed the five best moments that went down from this BTS x T1 episode.
---
5. J-Hope's Garen impression
First impressions last, which is why when BTS found out that they would be meeting the legendary South Korean pro team, main dancer J-Hope prepared a short skit. He mimicked Garen's iconic abilities Judgment followed up by the champion's ultimate Demacian Justice.
"We wanted to get closer to you," said BTS leader RM. "To break the ice and bond," added J-Hope.
---
4. V and Faker in the Toy Hammer game
One of the party games that BTS and T1 played was the Toy Hammer game. It's basically an advanced version of the classic rock, paper, scissors game. Players use their two hands and show whichever of the three hand shapes they like, and then later on stick one of their hands out to indicate their final move. This is known as "rock, paper, scissors minus one" or "ga-wi ba-wi bo" in Korean.
The winner attacks with the toy hammer while the loser has to defend with a large bowl. A player is out if he fails to defend three times.
The first pair to face off in this match was BTS vocalist V and T1 mid laner Faker. V turned out to be pretty good at the Toy Hammer game, giving legendary reaction time king Faker a good fight.
"He beat Faker's speed of response," exclaimed Jin.
In their last round, V got a bit confused and instead of reaching out for the hammer to attack, he grabbed the bowl and put it on top of Faker's head. This left Faker with no other choice but to just cup his hands and use them as a makeshift defense tool.
Everyone ended up laughing after V and Faker's hilarious blue bowl moment.
---
3. BTS and T1 play What the Box
The boys also played the multiplayer game What the Box, where the team with the higher number of kills wins.
It seems like T1's bot laner Teddy was good at this game, spotting the enemy boxes and getting kills every now and then. Meanwhile, Suga admitted that he's bad at playing games after his box gets killed and falls multiple times on the shredder. Maybe he and Jimin could use more practice time?
Fans were also in awe after noticing their player names in this part of the episode, where T1 adopted the BTS tag on their IGN and vice versa.
---
---
2. BTS and T1 play Mundo Dodgeball in League of Legends
Of course BTS did not pass up on the opportunity to play LoL with the pros, however the producers decided to spice it up and let the two groups play Mundo Dodgeball instead of the standard 5v5 PVP game.
Mundo Dodgeball is a fun custom game mode set inside the Baron Nashor pit, where the two teams are separated by a line of wards. The champion Dr. Mundo is a requirement in each of the team's line-up, and the first team who can kill him wins.
"Mundo Dodgeball is fun," said Jungkook. Canna and Faker would agree to this statement, as seen in this clip during one of their livestreams.
---
1. T1 singing their hearts out to BTS songs
The most memorable highlight of this Run BTS episode would have to be the T1 boys singing their favorite BTS songs. From their serious expressions in the LCK, fans witnessed a different side of T1 while singing alongside BTS. They sang hits like "Idol" and "Boy with Luv," and delivered the best performance of their lives.
Here is a clip of Faker singing BTS's "Idol":
The moment that all T1 fans have been waiting for was Effort and V's collaboration. Effort has admitted that he is a massive BTS fan and has even dyed his hair in a lovely shade of teal, inspired by one of V's looks.
This episode is just the first part of the BTS x T1 collaboration. The boys will be back again next week where they will play party game Gang Beasts and battle royale title Fall Guys next.
READ MORE: K-pop idol Daniel Kang plays League of Legends with Teddy and Faker