The last time we saw JD Gaming at Worlds was in 2020 under the leadership of head coach Yoon "Homme" Sung-young. They were at their peak, winning the 2022 LPL Spring championship and finishing second in Summer, playing both series against Top Esports.
At Worlds 2020, they came in second in their group after DAMWON Gaming (now DWG KIA). They went on to face Suning in the quarterfinals where they unfortunately lost 3-1, ending their run in 5th-8th place.
During the tournament, Homme remarked to ONE Esports that he had "gained too much weight" after moving to China in 2015, so it was no surprise that in 2021, he finally took his first break in six years. It was also no surprise that JD Gaming did not qualify for the 2021 LPL Summer playoffs after a 12th-place finish in the regular season, not to mention Worlds.
In 2022, Homme is back in the driver's seat with a revised roster comprising three new members — former Top Esports top lane rival Bai "369" Jia-Hao, former Edward Gaming bot laner Wang "Hope" Jie, and former Team WE support Lou "Missing" Yun-Feng — and they've made it to Worlds once again after winning LPL Summer 2022.
In this interview with ONE Esports, Homme gives insight into how he's been grooming the roster over the last 10 months, how he coaches 369 in particular, and the challenges that he's facing here at Worlds 2022.
---
---
After a year's absence, JD Gaming head coach Homme is refreshed and ready to go further than before
Homme spent 2021 resting and didn't think about Worlds 2020 much, he told ONE Esports, because he "wasn't that disappointed" with the results. During that period, he posted an ultrasound picture of his baby in May, and a video of his newborn daughter, Hui Li, in a bathtub in December.
"I've always wanted a child and had the opportunity, so I focused more on my family," he said. "When JD Gaming asked me to come back, I gladly took the position and spent a lot of time trying to get the best roster. I'm satisfied right now."
As the coach of JDG since mid-2018, he's worked with Zeng "Yagao" Qi the longest, before Seo "Kanavi" Jin-hyeok joined on loan from Griffin in mid-2019. Together with the three newcomers, they've been trying to make it work since the start of the year.
Homme "didn't have that many expectations" at first. At the start of LPL Spring 2022, they lost their first two series in the first week and placed 13th out of 17 teams in the standings. But by mid-season, they had climbed to 7th place, eventually finishing 3rd before getting eliminated in Round 4 of the lower bracket playoffs.
---
---
"Our primary goal was to make it to Worlds, but now, since we're champions of the LPL Summer split, that has changed a little bit," he said. "Our record right now is quarterfinals, and I believe we can make it to the semifinals."
The reason why Homme believes they've been able to go the distance is that he's been "fortunate enough to have such an incredibly talented roster" with "nice players" that try really hard. Adopting the same coaching style, his challenge this year mostly revolved around getting the three newcomers to work together and cooperate.
Out of the three, fans and media paid the most attention to 369. In December 2021, LPL released a 45-minute documentary that showed behind-the-scenes footage of Top Esports at Worlds.
In one scene, head coach Chen "WarHorse" Ju-Chih was lecturing 369 about his performance, before Hung "Karsa" Hao-Hsuan took a harsher approach, clenching his fist, banging on the armrest, saying, "Is it too much to ask you to learn Gnar in a split? I mean, your first picks are always Gragas and Jayce, but you played Gragas like shit."
With his head down, 369 replied, "Okay."
One year later, 369 is at Worlds again, but on a different team and under a different coach. Out of the top laners in the LPL Summer split, he consistently ranked in the top 10 in many key metrics based on stats from Oracle's Elixir, including KDA, kill participation, average gold earned per minute, damage per minute, and damage share.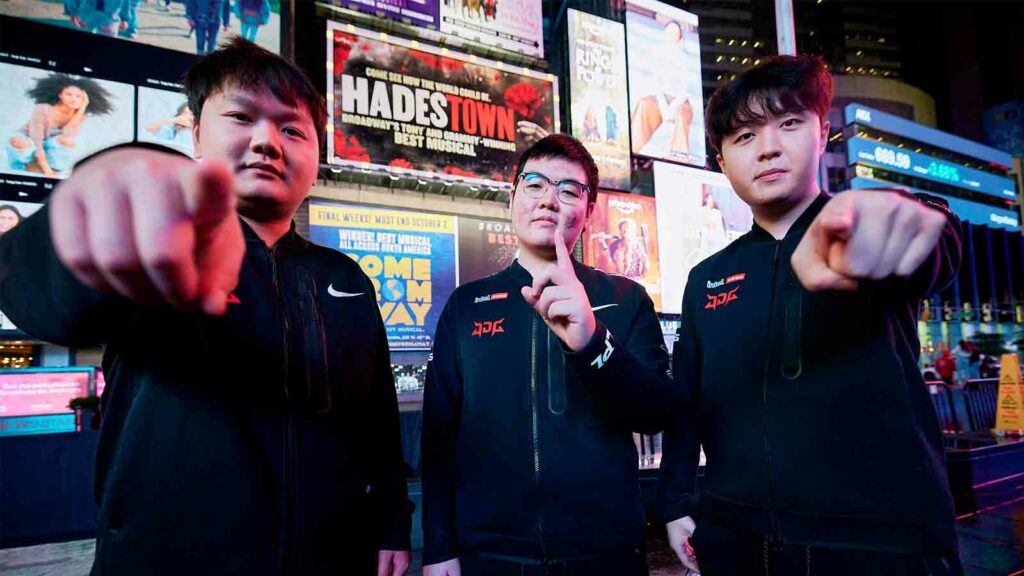 "I think overall, it's because of 369. He tried really hard to be good this year. I believe he's an amazing mechanical player," Homme said, when asked what he thinks he contributed to 369's growth as a player.
"The only two faults or weaknesses that I can see is that he tunnels in his own lane with no macro vision. Those are the things that I really needed to help him with," Homme added. "Secondly, 369 doesn't enjoy playing League of Legends that much, so when we get him to play a lot of games, he improves a lot."
"I understand 369's personality really well so I'm able to coach him to match that personality, and that's why I believe it worked out really well."
Still, it's a continuous uphill battle for the head coach even though they've made it this far at Worlds. In a recent JDG vlog, he was seen questioning the team, asking whether the world championship was important to them. He even asked Yagao, "If you miss this year's opportunity, do you think you can get another one next year with a team like this?"
Yagao shook his head in response, while Kanavi and 369 smiled.
"If I were to point out what the players need to work on, it's that they lack the desire to become champions. I really need to motivate them all the time to reach their full potential," Homme shared. "There's a split between two groups. There's one group that's satisfied with what they've achieved so far — they've made Worlds, they won LPL, it's good enough."
"On the other hand, there are other players who want to make it all the way to the championship, so I try my best to get them on the same page and aim for the world championship."
---
Watch the 2022 World Championship matches live on Riot Games' official channels on Twitch and YouTube.
READ MORE: Viper explains why Edward Gaming struggled this year, and how he mastered Mandarin quickly