Carl Felix "MagiFelix" Boström.
You may have heard his extraordinary feat on Reddit last year when he climbed the League of Legends Europe West (EUW) Challenger ranks with multiple accounts, or even witnessed his insane 1v2 Corki outplay during this year's League of Legends European Championship (LEC) Spring Split.
Who is MagiFelix, and what kind of potential does he hold?
---
A solo queue king itching to shine on the main stage
MagiFelix is an insanely good player. He is known for his impressive solo queue journey, dominating the EUW leaderboards with not just one, but multiple League of Legends accounts.
During the COVID-19 pandemic lockdown last year, MagiFelix managed to dominate the EUW Challenger leaderboard with five different accounts, one for each of the five roles in LoL, averaging at 18 games per day.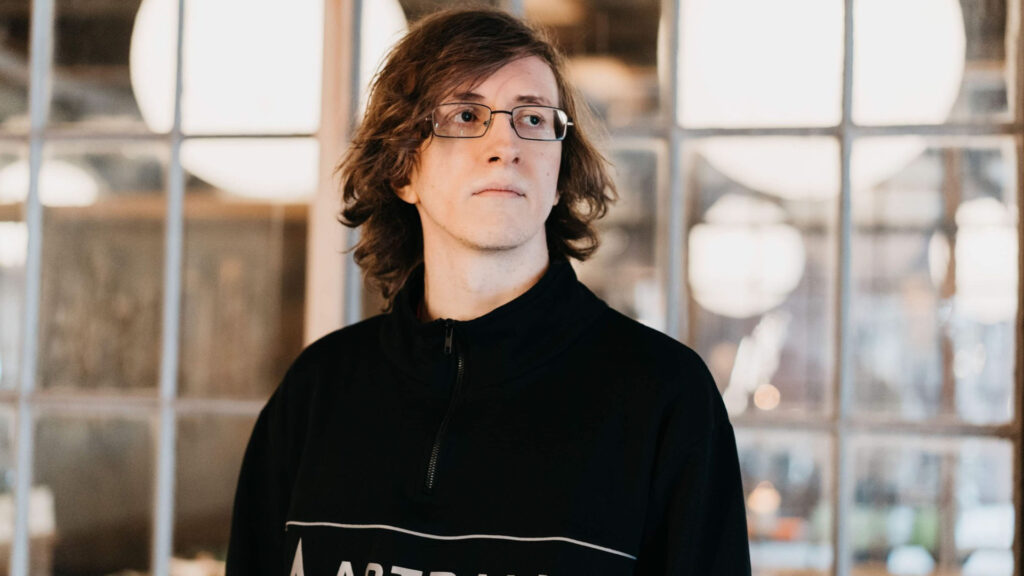 His many accounts, namely MagiFeliix, FNC MagiFelix, MagiFelix, MagiiFelix, and at one point, MagiFaker, all have very impressive stats, including a whopping 400,000 average damage dealt using Veigar in the top lane. His Corki is pretty flexible too, as he plays him in all roles outside of the jungle.
Leveraging on his incredible solo queue prowess, MagiFelix pursued a career in esports.
"If you're consistently occupying a top spot in EUW Challenger that's more than enough of an indication that you're either good or talented to maybe join a LCS team," he said in an interview when he was part the Red Bulls.
At one point, MagiFelix was dubbed as the next Fnatic mid laner prodigy. His biggest break came when he got signed by Fnatic's academy team, Fnatic Rising, where he raised the very first NLC 2020 Summer Playoffs trophy. He also briefly subbed in for former Fnatic star player Martin "Rekkles" Larsson during the 2019 LEC Spring Split, which marked his LEC debut.
After he spent his time as Fnatic's substitute player on the international stage at Worlds 2020, he left. This year, MagiFelix is back in the LEC as Astralis' mid laner together with Erlend "Nukeduck" Holm, who has taken a break from competitive gaming for personal reasons.
With MagiFelix in the starting lineup, what can Astralis do to go further?
One possibility is to have his team play around him more. MagiFelix has showed some exceptional plays during his first few matches in the team. In his first game this season, MagiFelix impressed with his Corki mechanics against Schalke 04's Felix "Abbedagge" Braun's Azir, and later on Sergen "BrokenBlade" Çelik's Irelia.
MagiFelix's Corki came out on top in this game, and the stats prove it with a humongous 34% damage distribution. He also took the lead in gold for the team this match at 25.7%.
Upon seeing Abbedagge alone, MagiFelix took the opportunity to ambush him on a 1v1 teamfight. Even though both mid laners were able to dodge out skillshots from each other, the new Astralis mid laner had completed his core items, which made his basic attacks hurt. As BrokenBlade's Irelia teleports to help his mid laner, MagiFelix finishes Abbedagge with Corki's Gatling Gun and Missile Barrage.
The positioning of MagiFelix's empowered Valkyrie was a work of genius as well, since it forced BrokenBlade's Irelia to use his Flash to avoid getting burned and slowed. Utilizing Corki's burst damage, MagiFelix singlehandedly finished the clash.
"We had chances to win both these games (against Rogue and Fnatic), we just kind of like, lacking teamplay towards the end of the game that's why we can't close out the games even though we were having quite decent leads. I think, through time, we will actually start picking up some wins," top laner Matti "WhiteKnight" Sormunen said in an interview with Tom Matthiesen.
"It's multiple things, but I think the biggest part is we're not just on the same page often," explained WhiteKnight. "We will kind of just scatter if an important fight is about to start. Everyone does their own thing – we lack this team cohesion."
Now that Astralis has more opportunities to practice and scrim more together — something they were not able to do since Nukeduck went on a hiatus — there's hope that overtime, they'll find the coordination and teamplay they seek.
---
---
His wide champion pool could mean more flexibility in drafts
Holding multiple Challenger accounts in all roles in the EUW ladder, MagiFelix has always been a consistent force with a wide champion pool.
Just how wide is this Swedish player's pool? Before coming to the LEC, MagiFelix was playing a lot of one-trick Neeko in his solo queue games and winning on her despite this champion not being in the meta.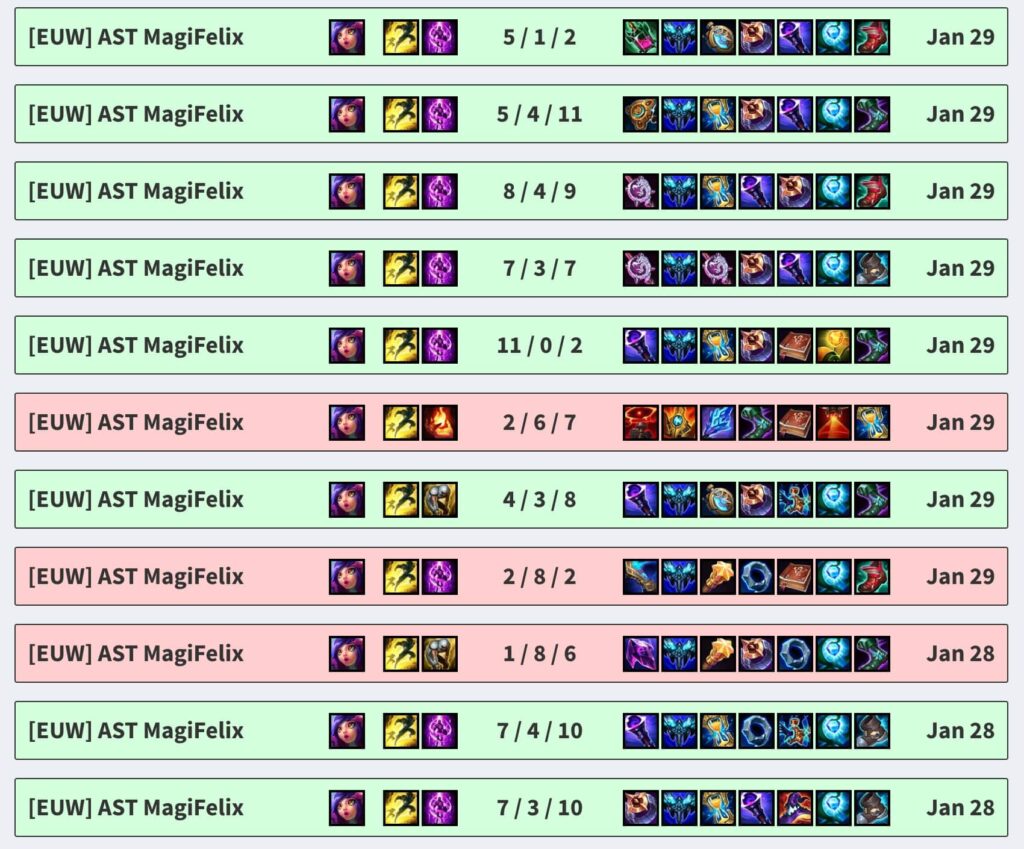 He has also played a bunch of Lucian, Qiyana, and Seraphine games in the past months.
On-stage however, MagiFelix has mostly been on Corki duty as it's one of his mains and comfort picks.
"I think Corki, right now, is pretty strong as well with the new buffs to the AD Carry items. You can get your core items pretty fast, and I think he's pretty strong at the moment. The new Tear [of the Goddess] as well, it's really good," explained MagiFelix in an interview with HotSpawn.
With MagiFelix's diverse champion pool, Astralis has more flexibility in drafts. They could prioritize his teammates' core picks, and give MagiFelix the last counter pick, adjusting according to how the team wants to play.
Even if the meta changes and some of his main champions get nerfed, MagiFelix will still have other champions he can use (and experiment a little) thanks to his large pool.
---
MagiFelix has been hard-carrying Astralis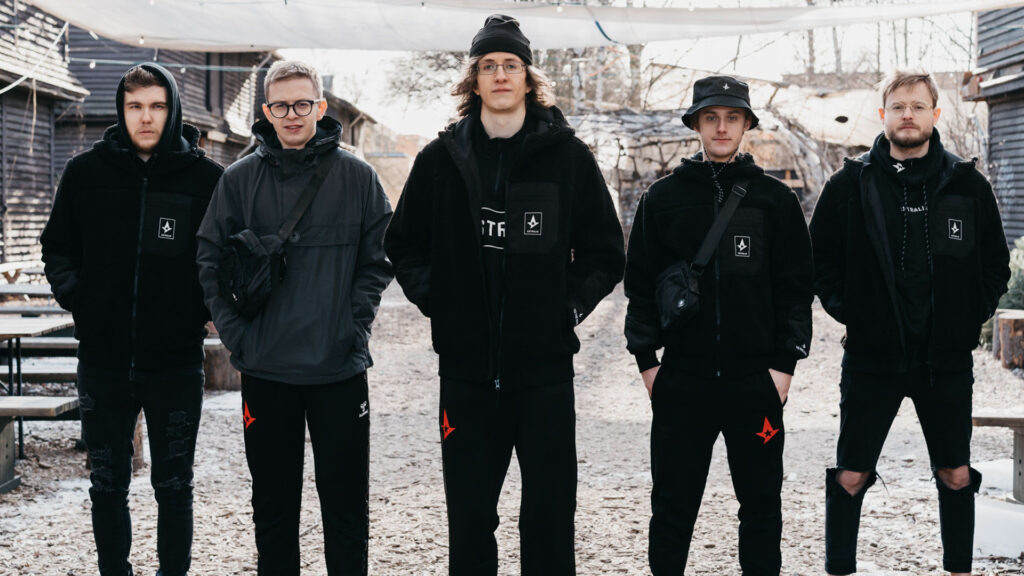 Even though Nukeduck took a step back from the LEC, Astralis is looking better as a whole and it's largely due to one person.
As the new mid laner in town, MagiFelix is way ahead when it comes to CS per minute at 9.4, ranking third out of all the mid laners in the LEC! On top of his farming game, he's definitely holding his own during the laning phase.
When it comes to damage share percentage, Astralis takes the cake with Nukeduck and MagiFelix as the frontrunners, who are responsible for 30.1% and 28% of the team's total damage to champions respectively. Considering that the average carry contributes about 20% of the team's damage, it's clear that these mid laners have been pulling more than just their weight.
What really sets these two Astralis mid laners apart is the fact that Nukeduck has the highest kill participation out of all mid laners in the LEC Spring Split so far at 70.8%, while MagiFelix stands at the bottom of the charts with only 54.1% kill participation.
The contrast between MagiFelix's damage share percentage and kill participation indicates he takes it upon himself to create pressure away from his team, drawing the attention of enemy champions to open the map for the squad.
An average of 24.3% of the team's kill share belongs to MagiFelix. In their last few games, especially when he was on Corki, he made a big impact during their first game against Schalke 04.
While Astralis is looking better with MagiFelix, arguably the league's most underrated player and "the best European solo queue player of all time" according to LEC caster Dan "Foxdrop" Wyatt, there's still something missing.
"That being said, he had never been able to make a significant impact on the rosters he played in in tournaments such as EU Masters. But it always felt like he was just one step away from being something special – not necessarily a flashy player, but reliable and consistently good. I really hope he can take that next step," said Foxdrop.
Despite being a relatively good player with insane solo queue stats, MagiFelix has yet to showcase his true power in pro play. He has proven himself while at the EUM, made a brief appearance at the LEC two years ago, and now he's already a LEC regular with so much potential to shine. We can't wait to see how MagiFelix's LEC run will turn out this year and the next, and how he would be able to shape his own story to prove all his haters wrong.
With G2 Esports and Rogue already locked in for the Playoffs, there's no more room for any mistakes. Astralis will need to win five games to make it to the sixth spot of the standings. Will MagiFelix be able to take his new team to the stars? Will we see the birth of another miracle run?
READ MORE: League of Legends Esports Spring 2021 results and standings as of March 1