Streaming platform Twitch will start rolling out Local Subscription Pricing in the Asia Pacific region as a way to reduce the standard price of subs.
The platform's Local Subscription Pricing model was initially launched in Mexico and Turkey in May. In just a few months, their local viewers increased their subscription activity, gifting five times more subs to their favorite streamers.
The results confirmed to Twitch that lower prices actually help subscribers grow, and build more active viewer communities around the world.
New subscription prices in the Asia Pacific region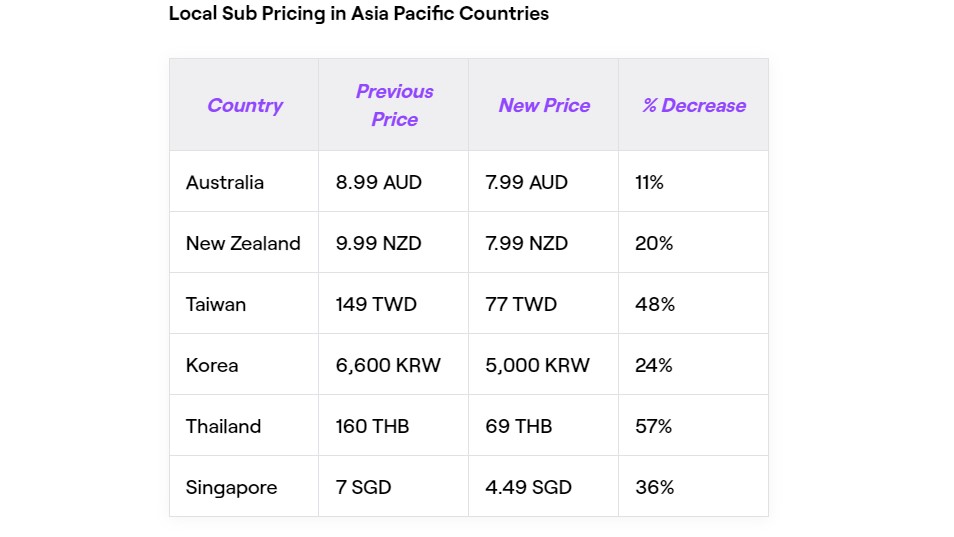 Twitch has officially revealed the adjusted prices for countries in the Asia Pacific region.
As mentioned before, the platform delivered on reducing prices across the board. Taiwan and Thailand received substantial price reductions, experiencing a 48% and 57% decrease respectively.
To see your country's pricing, you can check out the official Local Subscription Pricing list.
---
---
What exactly is Twitch's Local Subscription Pricing?
The platform's goal with Local Subscription Pricing is to offer a more reasonable price for users outside of the United States of America.
"A viewer's subscription price will be based on where they live and have set up their Twitch payment method," said the streaming platform. "We have designed this pricing model to ensure that prices are appropriately set for viewers, wherever they live."
This newly implemented method adjusts the price of existing subs, new paid subs, and gift subs to better align with a country's cost of living.
For more information, you can visit the official Twitch blog post about Local Subscription Pricing.
READ MORE: After 31 straight days, Ludwig has broken Ninja's all-time record for Twitch subscribers