With the May qualifiers for the Pokémon UNITE World Championship just around the corner, Talon are ready to tackle the tanky sustain meta that ran rampant during the April qualifiers.
Talon is a veteran Pokémon UNITE team based in the Philippines. Formerly known as Reech Pokémon, this all-Filipino roster features some of the most talented players from the Southeast Asia region.
The roster consists of:
Lebron "Lebronne" Mark Bacquian
Andrei "DreamT" Lui Mendoza
Jan "Jeyti" Tristan Corral
Luke "MXI" Lewis Labajo
Kim "Kyy" Rey Salazar
Talon practice playing everything so that they're prepared for anything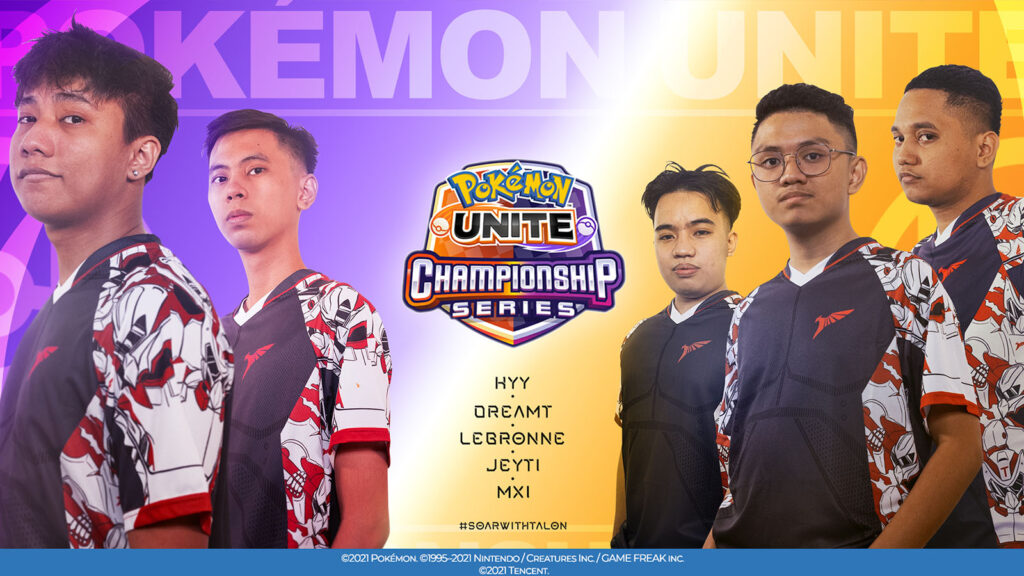 While the team just missed out on qualifying for the regional finals, placing fourth in the April qualifier, MXI shared that he and the team have been diligently training to ensure they don't get caught off guard.
When it comes to practice, having a deep understanding of all competitively playable Pokémon is key for Talon. "In scrims and ranked games, we will use all Pokémon that are available for tournament play so we know how to use and play against everything."
He also shared that most teams in Asia have been playing a very similar style, "We felt the playstyles in Asia overall have felt very similar. They're still playing the sustain meta with two tanks, two supports, and a hyper carry."
---
---
MXI thinks the sustain meta will continue to dominate the May qualifiers
When asked more about the meta, MXI thinks teams will continue to play the sustain meta unless the developers deploy a significant patch. Fans and competitors should expect to see a lot of Slowbro and Trevenant in play as they are key components of the sustain meta.
The main idea behind the sustain meta is for teams to outlast their opponents in team fights with a very bulky composition. On top of the high-health Defenders, teams also need to deal with the backline Supporter Pokémon who enable their frontline with healing and shielding.
Many Attacker and Speedster-type Pokémon have fallen out of favor as these roles have little room for error and teams preferred to fight sustain with even more sustain.
As for Talon, they're confident going into May qualifiers as they have a few strong Pokémon in mind that will shred though the meta.
---
---
The latest patch update hardly touched the sustain meta
A balance update was deployed on May 11 that brought along a few expected and unexpected changes to the game.
The majority of the patch focused on buffing underutilized Pokémon to allow for more competitive viability and variety. As no changes were made to the key players of the sustain meta, we'll have to wait and see how these changes impact the competitive scene in Asia.
You can watch all the qualifiers live on YouTube, Facebook, or Twitch.
Make sure to follow Talon Esports' Twitter account for more updates on the Pokémon UNITE roster.
READ MORE: From Casual to Captain: The RISE of Judha 'Eeyorr' Panggabean to RRQ in Pokémon UNITE