Fans were on the edge of their seats during week two of the Pokémon UNITE Asia Champions League 2023 as MYS and Rise played a nail-biting series that went the distance.
Still in the first phase of the tournament, teams were playing for points, which would determine their seeding for phase two.
Most importantly, the first seed of the Southeast Asia division would automatically qualify for the LAN final in Kuala Lumpur, Malaysia.
Rise Eeyorr shows off Dodrio's incredible scoring power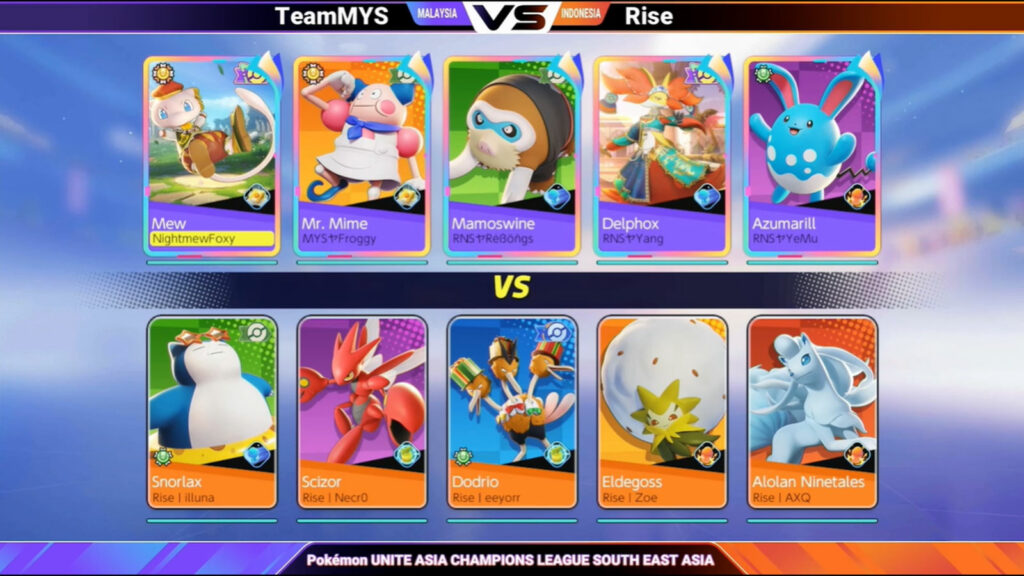 Going into game one, both teams opted to move quickly with their chosen drafts. The Malaysian team drafted a mix of sustain and burst, while Rise prioritized agile roamers.
As both teams battled for levels, Eeyorr's Dodrio constantly scored in unguarded goal zones. The Malaysian team had the better team fight lineup and constantly grouped up for objectives, leaving their goals open to attack.
Both teams laid down their card as soon as Rayquaza appeared for the final two minutes. The Malaysian team were ahead in points and chose to defend the pit.
Eeyorr floated between the Rayquaza pit and the purple goal zones threatening to score. A battle ensued and both teams took significant losses, but this was what Rise wanted.
Among the Pokémon left on the field, Eeyorr's Dodrio were one of them, and none of the remaining Pokémon could catch this agile Pokémon.
With just enough points to get his team across the finish line, Rise successfully took game one.
---
---
MYS Yemu's patience pays off, turning a critical battle into his team's favor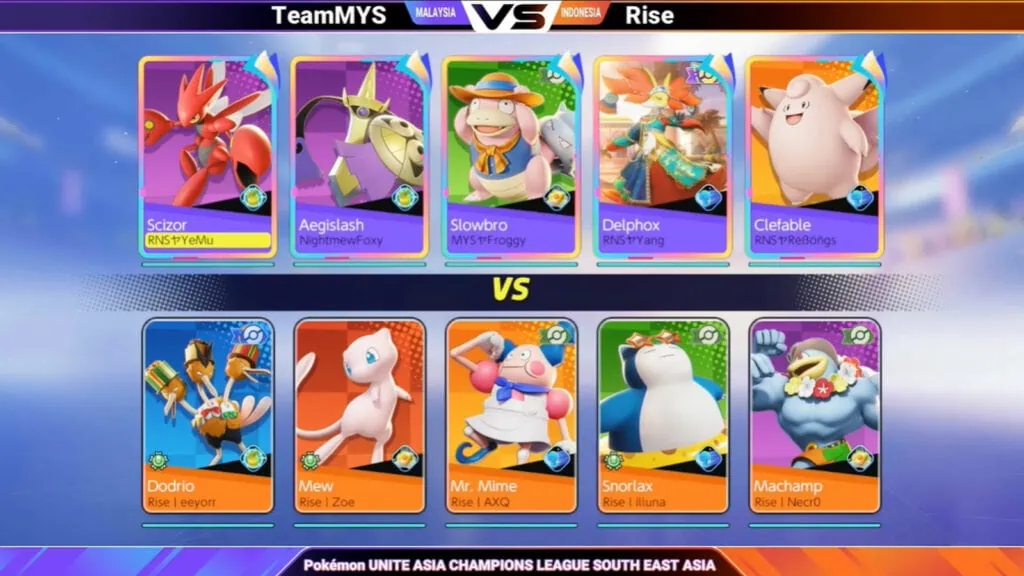 Continuing the series, Rise picked up Eeyorr's Dodrio yet again whilst also snatching away Mew and Mr.Mime for themselves. Having learnt a hard lesson last game, MYS pick up Scyther for Yemu to keep up with Eeyorr's incredible mobility.
Similar to game number one, Rise snuck goals in wherever possible. The Malaysian team, however, amped up the aggression by doubling down on objectives and denying openings.
Both teams held defensive positions as Rayquaza descended onto the field. The Dodrio player however, assumed an aggressive position near the tier one purple goal zone, ready to score.
As Eeyorr sprung out of the bushes, Yemu was ready and waiting. In a matter of seconds Eeyorr was off the field.
Jumping at this opportunity, both teams clashed around the pit with MYS emerging victorious. Eeyorr tried to singlehandedly contest Rayquaza but wasn't able to steal away the final hit.
The Malaysian team scored their points uncontested and successfully tied the series 1–1.
---
---
---
Both team's fates were decided at Rayquaza's pit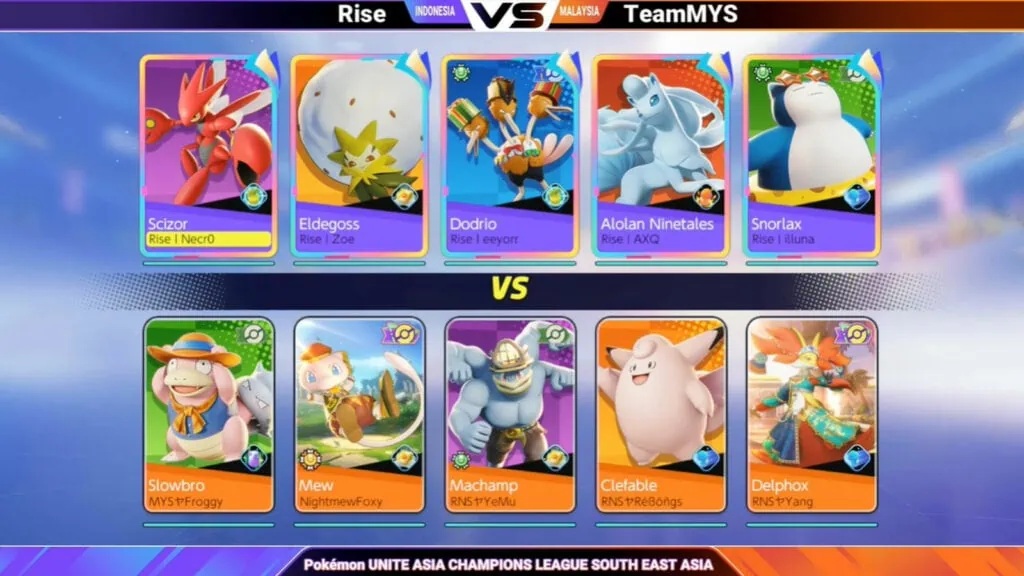 In the last game of the series, Rise were eager to pick off stray Pokémon with Scyther and Dodrio.
Neither team clashed until Regieleki and the Regis came online. MYS were able to secure most of the map objectives thanks to their superior teamfighting, but Rise were still ahead in levels on their core Pokémon.
The final two minutes were most tense as both teams tried to fish for a knockout. The game deciding battle began when the Malaysian team caught Snorlax and blew everything to get the KO.
Out of sheer desperation, Rise's Alolan Ninetales went in deep to bail out his teammate, but this move would eventually cost him — Yemu landed the perfect Barrage Blow with Machamp onto the Alolan Ninetales and a diving Scyther, picking up a crucial double knockout.
With the numbers advantage, the Malaysian team claimed Rayquaza for themselves, scored in Rise's exposed goal zones and ended the series victorious.
---
---
Team MYS will play their next match on January 28 against ESCAPE V while Rise will play Renaissance immediately after.
Watch the games live on ONE Esports' YouTube, Facebook, or Twitch stream.
READ MORE: Pokémon UNITE Asia Champions League: Schedule, results, where to watch