Three weeks into the Pokémon UNITE Asia Champions League 2023 and Marcos Gaming is the last remaining team in the Indian division maintaining a win streak.
In week one, they went the distance with True Rippers and picked up a 2–1 victory.
Last week, they then pulled off a flawless 2–0 in their series against Gods Reign.
Marcos Gaming kept up the pressure all game and secured Rayquaza with a well-placed Fairy Singularity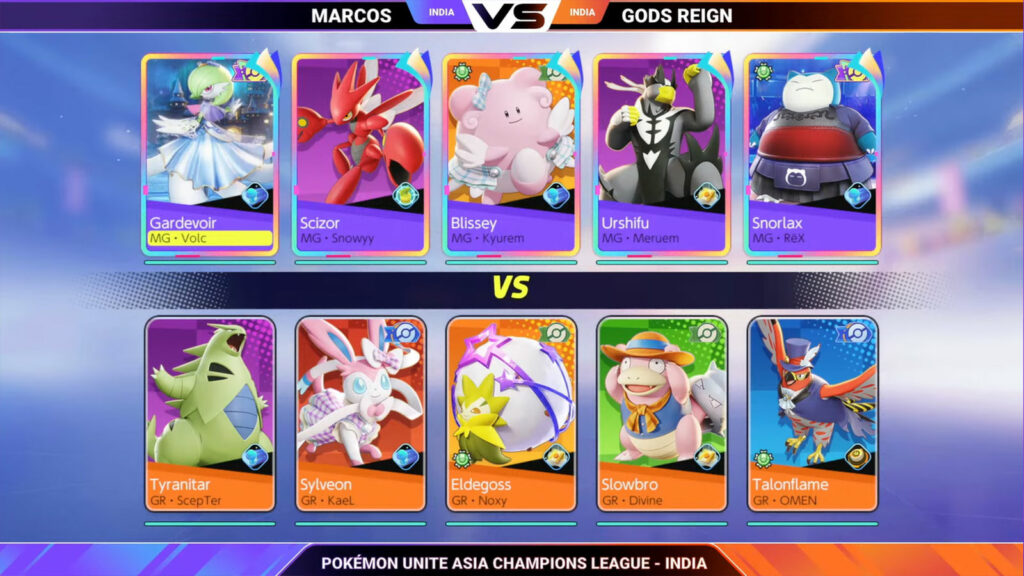 Going into game one of their series against Gods Reign last week, Marcos decided to draft a team fight heavy lineup that wanted to constantly brawl. This draft worked great, especially around Regieleki and the bottom Regis.
Gods Reign struggled to snatch away any of these objectives thanks to Marcos' superior team fight and thus began falling behind in levels. Marcos Gaming's offense was so great that they could also easily deflect Gods Reign's Talonflame who tried to sneak in a few points.
It all came down to Rayquaza and Marcos Gaming had planned for this battle as well. As both teams worked to burst down the legendary Pokémon, Volc's Gardevoir's managed to catch all of Gods Reign with a magnificently placed Unite Move, Fairy Singularity.
With Rayquaza going to Marcos Gaming, game one was in the bag.
---
---
---
Marcos Gaming secure Rayquaza in game two thanks to some fancy footwork by Volc's Dodrio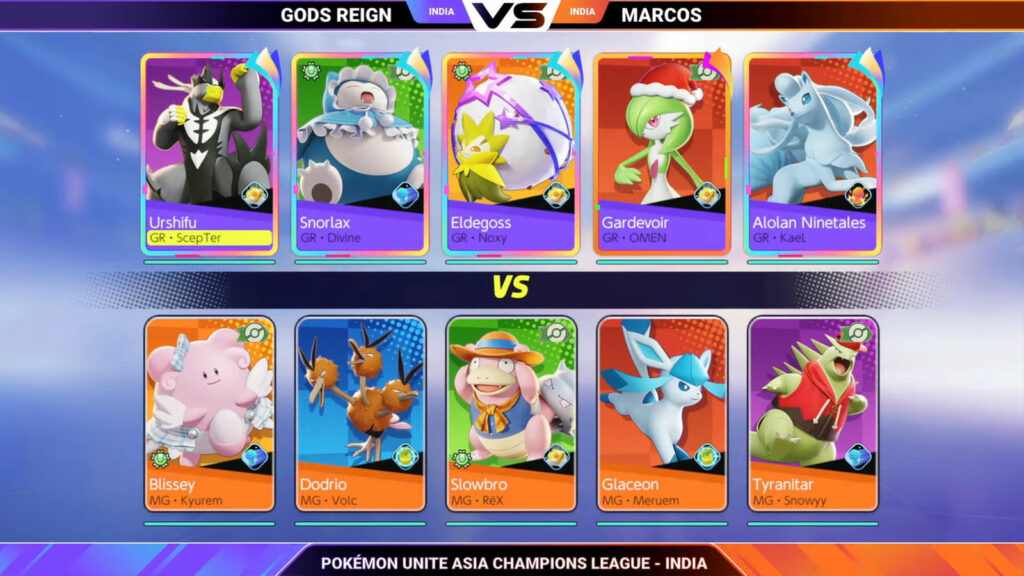 The aggression didn't end with game one either. Marcos Gaming yet again drafted an offensive lineup with a Tyranitar for their late game. Gods Reign needed to take control of the momentum in game two by really utilizing Urshifu's strong objective-securing ability for a chance to push a game three.
Volc's Dodrio and Meruem's Glaceon were big threats on the map, both able to easily knock out opposing Pokémon who stepped too far out in a team fight. Backed up with Blissey's Safeguard, Gods Reign found it difficult to get the necessary pick-offs to win any engagements.
Respecting the power of Scepter's Urshifu, Marcos Gaming pulled off an amazing diversion tactic with Volc. Diving deep into enemy territory, Volc pressured Scepter back to his second goal zone. As reinforcements came in to support Scepter, Marcos Gaming managed to claim Rayquaza completely uncontested.
There was little resistance while all of Marcos Gaming dunked their points into Gods Reign's goal zones.
With 500 points scored over Gods Reign, Marcos Gaming take home another three points. Pushing them closer toward the first seed for phase two of the competition.
---
---
Marcos Gaming will play their next match on January 29 against Revenant Esports.
Watch the games live on ONE Esports' YouTube, Facebook, or Twitch stream.
READ MORE: Pokémon UNITE Asia Champions League: Schedule, results, where to watch