With gaming hardware getting more and more sophisticated by the day, there shouldn't be any surprise when we find designs that may best be described as "straight out of our sci-fi dreams" — or "nightmares," depending who you're asking.
And yet there are days when we stumble upon things like the Cluvens Scorpion Computer Cockpit — known elsewhere on the internet as the Imperator Works IW-SK Scorpion King — and we can't help but do a double take on the sheer audacity of its arachnid-inspired design.
You see, the Scorpion Cockpit is more than just about a menacing look. It actually "transforms." The entire unit is motorized, enabling users to switch from an upright seat to a more laid-back, inclined position at a press of a button.
The display mount — which can support up to a three-monitor setup — is also motorized, giving you full control of the ideal viewing distance that you need to fully immerse in your favorite games.
The "claws" of the chair — actually the arm rests and the keyboard and mouse stand — also move from side to side whenever you need it to, so you don't have to wiggle your way in or out of your seat.
And while the sight of a real-life scorpion might make you tense up in fright, the Cluvens Scorpion actually has the ability to make you feel more relaxed, thanks to its massage functions and heated backrest.
Bet you didn't see that twist coming. So much for this chair being "villainous."
---
---
The Cluvens Scorpion Cockpit is made with a carbon steel-based structure with sand texture powder-coated paint and polyurethane leather seat material. Its motorized parts are powered by six high-thrust linear electric cylinders.
Display support covers common VESA-compliant standard monitors, with up to three 29-inch displays or one 49-inch display. Monitors are not included with the Scorpion Cockpit.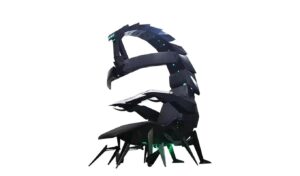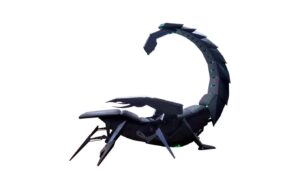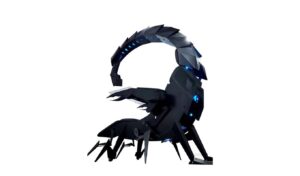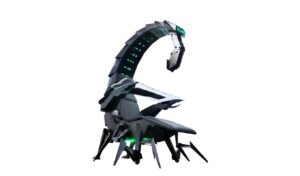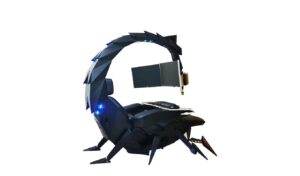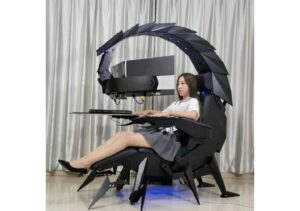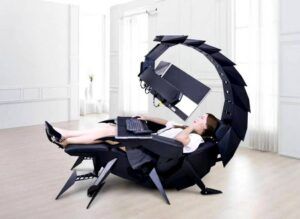 The Cluvens Scorpion Cockpit will, um, sting you for at least US$2,000 (depending where you order).
READ MORE: Aston Martin's new racing simulator is a ridiculous experiment in luxury gaming