Luxury sports car manufacturer Aston Martin is venturing into the virtual racing space with the debut of its AMR-C01 Racing Simulator. This exquisite piece of hardware is the product of a brand new partnership between Curv Racing Simulators and Aston Martin.
The AMR-C01 features a lightweight carbon fiber chassis fitted with a seat that is reminiscent of what the futuristic Aston Martin Valkyrie offers. The external features of the simulator also evoke the signature grille design of Aston Martin hypercars.
Feast your eyes on the gorgeous AMR-C01 Racing Simulator in the photos below: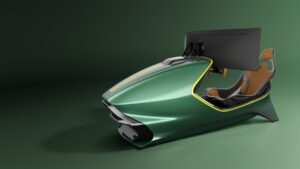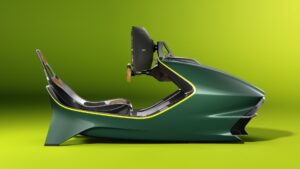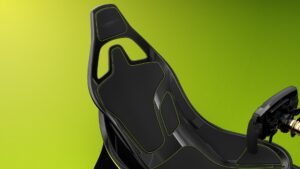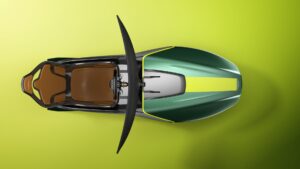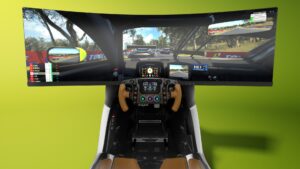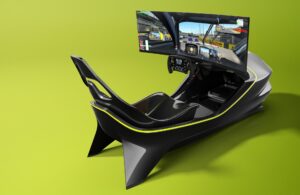 "This was a challenge for the [Aston Martin] design team as, although the simulator isn't a car, [the AMR-C01] is inspired by our racing cars," said Aston Martin Chief Creative Officer Marek Reichman.
"It needed to exude the same elegance, boasting the same dynamic lines and balance of proportions as any Aston Martin with a racing lineage. I can picture the AMR-C01 in the most beautiful of residences as a sculptural work of art in its own right."
The AMR-C01 Racing Simulator is available in a variety of paint schemes to suit a wide range of virtual drivers' tastes.
---
---
Each hand-assembled unit comes with racing simulation game Assetto Corsa Competizione that bridges the physical machine with the lush, virtual tracks that avid race enthusiasts are expected to fully immerse in.
"The AMR-C01 is all about the love of racing," added Curv Racing Simulators head Darren Turner, who is also a driver for Aston Martin Works. "We've created a home simulator with incredible immersion that offers users the opportunity to have a great time racing in the virtual world, from the comfort of their own home.
"Our goal was to create a simulator that provided as much enjoyment in virtual reality as real racing does."
Esports racing has grown significantly this year following the postponement and cancellation of major racing events due to COVID-19, and Aston Martin is positioning itself to become the most recognizable brand in luxury virtual racing hardware with the AMR-C01.
The Aston Martin AMR-C01 will be limited to a manufacturing run of just 150 units, with the first batch of deliveries expected by Q4 2020. It has a base starting price of approximately US$73,225, exclusive of tax. To view the product brochure or to book a build slot, visit CurvsRS.com.
READ MORE: F1 launches mobile esports championship with monthly qualifiers