As esports racing continues to expand at a rapid pace, Ferrari is quickly establishing itself as an influential force in this space. After taking the driver's crown for F1 Esports last year, it reinforced its role by establishing an all-new esports racing program — the Ferrari Hublot Esports Series.
This new esports platform, comprising of two categories — AM and PRO Series, is a path-to-pro initiative that will award the overall winner with the once-in-a-lifetime opportunity to join the Ferrari Driver Academy Hublot Esports team.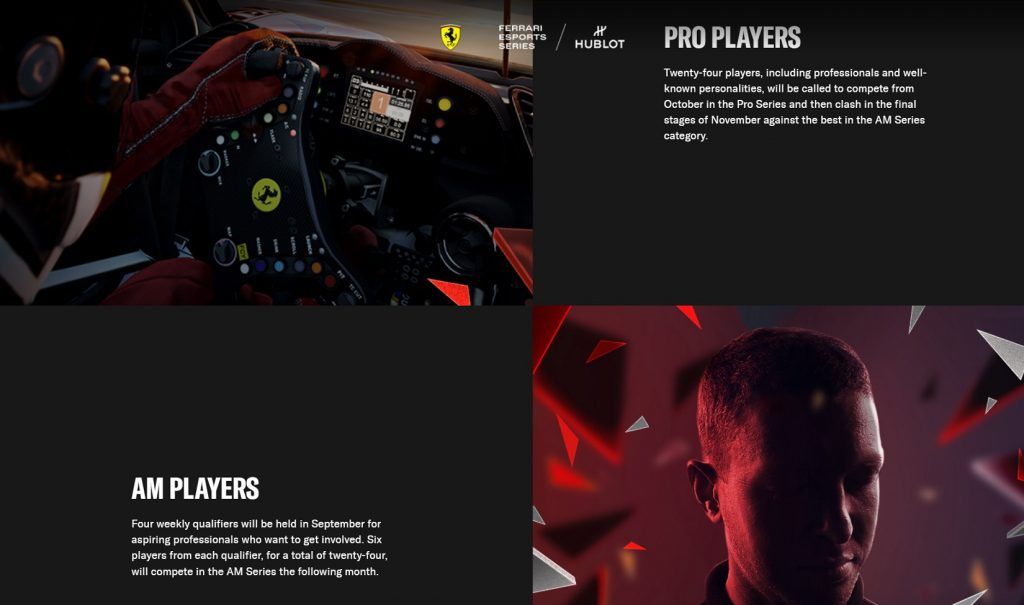 Participants will, for the time being, be using the "Assetto Corsa" software and will race with the Ferarri 488 Challenge Evo. This is to ensure all of them are racing on equal terms.
For those keen on taking part, they can now pre-register here.
This new esports racing series is currently only open to Europeans who are 18 years and above. The first round for the AM Series will start in September. As for the PRO Series, which has no fixed dates yet, it will feature 24 racers that Ferrari will personally invite.
---
---
The 12 fastest drivers for both categories will advance to the grand final that has been tentatively set for November 2020. They will be competing for championship glory over three races.
"The launch of the Ferrari Hublot Esports Series is a natural progression for Ferrari after our debut in the F1 Esports Series. This series is aimed at a young audience and is the perfect opportunity for aspiring players to get their break in esports and sim racing," said Nicola Boari, Chief Brand Diversification Officer, Ferrari.
Plans to open up the Ferrari Hublot Esports Series to other regions are being developed and will eventually include different racing games and platforms.
A companion show — Ferrari 101 — is also being developed. The online documentary program is made for fans and those keen on catching up on the new racing program. This new web series will also include the history of Ferrari's foray into motorsports and esports.
For more details on the new Ferrari Hublot Esports Series, head on over its newly launched micro-site.
Read more: GR Supra GT Cup Asia 2020 – Regional Round