From the minds of From Software and George R. R. Martin, Elden Ring introduced gamers to the gritty world of The Lands Between. They experience the story as a lowly Tarnished — a banished warrior called upon to become the Elden Lord — but it's not as easy as you think.
A new Elden Ring manga called Road to the Erdtree veers away from the game's dark fantasy and highlights the hilarious mishaps that come with the Tarnished lifestyle. Right from the get-go, the main character has to deal with potion management and learning how to roll to avoid getting crushed.
If you'd like to check out the comedic take on the Lands Between, here's where you can read the Elden Ring manga, Road to the Erdtree.
---
---
The Elden Ring manga is available for free on Kadokawa's ComicWalker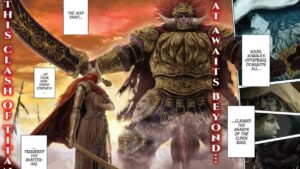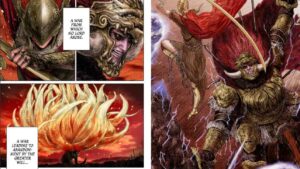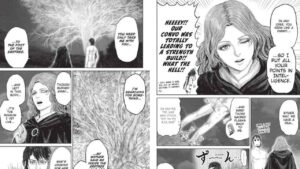 The Elden Ring manga is available for free on Kadokawa's manga website ComicWalker. As of the time of writing, the series has released two chapters.
Illustrated by Nikiichi Tobita, Road to the Erdtree is a comedy manga inspired by Elden Ring. Its story follows the first questline, exploring Stormveil Castle.
Similar to the game's beginning, the Tarnished protagonist spawns as a Wretch in the Sage's Cave. The manga also features prominent characters from the game, such as Melina, Radahn, and Godrick the Grafted.
Tobita is known for adding a comedic twist to typical fantasy stories. In his own manga A Cursed Sword's Daily Life, the main character Monika lives in a fantasy world that has smartphones and the internet.
Follow ONE Esports on Facebook and Twitter for more gaming news and stories.
READ MORE: 5 reasons why Elden Ring and Genshin Impact are the same game