Fortnite and League of Legends fans unite!
Epic Games has entered into an explosive crossover with Riot Games, and will introduce Jinx from League of Legends to its popular battle royale.
A playable character in the Riot MOBA, the Loose Cannon joins the game as part of the Gaming Legends skin line, and makes history as the first League of Legends champion to appear in title outside of Riot's.
The collaboration is the latest activation that's part of the RiotX Arcane event, a month-long experience that builds up the release of upcoming animated series, Arcane.
Fortnite's League of Legends collaboration introduces Arcane Jinx as a guest skin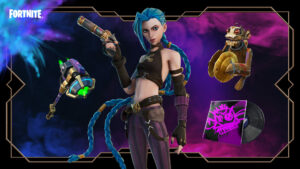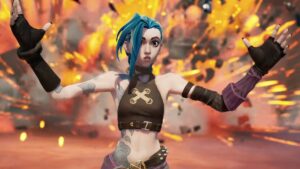 Jinx enters the cartoonish mayhem with a brand new look.
Instead of donning her original pink bandolier bikini and shorts, the League of Legends character rocks a black crop top and striped capri pants.
The marksman also carries some mischievous gadgets with her. League fans can complete Jinx's look with a Dream Monkey back bling and a Pow Pow Crusher pickaxe, built from surplus parts of her minigun.
Arcane Jinx is now available in the Item Shop for 1,500 V-Bucks. For extra collaboration goodies such as wallpapers and music, you can purchase the Arcane Jinx bundle for 1,800 V-Bucks.
---
---
Riot Games is now featured in the Epic Games launcher for the crossover
In addition to the crossover, the Epic Games launcher now has Riot Games' biggest titles up for grabs, namely League of Legends PC, Teamfight Tactics, Legends of Runeterra, and Valorant.
The free-to-play titles will install the new Riot client, giving Epic users direct access through their own library. Epic has confirmed that seasoned players will be able to sign in to their existing accounts and utilize their existing friends list.
The Arcane series premieres on Netflix on November 6.
Follow ONE Esports on Facebook for more Fortnite news, guides, and highlights.
READ MORE: Resident Evil's Jill Valentine and Chris Redfield drop into Fortnite