On April 11th, it was announced on social media that Igor "iLTW" Filatov would replace Aliwi "w33" Omar on Team Nigma for DPC Season 2.
The addition of iLTW to the roster shakes things up a bit for the roster.
While he's replacing W33, who was previously the team's midlaner, iLTW has predominantly played carry in the past, and there is no public data of iLTW ever playing mid in competitive play.
Curiously, Team Nigma's Liquipedia page currently has both iLTW and Amer "Miracle-" Al-Barkawi listed as positions 1 and 2, however, our prediction is that iLTW will take over the carry spot, letting Miracle- move back to his more natural position in the midlane.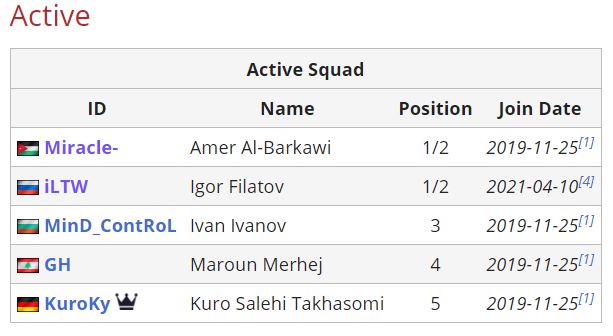 ---
---
In the past, Team Nigma's signature style was for w33 to create space in the early game so that Miracle- could carry the game later on. But if iLTW takes over the carry position, Miracle will have plenty of room in the midlane to pull off some crazy stunts, so expect him to have more freedom in that capacity.
As for what heroes you can expect from iLTW, he's been around for quite a while in the competitive scene but has only recently started to play for some of Europe's high-profile teams including Virtus.Pro and OG. He thrives when he's able to get his hands on scaling carries such as Terrorblade, Gyrocopter, and Troll Warlord, all of which will need some space during the early game to grow. Hopefully, we'll see the synergy between Miracle- and iLTW as both player's playstyles look to complement one another.
Nigma face off against Team Secret in their first match in the European DPC upper division Season 2 on April 18th.
READ MORE: Player Report Card: Ana's return to OG couldn't have gone better