We're finally at the penultimate point of the ONE Esports Singapore Major as we continue today with Day 4 of the Playoffs.
If you've been playing ONE Esports Fantasy, that means it's time to make a new set of picks. And if you haven't there's still time to join the fun, and get a chance to win US$1,000 in Steam vouchers and a Tumi Finch backpack worth S$690.
For the Playoffs, only four games are played each day, so we have to make every pick count. This is the part of the competition where you're going to need every bit of information on the teams in your head-to-head picks. The Playoffs also mean you're going to have to pick a winner, no more down the middle draws.
Advice in this article is based on each team's performance in the Wild Card, Group Stage, DPC upper division, and previous tournaments.
---
Team Secret vs OB Esports x Neon
This is one matchup no one expected to see this far into the tournament. Everyone predicted Team Secret to cruise through the Upper Bracket, yet here they are in the lower bracket facing off against OB Esports x Neon, the last team from Southeast Asia.
Team Secret had an impressive debut when they defeated Thunder Predator on Day 1 of the Playoffs. However, they showed chinks in their armor yesterday in their hero drafting and team play against PSG.LGD in their upper bracket quarterfinal match.
Looking at Neon, they've steadily improved their draft and strategy execution as the Major continued. They survived the Group Stage with a 5-9 game record that kept their tournament hopes alive. But once Neon got into the Playoffs, they've been building momentum and have strung together two massive upsets against Fnatic and Vici Gaming.
Prediction: Team Secret
Neon's Singapore Major run is reminiscent of fellow Filipino squad TNC.Predator's legendary performance from The International 2016 when they eliminated OG. But how many upsets can this squad realistically pull off?
Team Secret has never faced Neon before, but both teams have played against Thunder Predator and PSG.LGD. Team Secret defeated Thunder Predator 2-0 in their Playoff debut, while Neon ended their Group Stage match against the same opponents in a 1-1 draw. Neon also lost 0-2 to PSG.LGD in the Group Stage, while Team Secret managed to win a game against the Chinese powerhouse team.
Team Secret already has a way to deal with underdog teams, and that is to ban their comfort picks and disrupt their hero composition. They did this against Thunder Predator in their debut match. If they use the same strategy against Neon and ban the Puck and Nature's Prophet, they should win this match and advance to the Lower Bracket Semifinal.
---
Thunder Predator vs Invictus gaming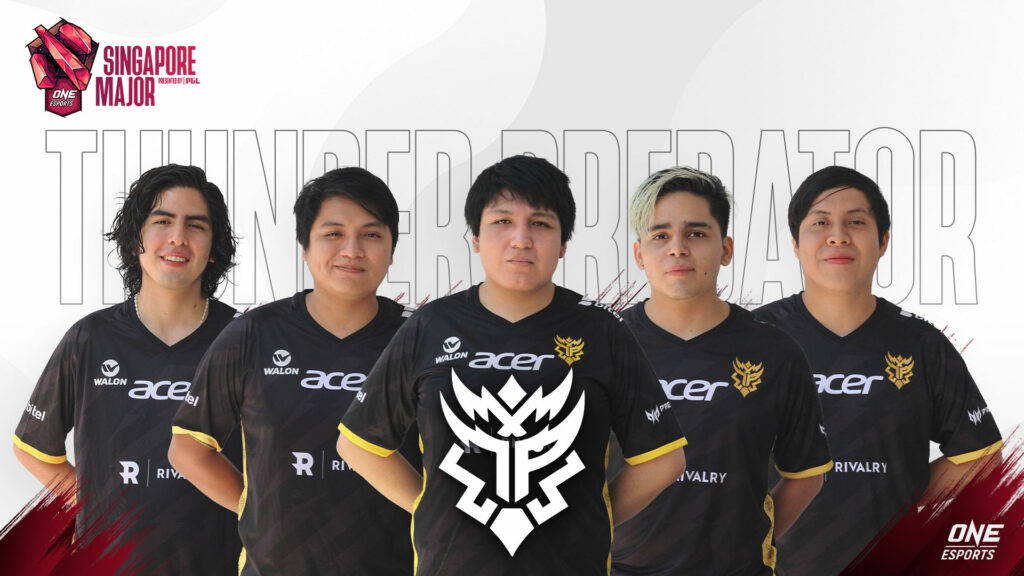 Another team that's having one amazing run is Thunder Predator. Since dominating the Group Stage, which they finished with a 12-2 game record, Thunder Predator has faced top-level competition as soon as the Playoffs started. After being knocked to the lower bracket by Secret, the lone South American squad has eliminated Team Aster and Virtus.pro — two teams that had incredible DPC upper division runs in their respective regions.
Thunder Predator's next challenge will be the top-ranked Chinese team from the DPC China upper division. Invictus Gaming came into the Major with a 12-5 game record, which includes wins against all DPC China upper division teams. Invictus Gaming had a strong opening performance as they sent Vici Gaming to the lower bracket but they were no match for Evil Geniuses and lost to the North American powerhouse team 0-2.
Prediction: Thunder Predator
Thunder Predator has found success going up against teams from Europe, North America, Southeast Asia, and CIS in the Major. Meanwhile, Invictus Gaming's only win in the Major thus far came from another Chinese team. IG lost to a team from the Americas region, Thunder Predator's stomping ground.
Thunder Predator is also 7-1 against Chinese teams in the Major thus far. They've won against PSG.LGD, and defeated Team Aster twice. Thunder Predator's only game loss from a Chinese team was from Vici Gaming, and they've been knocked out of the tournament.
---
---
Evil Geniuses vs PSG.LGD
PSG.LGD's game record in the Major continues to grow. They're now up to 29 games played with a 21-8 record and a 72.42% win rate since they started from the Wild Card. Similar to Thunder Predator, PSG.LGD has played a team from every region except CIS. This shows they have a better understanding of the 7.28c patch from an international competition standpoint.
Meanwhile, Evil Geniuses has played a total of four games since the Playoffs started. All their wins were complete stomps against Fnatic and Invictus Gaming. In both instances, Evil Geniuses did not make any mistakes and they look to be in peak form.
Prediction: Evil Geniuses
The last time these two teams faced one another was during the ONE Esports Dota 2 World Pro Invitational in Singapore. Evil Geniuses got the better of PSG.LGD during that event, winning the matchup 6-2. But, aside from Wang "Ame" Chunyu, PSG.LGD has a completely different roster since then.
PSG.LGD is a formidable team that sent tournament favorites Team Secret to the lower bracket. Asking them to repeat this performance against Evil Geniuses is a huge ask. While we believe PSG.LGD has what it takes to beat Evil Geniuses in a best-of-three series, we just can't take that risk after seeing how well Evil Geniuses has performed thus far.
READ MORE: Singapore Major Playoffs Day 3 recap: PSG.LGD and OB.Neon earn huge upset wins