With the ONE Esports Singapore Major's Wild Card and Group Stage over, it's time to look ahead to the Playoffs.
If you've been playing ONE Esports Fantasy, that means it's time to make a new set of picks. And if you haven't there's still time to join the fun, and get a chance to win US$1,000 in Steam vouchers and a Tumi Finch backpack worth S$690.
For the Playoffs, only four games played each day, so we have to make every pick count. This is the part of the competition where you're going to need every bit of information on the teams in your head-to-head picks. The Playoffs also mean you're going to have to pick a winner, no more down the middle draws.
There are only four matches that are going to be played today, and they're all from the Upper Bracket.
Advice in this article is based on each team's performance in the Wild Card, Group Stage, DPC upper division, and previous tournaments.
---
Evil Geniuses vs Fnatic
There are plenty of storylines to consider in this matchup with Abed "Abed" Yusop and Daryl "iceiceice" Koh — players from SEA who joined Evil Geniuses — going up against their former teammates in Fnatic.
The last time these two squads faced off was during the DOTA Summit 12. Fnatic got the better of Evil Geniuses during that tournament and won 2-1 in the playoffs. But Fnatic still had iceiceice at the time.
Fnatic took a step forward in improving their roster when they signed Marc "Raven" Fausto, the best carry player in the SEA region. But they also took a risk when they added Natthaphon "Masaros" Ouanphakdee to replace iceiceice. We believe it is a risk because Masaros has never played against this level of international competition before.
If we look at Evil Geniuses, on the other hand, this squad was formed for one purpose. And that is to compete against the best teams in the world. In the last three LAN events Evil Geniuses has participated in, they have finished fourth in the MDL Chengdu Major. They then were the runner-up of the ONE Esports World Pro Invitational in Singapore and DreamLeague Season 13. The last LAN they played in was the aforementioned DOTA Summit 12, where they did lose to Fnatic.
Prediction: Evil Geniuses
Understanding that Fnatic is a formidable opponent in the competition, Evil Geniuses will not take them lightly. And with the key insights of Abed and iceiceice, who knows all the tricks and strategies Fnatic uses in competition, we have to give the edge to Evil Geniuses.
---
Invictus Gaming vs Vici Gaming
Invictus Gaming has been the biggest surprise in the DPC China upper division as they dominated their region. They earned wins over Elephant, PSG.LGD, and their Upper Bracket opponents Vici Gaming.
Invictus Gaming is also one of those teams that performed well during the last DPC Major before the COVID-19 pandemic halted the 2019-2020 season. Invictus Gaming finished in fifth/sixth place during the DreamLeague Season 13. Invictus Gaming is also one of the few teams in the world that didn't shuffle their roster during the DPC hiatus. They still have the same players since 2019.
Some would argue that Vici Gaming had just as impressive DPC upper division run as Invictus Gaming. VG was only behind one win Invictus Gaming and Team Aster in the DPC China upper division standings with an 11-4 record.
Vici Gaming even had better results than Invictus Gaming in the last DPC Major at Leipzig finishing in third place. VG was also the squad that knocked IG to the lower bracket in that tournament winning the match 2-1.
Prediction: Vici Gaming
This match's outcome is honestly too close to call, but if we have to pick a winner, we're going with Vici Gaming. While the head-to-head record between Invictus Gaming and Vici Gaming since the Chinese roster shuffle last September is 4-3 in favor of Invictus Gaming, they might be cold to start the Playoffs. Meanwhile, VG has warmed up with 24 games played over the last four days, and have proven that they're legitimate contenders.
---
---
Thunder Predator vs Team Secret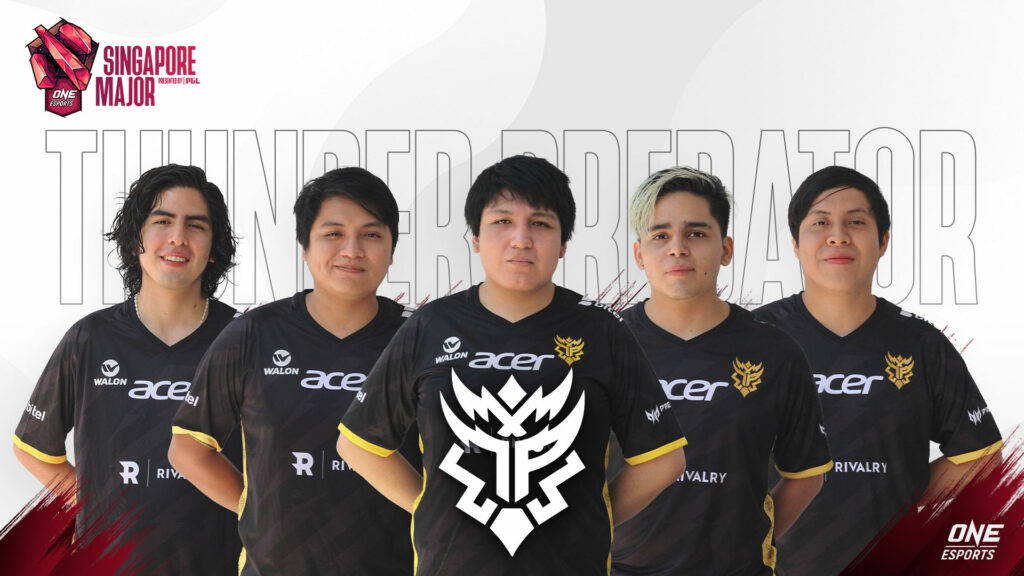 Thunder Predator against Team Secret is a real David versus Goliath of a match. Fans and experts agree that Team Secret is the clear favorite to win the Singapore Major. After skipping the first DPC Major in the 2019-2020 season, Team Secret rolled into the Leipzig Major and won it convincingly. The European powerhouse squad then continued to win seven straight online competitions in their region, which solidified their position as the best Dota 2 team in the world.
Then we have Thunder Predator and their Cinderella run in the Singapore Major's Group Stage. Playing in the forgotten Americas region, no one expected Thunder Predator to perform at such a high level. They're considered as the second best team in South America behind beastcoast.
However, after seeing how well Thunder Predator has been drafting and their team synergy, there is no doubt, they're the best team we've seen in the Singapore Major thus far. Thunder Predator finished with a spectacular 12-2 record in the Group Stage yesterday.
Prediction: Team Secret
The last time these two teams met was in 2019 during the Chongqing Major. Team Secret won the match 2-0, but Thunder Predator's roster was different at the time only having Frank "Frank" Arias and Leonardo "LeoStyle-" Sifuentes. 
We put Secret here as the pick, but honestly, you could go with either team here. It really comes down to which team's story do you believe more in? If you're willing to risk it and go big, we suggest siding with Thunder Predator. If you're someone who believes Goliath should have won, go with Team Secret.
---
Virtus.pro vs PSG.LGD
Virtus.pro recently confirmed that their hard carry player Egor "Nightfall" Grigorenk (formerly epileptick1d) has been cleared to play. This means Virtus.pro will be playing with their full roster. A roster that dominated the DPC CIS upper division when it finished with a 14-1 score — the best record in all DPC upper division.
VP has been on an incredible run since they promoted their VP.Prodigy roster as their primary Dota 2 squad. They play a strong and calculated style much like their opponents in PSG.LGD. But their approach to team fights is a little bit different with VP opting to go with true support heroes like Oracle, Lion, and Shadow Shaman compared to PSG.LGD's Death Prophet position 5 support picks from time to time.
Meanwhile, PSG.LGD has proven to us they're the real deal by finishing in first place in the Wild Card with an 8-2 record. Followed by a second place finish behind Thunder Predator in the Group Stage with a 9-5 score.
Prediction: Virtus.pro
Virtus.pro have figured out their style of Dota 2, and it reminds us a lot of the old VP roster that always showed up in DPC Major events. Judging from how well they performed in the DPC CIS upper division, most of the games they played weren't even close. If the same Virtus.pro squad shows up in Day 1 of the playoffs, PSG.LGD will have their hands full against this CIS powerhouse.
READ MORE: Deep Dive: A statistical analysis of the Singapore Major Playoffs teams