This article is part of a series written for the ONE Esports Singapore Major by illustrious Dota 2 statsman, Ben "Noxville" Steenhuisen.
---
With the tournament officially underway, we can now introduce the five teams waiting in the Group Stage.
Initially meant to be six teams, Natus Vincere had to pull out due to multiple COVID cases – hence three teams advancing from the Wild Card round (not two as initially planned).
As a result of beastcoast withdrawing, the Group Stage will only eliminate a single team. The top three from the Group Stage will move to the Upper Bracket of the playoffs and the middle four will advance to the Lower Bracket of the playoffs.
Here's my analysis of each of the teams that will be starting from the Group Stage (for Noxville's analysis of PSG.LGD, Vici Gaming, and Team Liquid, please refer to this article – Editor).
---
Alliance
As one of only two Group Stage invited teams not to require a sub, Alliance must feel confident in qualifying for the Upper Bracket — both teams in the Wild Card round (Team Nigma and T1) that required a sub failed to qualify.
During the regular season, Alliance was one of the few teams to take a game off Team Secret, but left it right until their final match to secure outright second place.
It's hard to find a significant stand-out statistic for Alliance, they don't rely on a specific aspect of their gameplay to pull them through – but rather are consistently strong across the board through strong macro play and decision making.
Team Aster
The top of Chinese Dota has been highly competitive this season and Aster ended the regular season with technically the best record (6-1 in series, 12-3 in games), only to lose the tiebreaker game to Invictus Gaming.
Their sole loss was against Vici Gaming who will be joining them in this Group Stage. Monet, Xxs, and LaNm are very experienced players each with over 1200 pro games; and LaNm is the fifth most LAN-experienced player from China.
The team relies heavily on a combination of individual space creation plays to allow space for their cores to farm, though Monet is the one that benefits most from this – in Season 1 he had the second-highest GPM in China (730). How much they will be affected by the loss of their position 4 Borax (aka Boboka) remains to be seen.
Neon Esports
One of the bigger upsets across all regions in Season 1 was TNC not qualifying in the SEA league, and Neon Esports are one of the teams who can take credit for that feat.
Yopaj remains one of the most bloodthirsty players in this patch, averaging 0.28 kills per minute – the third-highest among all players. Their hero pools are diverse: three of their players feature in the top 15 most unique heroes played this patch (Skem, Yopaj, and Jaunuel).
Annoyingly for them their carry play Natsumi is unable to attend so Rapy will be standing in, a player with a moderate amount of experience with the team (he was on Neon Esports before, and has played with all the members before at various times). This also causes a shuffle in the roles, since Skem will be returning to his carry role to accommodate the sub.
Quincy Crew
Quincy Crew is the final Group Stage team to be playing with a sub, and they've only had one day to practice with him. MSS was initially ruled out and MiLaN was announced to replace him, although this wasn't to be as MiLaN's flight had issues, and instead poloson has now taken the spot.
Quincy Crew acted as the regents of North America whilst dominant Evil Geniuses mostly hibernated during the peak lockdown times. When EG returned, Quincy Crew were not that willing to hand back the crown and ended up beating EG and looking to win the regional league.
In their final game of the season, however, they lost 1-2 to Undying, which forced a 3-way tiebreaker for first place. They ended up second (enacting revenge on Undying) and secured a spot in the Group Stage.
Their team features a bunch of complete opposites: Lelis loves to play loads of diverse heroes (13 unique in Season 1, the most in North America), whereas Quinn ended up playing 9 of his games on Void Spirit.
As one of the regions with just two slots in the major, there's a lot of pressure back home for them to perform in the hope it leads to another slot opening up for Season 2.
Thunder Predator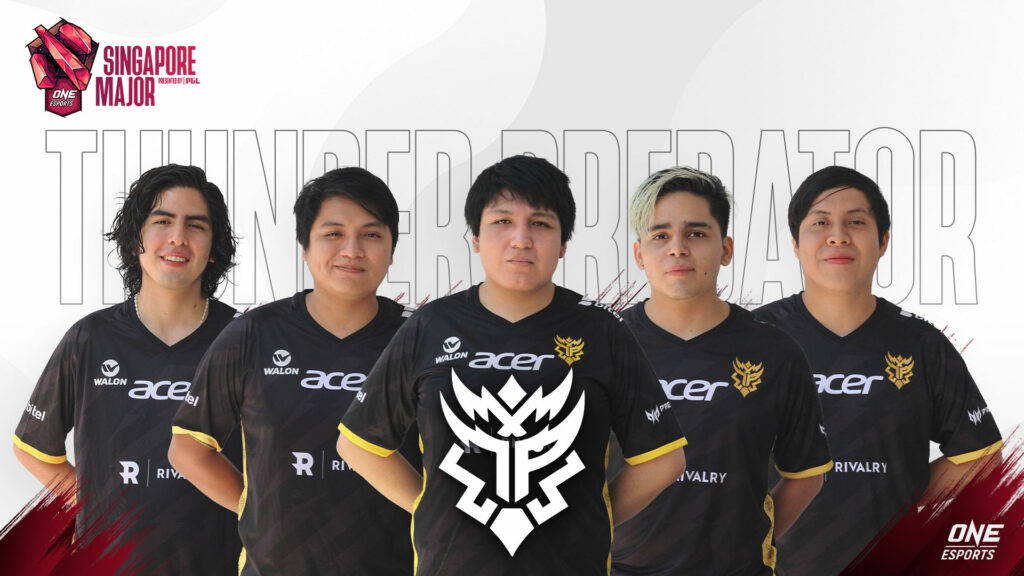 As the only South American team present, Thunder Predator have the weight of a region on their shoulders – and many will judge South America based on their performance alone. Although 27 of the 40 players in South America represented Peru, Thunder Predator were the only fully Peruvian team of Season 1.
Their DPC strategy seems to be "win fast or perish" as they featured the second-fastest average winning time (31:54, just 11 seconds slower than NoPing), and also the 2nd slowest avg losing time (37:17, just 28 seconds slower than EgoBoys). Along with Alliance, they are the only Group Stage invited team who are not playing with a sub.
---
Noxville runs Datdota and is a software architect at esports data company, Bayes Esports. Follow him on Twitter.