Blacklist Rivalry remains undefeated in the DPC SEA 2023 Tour 1 Division 1, defeating Talon Esports 2-1 in week two of the tournament.
The Filipino squad has yet to lose a match in the regional league, earning wins over Bleed Esports, Fnatic, and Talon. However, Blacklist has consistently lost the first game in all three of their matches.
In the team's post-game interview, Nico "eyyou" Barcelon discussed two reasons that he says contribute to Blacklist's slow starts — and their eventual victory.
Blacklist deliberately allows their opponents to pick heroes they're comfortable with, so they can play them at their best. At the same time, their carry player seems to forget how important a Black King Bar is when it comes to team fights.
---
---
Blacklist Rivalry eyyou explains why they've lost all their game ones so far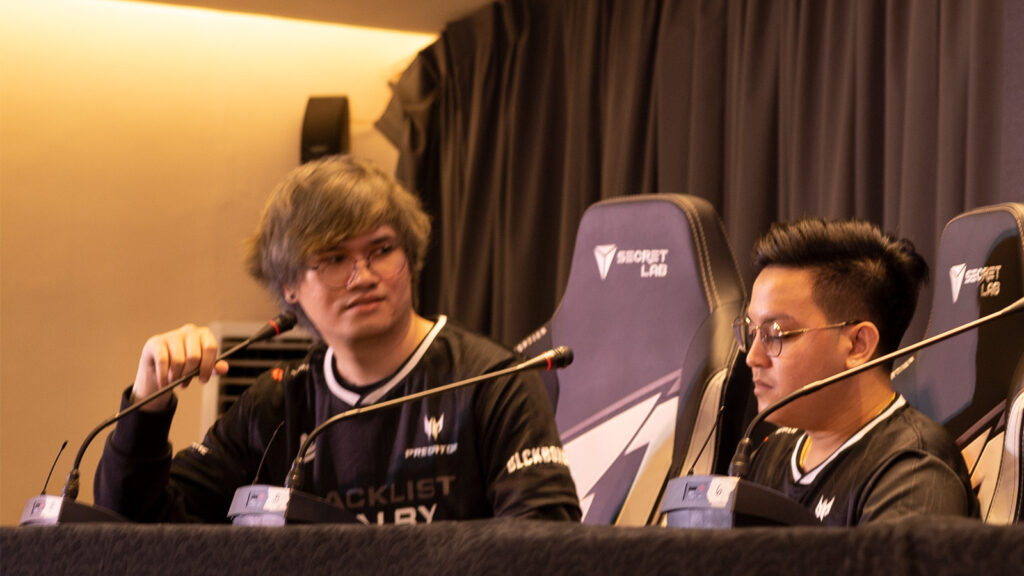 In game one, Blacklist took an early lead over Talon with their unorthodox draft. Marc "Raven" Fausto's hard carry Lina had a successful laning stage, while Talon's core heroes fell behind in their lanes.
However, Blacklist lost their lead when they started losing mid-game team fights. Talon was able to isolate and use all their spells and abilities on Raven's glass-cannon Lina because he didn't pick up a BKB. Instead, Raven finished his Hurricane Pike and Gleipnir before he bought a BKB — a greedy choice most carry players often make.
Talon's Spectre hard carry pick for Nuengnara "23savage" Teeramahanon also scaled better in the late game, while Blacklist struggled to find kills in team fights.
---
---
Talon took a 1-0 lead over Blacklist, marking the third straight time they lost the first game in the DPC SEA regional league.
After the series, Neal "Tsunami" Khandheria asked Blacklist why they kept struggling at the start of each series. According to eyyou, they're simply testing the capabilities of their new team.
"I guess we're trying to give our opponents their comfort strats," said eyyou. "We want to fight their best form to find out if we can beat it or not."
The veteran support player also teased his teammate Raven, questioning his carry's hero item choices.
"This time, it is because I have a typical SEA carry who didn't buy BKB," he joked.
Blacklist returned to their winning ways in the next two games against Talon. They punished Talon's position 5 support Legion Commander pick, ensuring that it had minimal impact in game two.
---
---
Dota 2 caster Austin "Cap" Walsh even called the hero pick "absolutely useless."
"I saw him kill two swarms of Broodmother's spiders," said Cap. "That's about the entire use of him so far."
Blacklist drafted a carry Lina again in game three, but this time, Raven picked up his Black King Bar 16 minutes into the game, instead of getting it at the 30-minute mark in game one. Talon suffered heavy casualties when they jumped Raven's Lina, because they couldn't land their abilities on her while her BKB was still active.
The item choice made all the difference for the Filipino squad, with Raven finishing with a perfect 20/0/6 KDA. However, the star of the game was Eyyou, the eventual match MVP, who locked down Talon's heroes using Treant Protector's Overgrowth in pivotal team fights.
---
---
Blacklist Rivalry's 2-1 win over Talon Esports sees them tied for first place with fellow all-Filipino squad Execration.
Watch eyyou's full post-game interview in the video below.
---
---
READ MORE: Kuku believes this is the strongest Dota 2 team in SEA