Evil Geniuses' superstar carry player Artour "Arteezy" Babaev was instrumental in his team's success when they debuted during the Group Stage of the WePlay AniMajor.
In fact, he single-handedly changed the outcome of a game where Evil Geniuses were initially trailing to TNC Predator.
Arteezy with the game-saving Sunder play that gave Evil Geniuses the win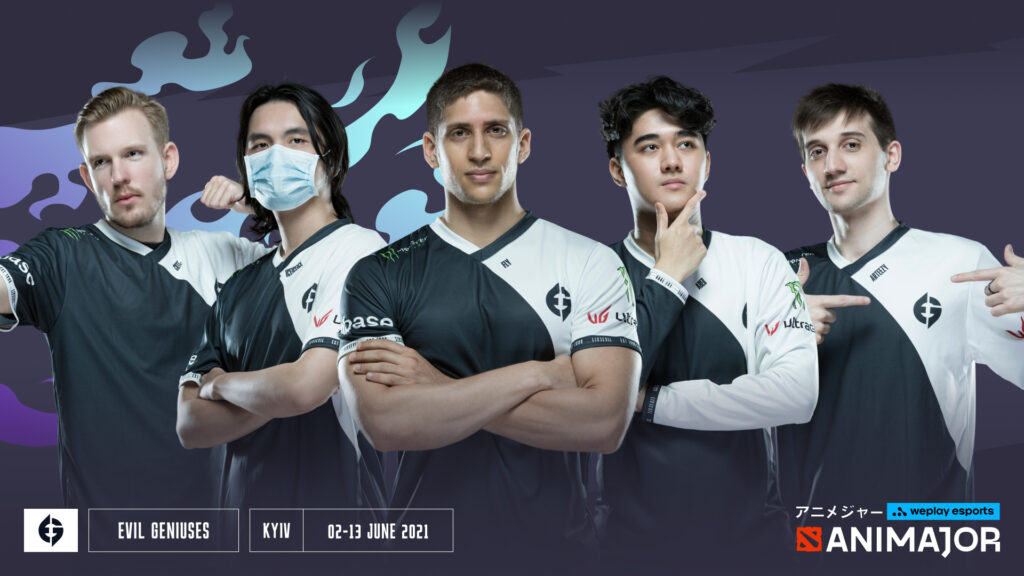 After taking a 1-0 lead over TNC Predator, Evil Geniuses quickly fell behind their Filipino opponents to start game two.
While the rest of Evil Geniuses' players struggled to find their footing, Arteezy continued to focus on farming on Terrorblade, keeping the game close.
That was up until TNC Predator pulled ahead after a clutch cheese-pass play by Jun "Bok" Kanehara that saved Kim "Gabbi" Villafuerte's Spectre.
After taking down Arteezy's Terrorblade, TNC Predator quickly gained momentum, earning a 10,000-gold and 18,000-experience lead against Evil Geniuses at the 40-minute mark.
Knowing they had Evil Geniuses on their last legs, TNC Predator went for a smoke gank and focused down the enemy support heroes first.
Arteezy knew TNC Predator's only chance to win the fight was if he was the last hero alive on his team. This is why he decided to Sunder Abed's Dragon Knight to keep a teammate alive.
By swapping health with Abed, Arteezy activated his Satanic, regaining all of his health. The move completely surprised TNC Predator, which caused them to scatter and eventually lose the team fight.
Immediately after turning the tides on TNC Predator, Evil Geniuses rushed down the Radiant base, where Arteezy made the same play, saving Abed.
---
---
The Filipino squad didn't stand a chance in the final moments of the game, with Arteezy's Terrorblade dominating every team fight. Evil Geniuses' superstar hard carry even finished the game in style with a Rampage.
WePlay AniMajor Group Stage starts off with another four-way tie
Arteezy's heroics helped Evil Geniuses go up 3-1 to end the first day of the WePlay AniMajor.
PSG.LGD, Team Nigma, and Vici Gaming are also tied with them for first place with the exact same record.
The other half of the Group Stage teams also finished with identical 1-3 records, which tied them up in fifth place.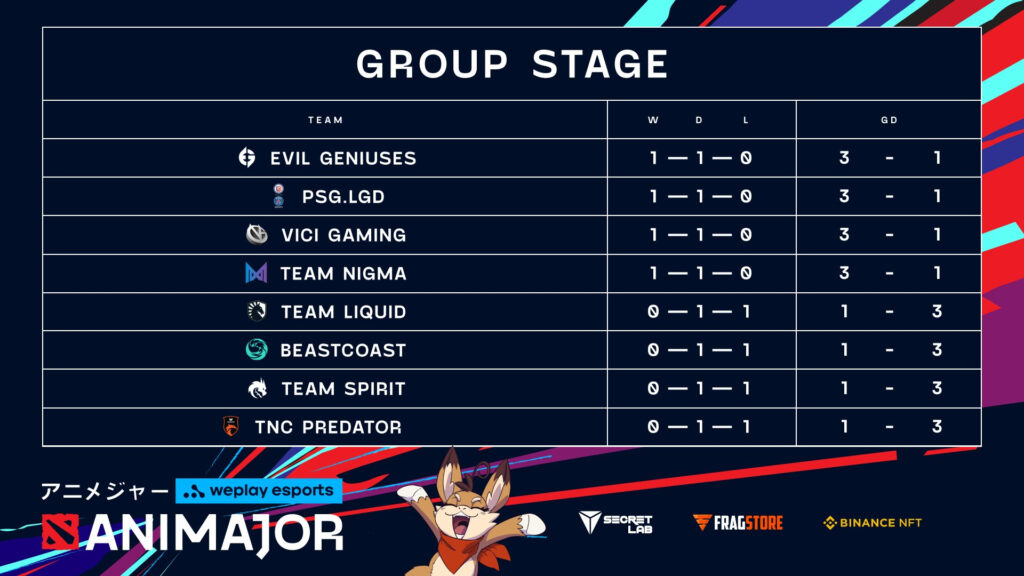 The team with the toughest set of matches on day two of the Group Stage is TNC Predator. The Filipino squad will go up against Team Nigma, PSG.LGD, and beastcoast.
After falling behind on day one, TNC Predator will need to win a series if they hope to make it out of the Group Stage.
The WePlay AniMajor continues later at 7:00 p.m. GMT+8 with day two of the Group Stage. Learn more about the tournament's results, schedule, format, prize pool, and where to watch here.
READ MORE: WePlay AniMajor Group Stage: 5 teams who are determined to survive