ASUS has unveiled a product collaboration with SOTSU and SUNRISE with an incredible line-up of products, peripherals, and accessories inspired by the classic mecha anime Gundam.
The ASUS x Gundam collection features two limited-edition models that merge ASUS' state-of-the-art products of ROG Strix and TUF Gaming with the iconic visuals of Gundam.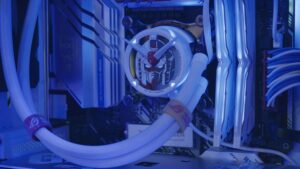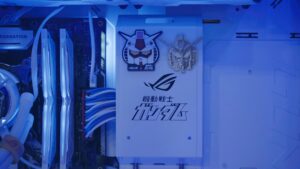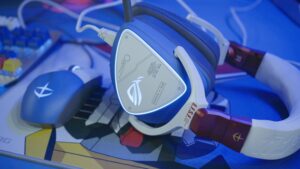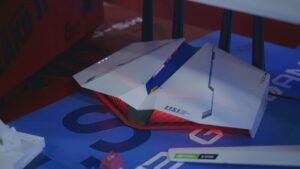 The ROG Strix Gundam model proudly presents a heroic white color scheme inspired by the Earth Federation Space Force branding and the RX-78-2 Gundam.
Fans of the anime will fall in love with how decked out the ROG build is from an aesthetic and specs standpoint. The Gundam model carries a GeForce GTX 3080 along with a Z490 Motherboard and an 850W blue-glow power supply.
Its peripherals hone in on the collaborative design with a themed Scope TKL keyboard and an Impact II headset that'll make you feel like you're inside a Gundam cockpit. Other worthy mentions would be the XG279Q-G monitor and the RT-AX82U gaming router that changes color with a press of a button.
---
---
The Sieg Zeon Zaku II model captures the darker side of the Gundam series and embraces Char Aznable's iconic Zaku II Mobile Suit in its crimson design.
For its interior, the Zaku II model is equipped with a B550M motherboard and an X3 GeForce GTX 1660 SUPER graphics card.
The homages to the Zaku II shine through with the horned Zaku helmet CPU cooler, the GT301 casing that features a 301 headset holder reminiscent of Char's shoulder shield, and the VG27AQGL1A monitor that dons the iconic cyclops eye on the back.
For Gundam and ASUS enthusiasts, the collaboration will also give out Gunpla kits for those who buy the specific model sets at a certain price point. At the highest price point, the Gundam model will feature the PG Unleashed version of the RX-78-2 Gundam while the Sieg Zeon Zaku II will come with an MG MSN-04 SAZABI Ver. Ka kit.
Here is a pricelist of the ASUS x Gundam collaboration:
Gundam Series:
Z490-GUNDAM Motherboard (WI-FI): PH₱13,000 (US$270)
ROG STRIX GeForce RTX™ 3080 GUNDAM Edition: PH₱76,500 (US$1600)
ROG STRIX LC 360 RGB GUNDAM Edition PH₱14,000 (US$290)
ROG STRIX 850W PSU GUNDAM Edition: PH₱11,600 (US$240)
ROG STRIX HELIOS Case GUNDAM Edition: PH₱18,600 (US$390)
ROG STRIX XG279Q-G Monitor GUNDAM Edition: PH₱43,000 (US$890)
ROG STRIX SCOPE TKL Keyboard GUNDAM Edition: PH₱7,300 (US$150)
ROG STRIX IMPACT II Mouse GUNDAM Edition: PH₱2,500 (US$50)
ROG DELTA Headset GUNDAM Edition: PH₱9,600 (US$200)
RT-AX82U Router GUNDAM Edition: PH₱14,400 (US$300)
Zaku II series:
TUF GAMING B550M Motherboard (WI-FI): PH₱10,600 (US$220)
TUF GAMING LC 240 RGB ZAKU II Edition: PH₱7,600 (US$160)
TUF GAMING X3 GeForce® GTX 1660 SUPER™ ZAKU II Edition: PH₱17,500 (US$360)
TUF GAMING GT301 Case ZAKU II Edition: PH₱5,800 (US$120)
TUF GAMING VG27AQGL1A Monitor ZAKU II Edition: PH₱30,000 (US$620)
RT-AX86U Router ZAKU II Edition: PH₱17,000 (US$350)
For more information about the ASUS x Gundam collaboration, you can check out their official site.