Being one of the biggest streamers in the world does have its perks. Apparently, eating dessert with US$500 golden spoons is one of them.
While streaming a watch party of the VCT Challengers NA match between Andbox and Immortals, one of his viewers observed that if you look at your reflection in a spoon, it will be upside down.
This prompted Shroud to bring out his golden Versace spoon, showing it off on his stream. Shroud's close friend, Justin "Just9n" Ortiz shared that Shroud had purchased the spoon for US$500.
---
---
A quick Google search will reveal that Versace's Medusa Gilded Dessert Spoon and Medusa Gilded Coffee Spoon cost approximately US$500 each. In some countries, they cost way more.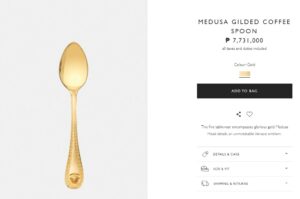 Previously, we've seen Shroud spend his hard earned money on private jets. He has even contemplated buying his own island at some point.
With endless possibilities, this only makes us wonder what will Shroud buy next?
READ MORE: Shroud explains why Valorant is better than CS:GO