This article is presented by Marriott Bonvoy.
Have you ever wondered where video game level designers get their inspiration from?
While some fantastical video game levels really are completely original creations, many others actually take their inspiration from real-life locations.
Overwatch's Ilios map, for example, is famously based on one of the hottest tourist destinations in the world — Santorini, Greece. The developers even specifically stated that they wanted players to experience a piece of the island, especially since not everyone can afford a trip to Greece.
"If you're gonna spend hundreds or thousands of hours there, make it somewhere you want to be, not somewhere you're oppressed by," explained former Overwatch lead designer Jeff Kaplan.
But what are some other video game locations you can visit in real life?
---
5 video game locations you can visit in real life
5. Genshin Impact's Asase Shrine is based on Japan's cat island Tashirojima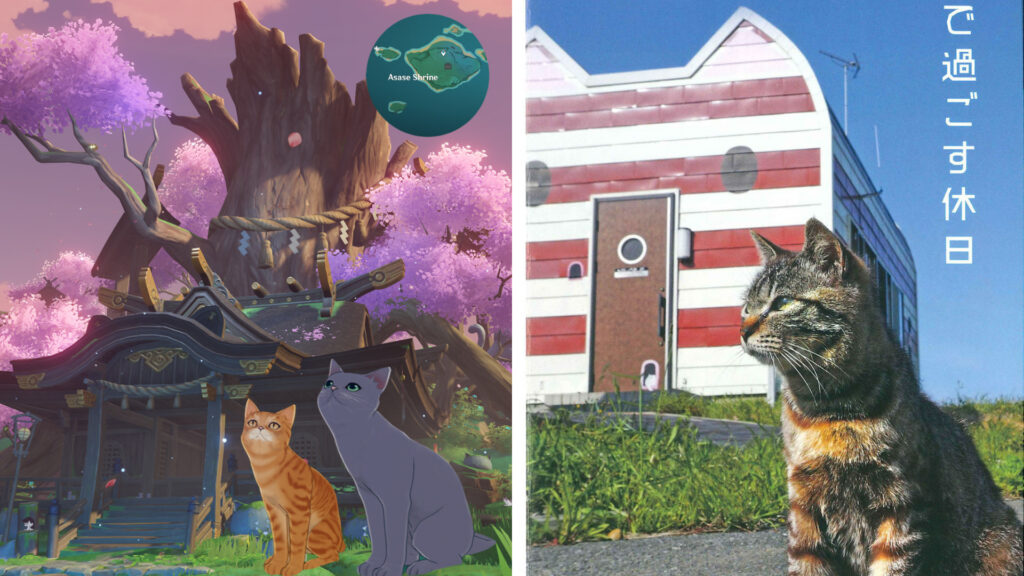 Video game location: Asase Shrine (Genshin Impact)
Real-life counterpart: Tashirojima Island in Miyagi, Japan
Hidden in the middle of Seirai Island's harsh and cold environment is the bright and peaceful cat island, Asase Shrine. It is basically an island in Genshin Impact inhabited by cats, led by the self-proclaimed Provisional Head Priestess, Neko.
Genshin Impact's Asase Shrine is probably based on the real-life Tashirojima, a small island located on the outskirts of Miyagi prefecture in Japan. The population of cats outnumbers humans by a mile, at a 3:1 ratio according to the Japan National Tourism Organization (JNTO).
To protect its silkworm produce from pests, Tashirojima locals brought in numerous cats to roam around the island. The population of humans slowly declined throughout the years, leaving the felines to dominate the humble city of Tashirojima.
Meanwhile, the establishment of Genshin Impact's very own cat island was a different story. Asase Shrine was built to suppress the power that remained after Kanna Kapatcir (Thunderbird) was slain by the Raiden Shogun. The black cat Neko took over the shrine since then.
If you love cats and free Primogems, you can begin the "Neko is a Cat" quest series which focuses on the restoration of the Asase Shrine cat island.
---
4. Valorant's Bind map is a futuristic version of Morocco's capital city, Rabat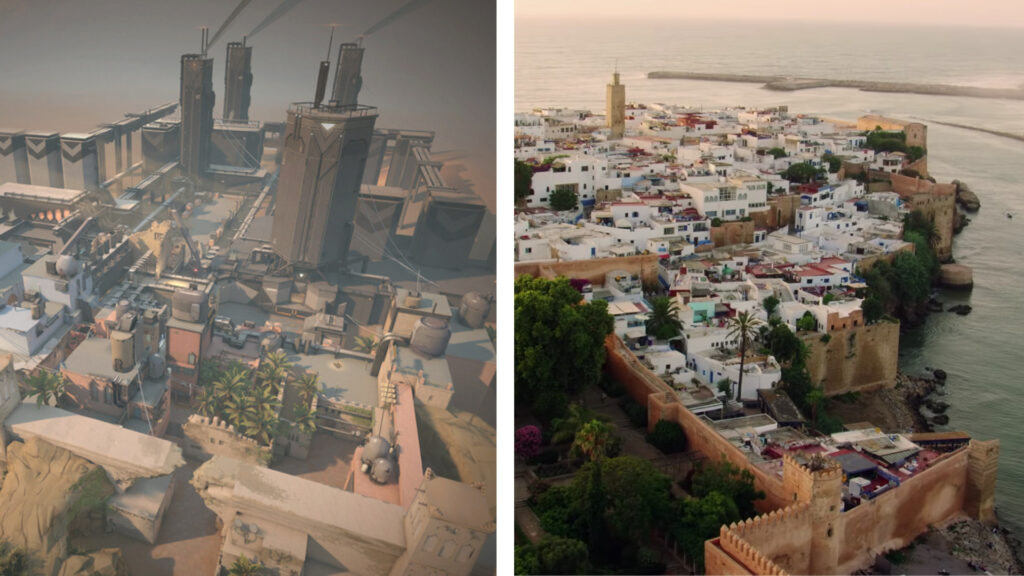 Video game location: Bind (Valorant)
Real-life counterpart: Rabat, Morocco
Riot Games' Valorant is set on Earth in the near future, in the year 2039, so unsurprisingly, many levels are based on different cities around the world.
Valorant's Bind map, for example, is the future version of Rabat, the capital city of Morocco. The map boasts cobblestone-paved steps and graffiti-designed walls, with palm trees growing on some areas. It's supposed to reflect a piece of Morocco 18 years later.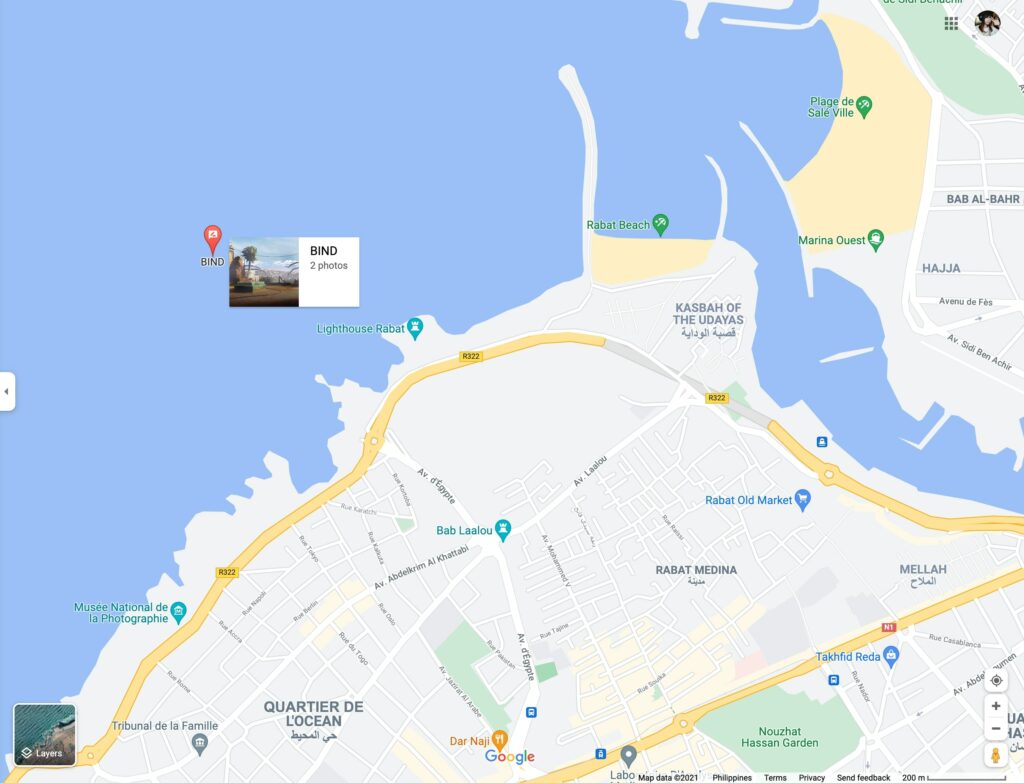 In fact, if you google its map coordinates at 34°2'A" N 6°51'Z" W, you'll find a pin on Google Maps labeled "BIND" just off the coast of Rabat, Morocco.
Other Valorant maps in real life are:
Split — Tokyo, Japan
Ascent — Venice, Italy
Haven — Thimphu, Bhutan
Icebox — Bennet Island, Russia
Breeze — off the coast of the Bahamas and in the Atlantic Ocean
---
3. Warzone's Stadium is the Donbass Arena in real life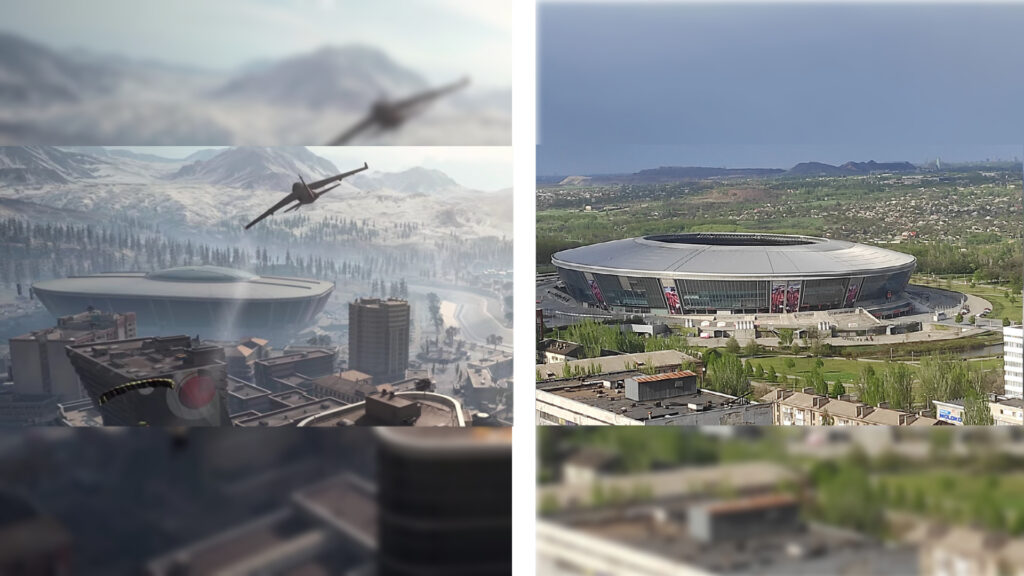 Video game location: Stadium (Call of Duty: Warzone)
Real-life counterpart: Donbass Arena in Donetsk, Ukraine
Before Activision dropped Warzone Season 5 and time-traveled to 1984, players were living in present-day Verdansk. This version of Warzone Verdansk featured a closed, off-limits Stadium where players could only drop from above.
While it could have been inspired by any other massive stadiums in the world, Warzone's Stadium is actually based on the Donbass Arena in Donetsk, Ukraine. In fact, the whole Warzone Verdansk map was based on the Ukrainian city.
Plenty of Donetsk landmarks were recreated in Warzone, such as the Ukrainian Parliament and the Donetsk International Airport. Not convinced? Just take a closer look at the code for the Verdansk map, which the devs named "mp_donetsk" according to Redditor u/tessub2.
While it's every Warzone fan's dream to go on a pilgrimage to the real-life Verdansk, traveling to Donetsk is not possible because of the ongoing Russian-Ukraine conflict. The war is centered around Crimea and Donbass regions.
Aside from Verdansk, another area in the game also has its real-life counterpart — Rebirth Island. This island was heavily based on the popular Alcatraz Island. YouTuber Andrew Levitt even took a quick tour around the island, comparing Warzone's video game locations and its real-life versions.
---
---
2. The La Chapelle de L'ange au Violon is basically Final Fantasy VII's Sector 5 slums church in real life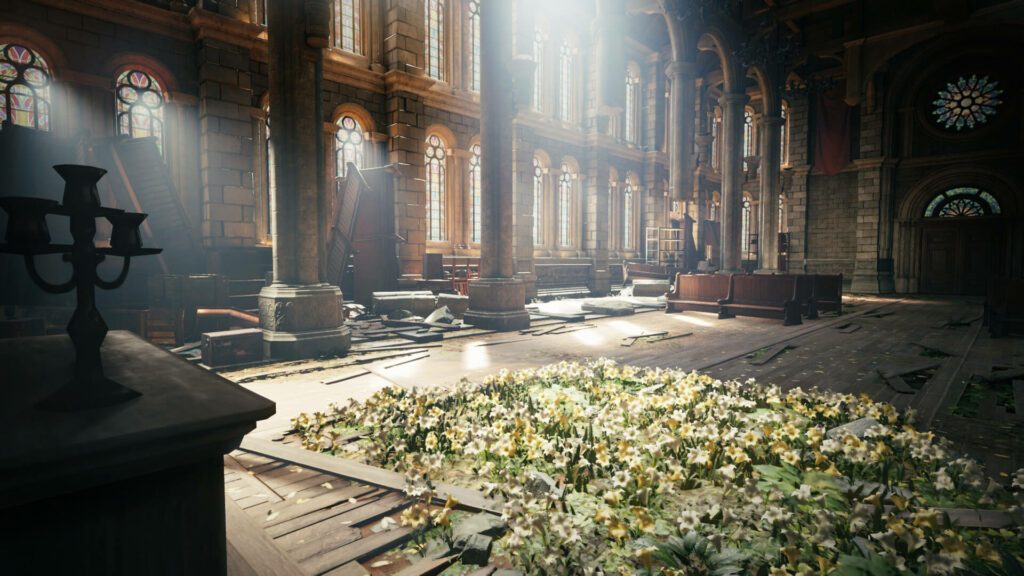 Video game location: Sector 5 Slums Church (Final Fantasy VII Remake)
Real-life counterpart: La Chapelle de L'ange au Violon in Caen, Normandy
There's always something beautiful about abandoned places — the silence, the stillness, and the mysterious story behind each uninhabited location.
At the southern part of France lies a breathtaking yet abandoned chapel, known as the La Chapelle de L'ange au Violon. This translates to "The Chapel of the Angel with the Violin" according to Obsidian Urbex Photography. Little is known about it on the internet, but Final Fantasy fans are sure about one thing — it's the Sector 5 slums church!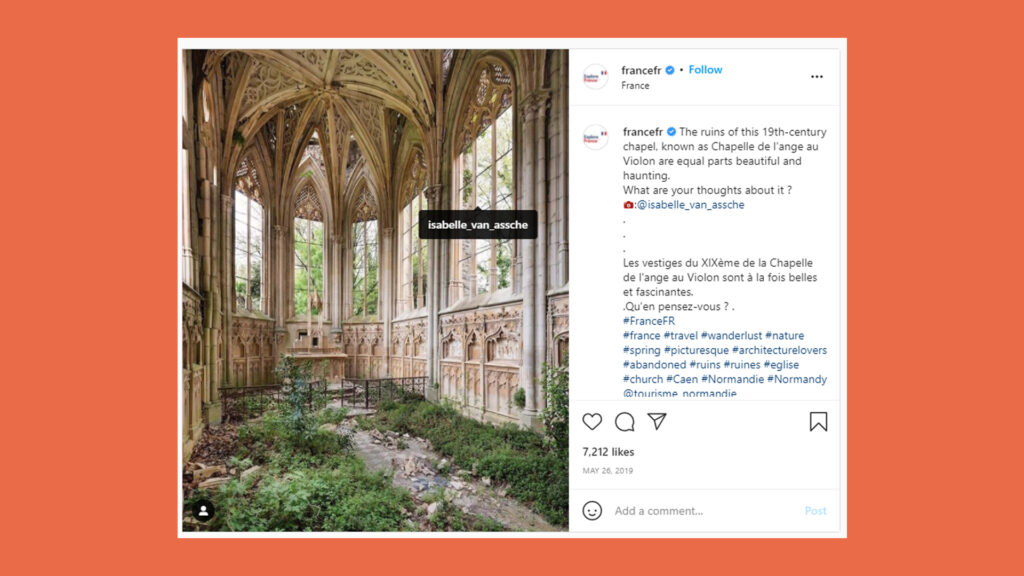 La Chapelle de L'ange au Violon looks straight out of Final Fantasy VII Remake's Sector 5 slums church, the place where Aerith Gainsborough and Cloud Strife met for the second time around. Aerith's flower bed is nowhere to be found on the Chapelle, but there's lush greenery on its floor, as well as some plants growing on its ceiling.
While there are several abandoned chapels on earth that could pass for the Sector 5 Slums Church, nothing comes close to the La Chapelle de L'ange au Violon. What do you know, a charming, blonde guy might even come falling through the roof if you visit.
---
1. The Overwatch Hollywood map is Paramount Pictures studio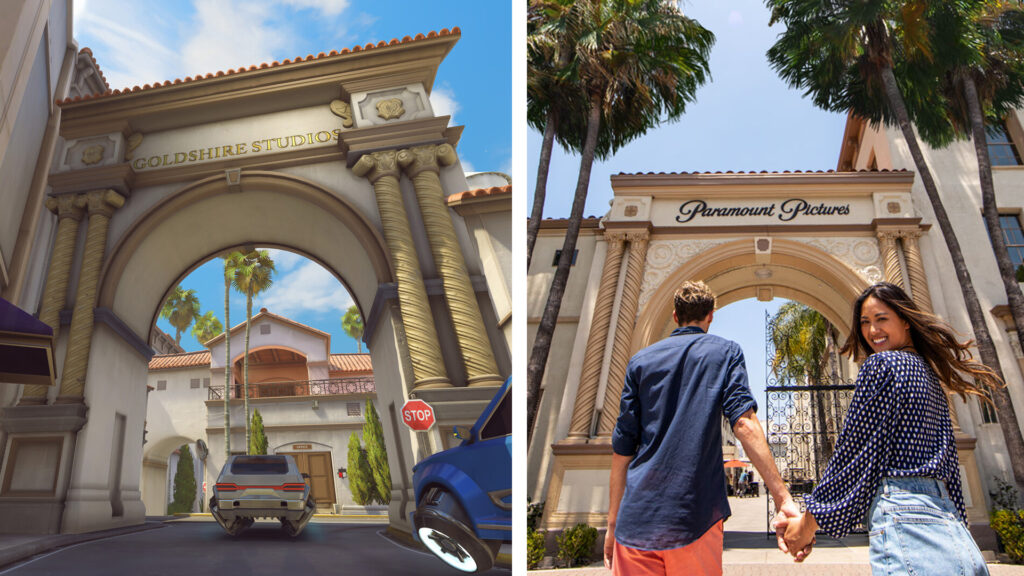 Video game location: Hollywood (Overwatch)
Real-life counterpart: Paramount Pictures in California, USA
Another Overwatch entry in this piece is the Hollywood map, which was undeniably based on Los Angeles' iconic Hollywood Boulevard. One of the Overwatch map's payload points shows a grand arch featuring the fictitious Goldshire Studios. This is actually the Paramount Pictures double-arch gate in real life.
Aside from the gate, the Overwatch Hollywood map in its totality is quite a sight to see. It allows the players to experience the glitz and glamour of the American film industry, even for just a brief moment in the virtual space. There are plenty of areas to explore in the Overwatch Hollywood map, from the green screen backdrops down to the celebrity motor homes.
You can book the official Paramount Pictures Studio Tour to get a closer look at the place that inspired one of Overwatch's epic video game locations.
Before you pack your bags, book your flights or special tours, and prepare to visit these video game locations, be sure to check with the country's local travel board for COVID-19 rules and protocols.
Register with your friends for Marriott Bonvoy's MLBB community tournaments and you could win up to US$1000 in Marriott Bonvoy hotel gift vouchers!