Feast your eyes, JoJo's Bizarre Adventure fans!
We all know that the JoJo franchise is all about having the best style, the craziest poses, and the biggest muscles, but is it possible to recreate such anime elements in real life? One man has finally done it.
Cosplayer and performer Taryn shared his stunning portrayal of Joseph Joestar, the main protagonist of part two of the franchise, Battle Tendency.
Taryn's JoJo cosplay captures the alpha male physique of Joseph Joestar
The Joseph cosplay was nothing short of perfect, with Taryn wearing the Hamon expert's most memorable costume: A green crop-top, a striped scarf, and jeans as well as a colorful headband that was given by Joseph's good friend, Caesar Anthonio Zeppeli.
While the cosplayer already had Joseph's physique down with a prominent six-pack and massive biceps, he added small markings around his body and face to imitate the iconic art style of JoJo creator Hirohiko Araki.
Taryn debuted the cosplay at Dutch Comic Con in April 2022, and mentioned that the entire costume was made from scratch.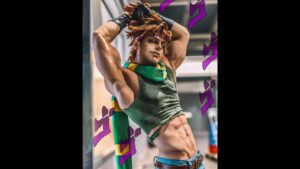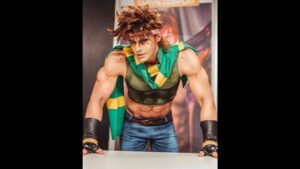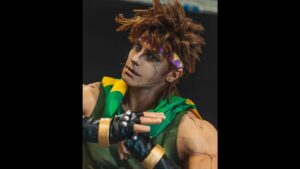 ---
---
Taryn flaunts the colorful styles of the JoJo bloodline with Andrasta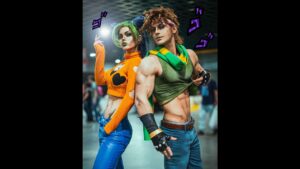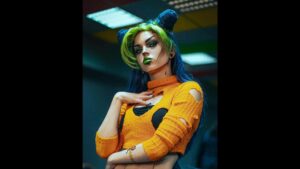 With the series having a whole lineage of superpowered Stand users, Taryn teamed up with fellow cosplayer Andrasta to showcase two JoJo generations side by side.
Andrasta went to the event as the great-granddaughter of Joseph, Jolyne Cujoh, the only female JoJo protagonist to date. Instead of donning the character's usual spiderweb print, Andrasta brought to life the costume of Jolyne's alternate identity, Irene.
Capturing the feel of the series flawlessly, it's no surprise that the two are teasing more JoJo cosplays. Andrasta commented that they "can stay as JoJo's forever" while Taryn already ordered his second JoJo wig.
Can you guess their next JoJo duo? We're definitely hoping for Jotaro Kujo and Foo Fighters.
Follow ONE Esports on Facebook for more cosplay news.
READ MORE: JoJo is by far the best anime of all time, according to Tier One cosplayers