Activision Blizzard has announced the Call of Duty World Series of Warzone 2023, and they say it will be bigger than ever.
"This year will feature more competition, more prizing, more regions," the official announcement wrote.
Below are all the details currently available for the biggest Warzone event of 2023.
---
---
World Series of Warzone 2023 will have an in-person global final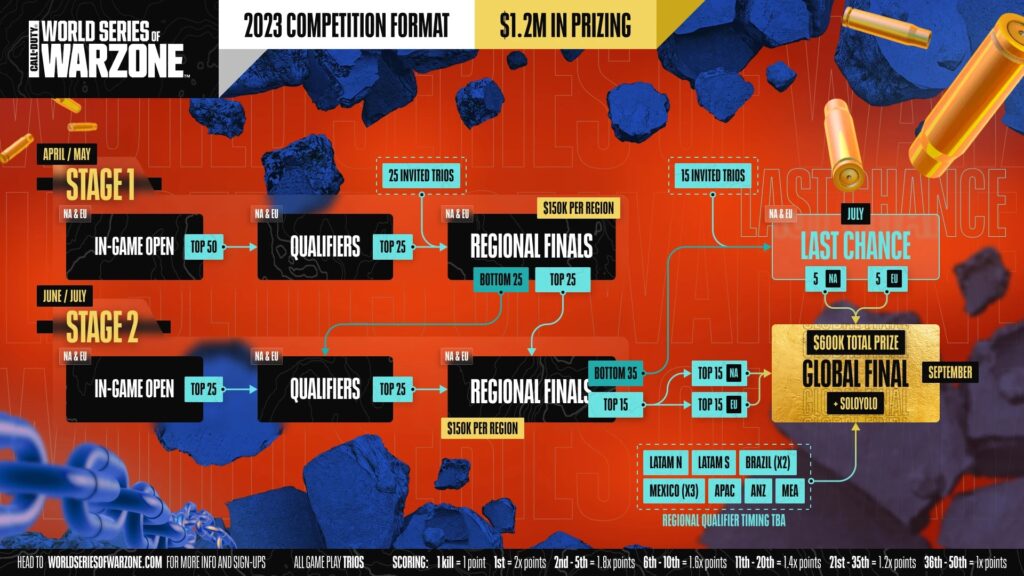 Prize money
A total of US$1.2 million has been given up for grabs at the World Series of Warzone 2023.
There will be US$150,000 per region, adding up to US$600,000 before the global final offers up another US$600,000 on its own.
| | |
| --- | --- |
| EVENT | PRIZE MONEY |
| NA Regional Finals | US$150,000 |
| EU Regional Finals | US$150,000 |
| APAC Regional Finals | US$150,000 |
| LA Regional Finals | US$150,000 |
| Global Finals | US$600,000 |
---
Online qualifiers and regional finals
The World Series of Warzone is open to players from all regions and will be divided into the following stages: in-game open, online qualifiers, regional finals, a last chance qualifier, and a global final.
In-game Open: Players can sign up for the in-game open where they'll compete with WSOW scoring for a shot at making the top 50 in their region. The top 50 will move forward into the open qualifiers.
Online Qualifiers: The online qualifiers will begin on April 22, 2023, and will consist of five qualifier events where players can earn points to qualify for the regional finals. The top 25 trios will move forward into the regional finals.
Regional Finals: The regional finals will take place in June and July 2023, and will feature teams from North America, Europe, Asia Pacific, and Latin America. In addition to the teams that made it through the previous qualifiers, 25 trios will be invited to the regional finals.
Last Chance Qualifier: The Last Chance Qualifier will take place in August 2023, and will feature the top teams from each region that did not already qualify for the Global Final. The bottom 35 teams from the regional finals will be joined by 15 invited trios in the LCQ. The top 5 teams from NA and EU will advance to the Global Final.
Global Final: The Global Final will be held live and in-person in September 2023. The top 50 trios in the world compete in a custom lobby against each other, battling for the most points via the WSOW scoring.
| | | |
| --- | --- | --- |
| REGION | ONLINE QUALIFIERS | REGIONAL FINALS |
| North America | April 22 – May 27 | June 10-11 |
| Europe | April 22 – May 27 | June 17-18 |
| Asia Pacific | April 22 – May 27 | June 24-25 |
| Latin America | April 22 – May 27 | July 1-2 |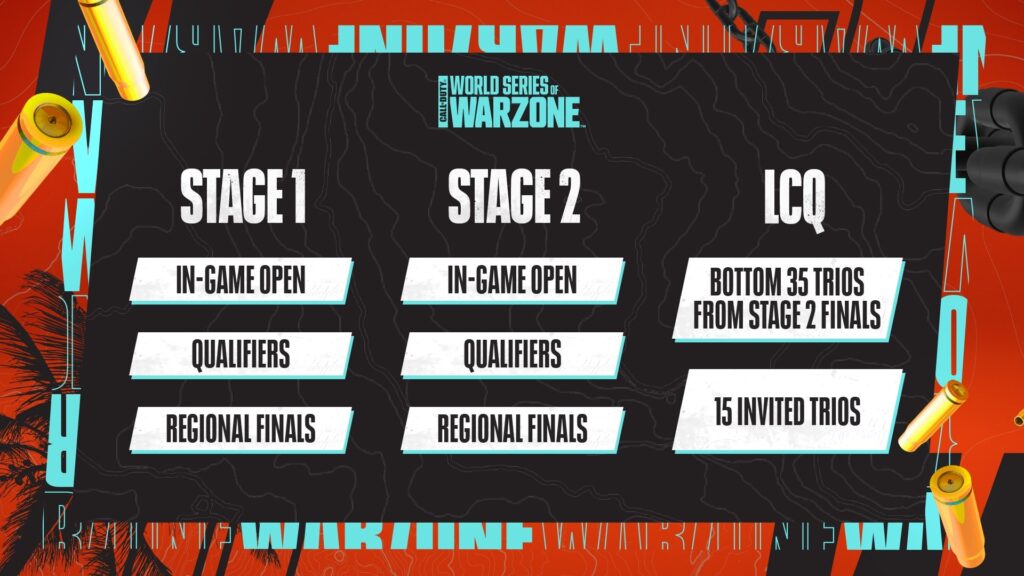 ---
How to sign up for WSOW
According to the official World Series of Warzone 2023 page, eligible players will need to sign up with their trio on the GameBattles site to compete in the stage 1 in-game open event.
Once registered, they will compete in the Call of Duty: Warzone WSOW playlist. The playlist will open on April 27 and run through April 30 during which the competitive settings will be enabled and players will be vying to earn as many points as possible.
The 10 best-scoring matches will be pulled from all the matches played, and used to determine who will make it to the stage 1 qualifiers.
---
WSOW Scoring
In the World Series of Warzone 2023, each elimination will be one point. A trio's placement will add a multiplier to their total eliminations.
This will allow for players to seek out kills to make up for placement, or get a comfortable amount of kills and then hunker down for a top placement.
1st Place: 2x Point Multiplier
2nd–5th Place: 1.8x Points
6th–10th Place: 1.6x Points
11th–20th Place: 1.4x Points
21st–35th Place: 1.2x Points
36th–50th Place: 1x Points
READ MORE: Microsoft and Activision 'confident' Call of Duty can be optimized on Nintendo Switch