FaZe Clan Streamer Kris "Swagg" Lamberson has been using a new PP19 Bizon class loadout that's putting in work in Call of Duty: Warzone.
While it's a solid pick in Call of Duty: Modern Warfare, the PP19 Bizon (labeled as Submachine Gun Echo) has been overshadowed by better SMGs in Verdansk.
In the developers' efforts to further balance the gun meta in Season 4, the SMG class got tweaks on its maximum damage output and its damage multipliers on extremities.
Details of Swagg's PP19 Bizon class in Call of Duty: Warzone
Swagg packs the PP19 Bizon class as a strong close-to-mid firearm alongside his FARA 83 assault rifle.
The FaZe streamer attaches both the Monolithic Suppressor and the 9.7″ Steel barrel to substantially increase the gun's damage range, while the Tac Laser and No Stock accelerate its aim-down sight speed.
Another integral component to the PP19 Bizon class is its massive magazine. With 84 bullets to spare, you can see the streamer prolong his sprays and not worry about reloading.
In the video, Swagg and his PP19 Bizon grabbed the victory as the top scorer of his squad, dropping 30 kills and dealing a total of 10,446 damage.
---
---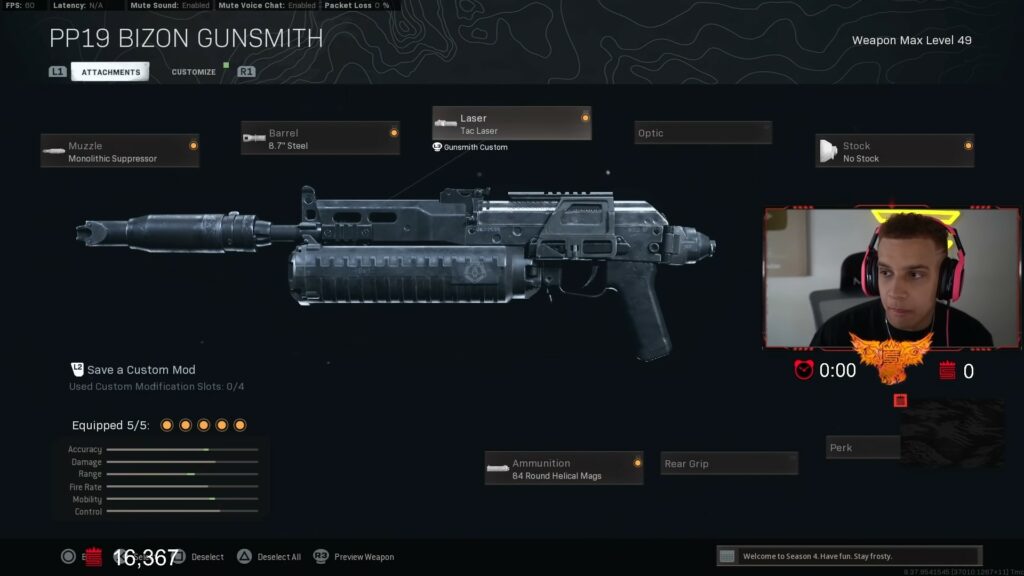 Here are the details of the PP19 Bizon class:
Muzzle: Monolithic Suppressor
Barrel: 8.7″ Steel
Laser: Tac Laser
Stock: No Stock
Ammunition: 84 Round Helical Mags
You can watch how Swagg plays the PP19 Bizon class in his full video down below:
READ MORE: TeeP's new Milano 821 class destroys opponents from afar