Updated at September 7, 3:40 a.m. (GMT+8): Updated loadout to most recent attachments and tuning.
The meta in Modern Warfare 2 ranked play is always changing, but right now the VEL 46 is in the mix.
If you're looking to test the weapon for yourself, then we'd recommend checking out Call of Duty professional player Anthony "shotzzy" Cuevas-Castro's loadout. The CDL play recently provided an in-depth look at his loadout in a YouTube video.
---
---
Dominate Modern Warfare 2 ranked with this VEL 46 loadout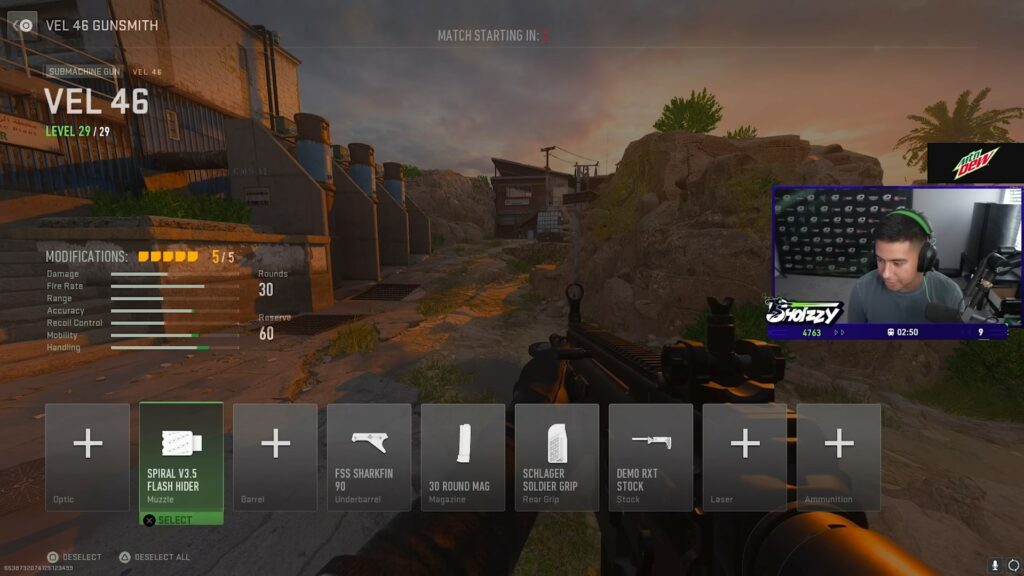 Kicking things off with the muzzle, the Spiral V3.5 flash hider is selected mostly thanks the recoil steadiness. This helps to smooth out the firing at a small cost to speed and stability which is made up in other areas.
Moving to the underbarrel, shotzzy opted for the FSS Sharkfin 90 grip. This grip helps with aiming idle stability, and is incredibly popular.
In terms of the magazine, it's downgraded from a 40-round mag to a 30-round mag. If you're hitting your shots and reloading accordingly, you won't need the extra ten bullets. The extra speed gained from the downgrade is worth it.
For the stock, the Demo RXT is chosen for its movement benefits. Being able to get around the map quickly, take fights and escape before the enemy is aware is key. Always be one step ahead!
And lastly, the Schlager Soldier grip is selected for the rear grip slot. The Schlager Solider grip provides an increase to sprint-to-fire speed as well as aim-down-sight speed, to help players enter engagements faster.
| | |
| --- | --- |
| SLOT | ATTACHMENT |
| Muzzle | Spiral V3.5 Flash Hider |
| Underbarrel | FSS Sharkfin 90 |
| Stock | Demo RXT Stock |
| Mag | 30 round mag |
| Rear Grip | Schlager Soldier Grip |
If you're playing ranked or in the Call of Duty League, tunings are disabled, so no need to worry about that. However, if you're just running it in multiplayer lobbies, feel free to tune to your liking!
READ MORE: Call of Duty League broadcast platform change draws applause from the community