Call of Duty's newest battle royale game, Warzone 2.0, sees Operators dropping into the new desert map of Al Mazrah.
The landing drop is an important part of every match because it determines how fast you acquire your first weapons. If you're not quick with your parachute, there's a chance that you'll get out-looted and enter the gulag earlier than expected.
Here's a quick guide on how to land the fastest in Call of Duty Warzone 2.
---
---
A guide to landing fast in Call of Duty Warzone 2
The key to dropping faster in Warzone is how you handle parachute deployment.
If you're aiming for a location near the flight path of the plane, your best bet is to skydive straight down to it. The game automatically deploys the parachute when you're close to the ground, but it takes around five seconds for you to actually land.
To decrease the time to descend, you can turn off auto-deploy in the settings. This allows you to deploy the parachute just before you hit the ground, cutting down the glide time to 1-2 seconds.
Players can gauge when to deploy by keeping an eye on the Deploy Parachute prompt. You can pull your parachute a few seconds after the prompt starts blinking orange.
Do note that manual parachuting, if not timed correctly, can kill your Operator by fall damage.
How to turn off parachute auto deploy
Here's a step-by-step guide on how to toggle auto-deploy: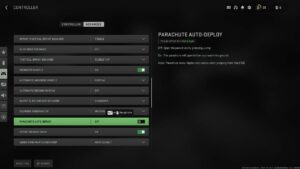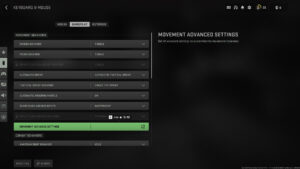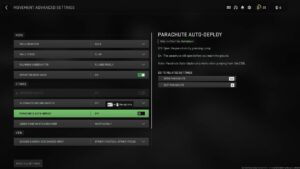 Keyboard and Mouse
Click on the Settings gear icon in the top right of the screen and select Keyboard and Mouse.
Select the Gameplay tab, scroll down, and click on Movement Advanced Settings.
Scroll down to Stance and toggle the Parachute Auto-Deploy option.
Controller
Click on the Settings gear icon in the top right of the screen and select Controller.
Select the Advanced tab and toggle the Parachute Auto-Deploy option.
---
---
How to glide to farther locations
If you're looking to drop away from the flight path, there's a movement method that allows you to cover longer distances up in the air.
And while gliding slows your landing, players can spam the deploy and cut commands to maintain their speed in mid-air. Deploy controls the horizontal speed while cut controls the vertical speed. You can pair this with the manual parachute technique to achieve both a long-distance glide and a fast landing.
Here's a quick demonstration of the spam glide:
---
---
Learn more about the five best landing spots in Warzone 2's Al Mazrah.
Follow ONE Esports on Facebook and Twitter for more CoD news, guides, and highlights.
READ MORE: The best underbarrel attachments in Warzone 2 and Modern Warfare 2