A Call of Duty: Vanguard hacker was caught and banned after accidentally revealing his cheating software on camera, in a hilarious stroke of karmic justice.
The cheater in question is a semi-pro collegiate player for Grand Canyon University, according to esports commentator Jake Lucky.
The player, who goes by the name of Kenji, had originally been trying to prove his innocence by setting up a monitor cam to record his screen. However, he ended up recording his cheating software in action. The collegiate Call of Duty League and Checkmate Gaming, the tournament platform he was playing on, have since banned him.
---
---
The Call of Duty cheater accidentally showed his hacks in action
During a 2v2 tournament, Kenji's opponents iLuhvly and Sasuke became suspicious of him. In an attempt to prove his innocence, Kenji set up a monitor cam to presumably show that his gameplay was legitimate. However, he clearly forgot to disable his third-party software.
Boxes could be seen moving across his screen, irrefutable evidence of wall hacks that reveal an opponent's location from behind cover.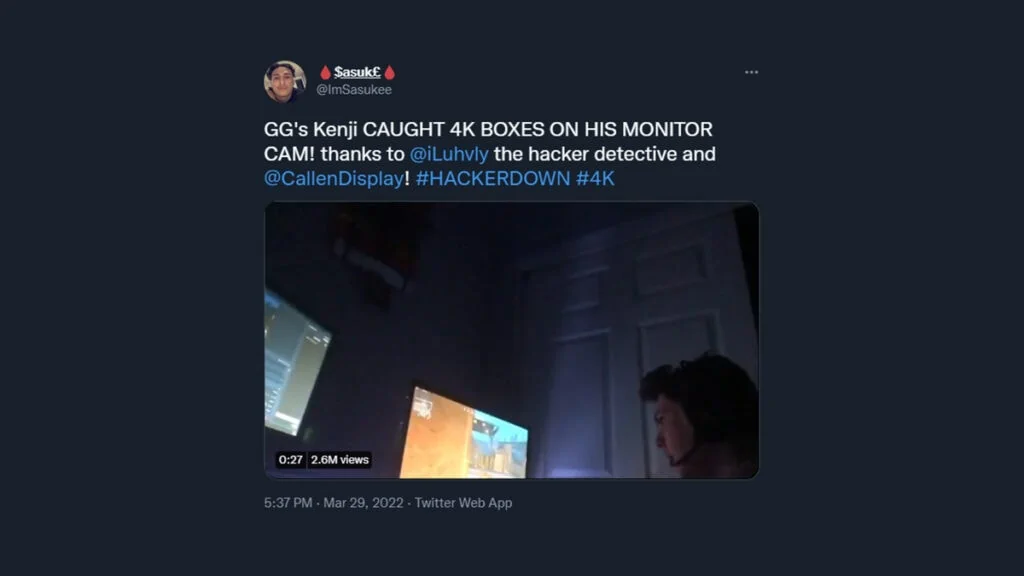 Grand Canyon University has also been disqualified from the remainder of the 2022 season and post-season. In addition, Kenji's four teammates have been banned until the start of the 2023 season.
The team will forfeit their remaining games to the opposing teams for the remaining matches of the season.
READ MORE: Fo shizzle! Snoop Dogg is now an official Call of Duty Operator skin