Philippines-based esports organization Mineski is setting up an array of tournaments and activities under its exclusive partnership with Riot Games Southeast Asia.
Also teaming up with Globe and Oppo, Mineski is looking to build and sustain the momentum of the growing esports and gaming industry in the Philippines through Riot's biggest titles, one of them being League of Legends: Wild Rift.
For Wild Rift, the org is planning a robust six-month-long tournament calendar with two splits, Summer Split and Fall Split. Each split will start off with open qualifiers that will be divided geographically into four regions: North Luzon, South Luzon, Visayas, and Mindanao.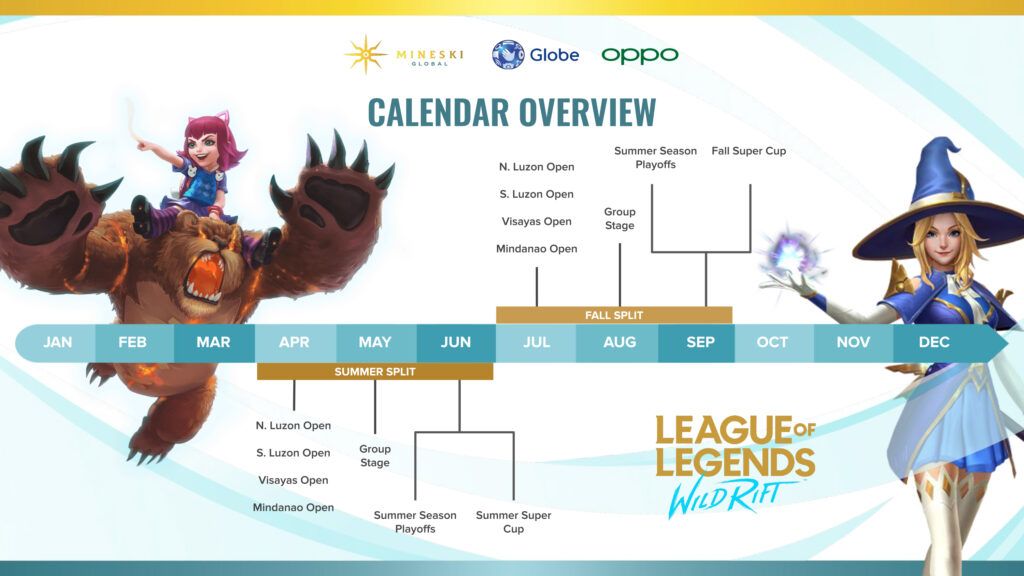 The top two teams of each qualifier will then go into round-robin group stages with one for Luzon and one for Visayas and Mindanao. As teams take on winning records in the group stages, they will compete in the Split Playoffs. Furthermore, the top two teams of the Split Playoffs will advance to compete against the best of Southeast Asia in their respective split's Super Cup.
Here is the complete schedule:
Summer Split
April: Open qualifiers for the four regions
May: Group stage
June: Summer Season Playoffs and Summer Super Cup
Fall Split
July: Open qualifiers for the four regions
August: Group Stage
September: Fall Season Playoffs and Fall Super Cup
---
---
Mineski is also integrating a National Points System that will govern the standings and cash earnings of competing teams. With each series awarding points to the winner, teams can determine how they can advance into the playoffs.
Teams can also calculate their own cash earnings with the conversion of PHP1 per point at the end of each split.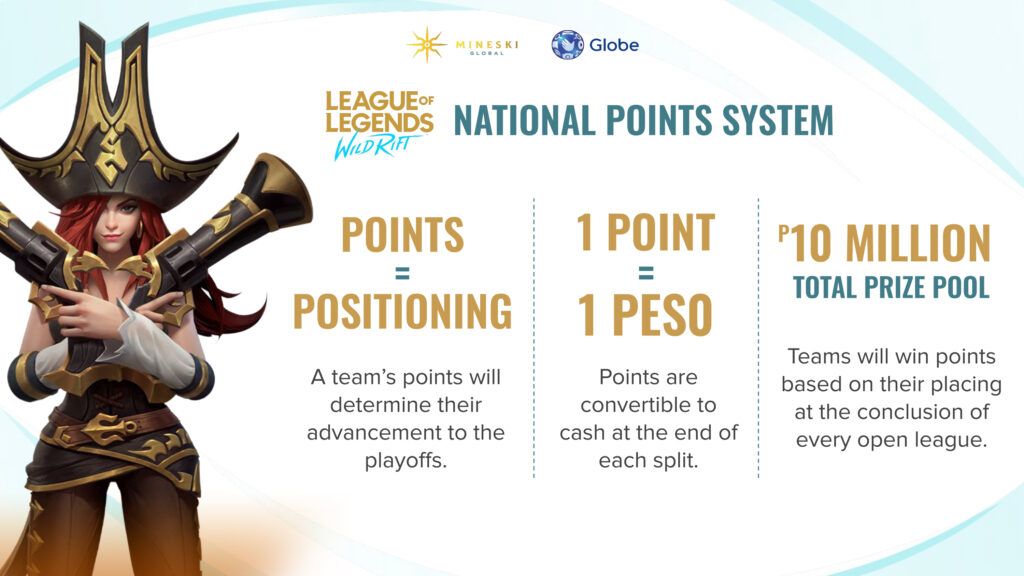 With both splits, participating teams will be fighting for a PHP10M (US$200,000) prize pool. Here's the breakdown of the 5 million total points per split:
Group Stages
North Luzon: 18 matches x 50,000 points = 900,000 points
South Luzon: 18 matches x 50,000 points = 900,000 points
Visayas: 12 matches x 75,000 points = 900,000 points
Mindanao: 12 matches x 75,000 points = 900,000 points
Playoffs
All Regions: 14 matches x 100,000 points = 1.4 million points
While the National Points System only applies to the group stages and playoffs, the PH-based org is looking at how they can cascade the system down into the open qualifier.
One of the main reasons for the National Points System is to help improve and grow the professional scene in the local regions of the country.
With the Philippines already having esports roots in MOBA games, Mineski is going with a grassroots approach to the Wild Rift esports scene and, by the end of the year, wants to show that the country has significant talent in the mobile MOBA.
"I think it's because Filipinos have MOBA in their blood," said Mark Navarro, country manager of Mineski Philippines. "We've seen that, in the past ten or so years and since the very early inception of esports, there has always been Filipinos competing in the scenes. As gaming is now moving towards mobile, it's just a change of platform, but the behavior and mindset have always been there."
With the current tournament format, Navarro has confirmed that there will be English and Filipino broadcasts of the group stages, the playoffs, and the Super Cups.
Local Wild Rift fans can look forward to the pre-season Wild Rift Icon series on March 20-21, where eight professional esports teams, including Globe's esports team Liyab, will go head-to-head in a series of matches.
READ MORE: Team Secret Hamez's 3 pro tips to climbing the Wild Rift ranks as a support