The first-ever official League of Legends: Wild Rift tournament in China, the 2021 LPL Warm Up Cup, concluded over the weekend.
16 LPL organizations debuted their Wild Rift rosters, which included former professional League of Legends players and new faces in the Chinese esports scene.
2021 LPL Warm Up Cup format
The LPL Warm Up Cup adapted a Swiss Stage format played in best-of-three matches. Depending on their results, teams were then grouped and faced off against each other in a best-of-one round robin.
Based on their overall LPL Warm Up Cup performance, their results determined if they were placed in Tier 1, Tier 2, or Tier 3. These will be their starting standings for the LPL Qualifier held later in the year.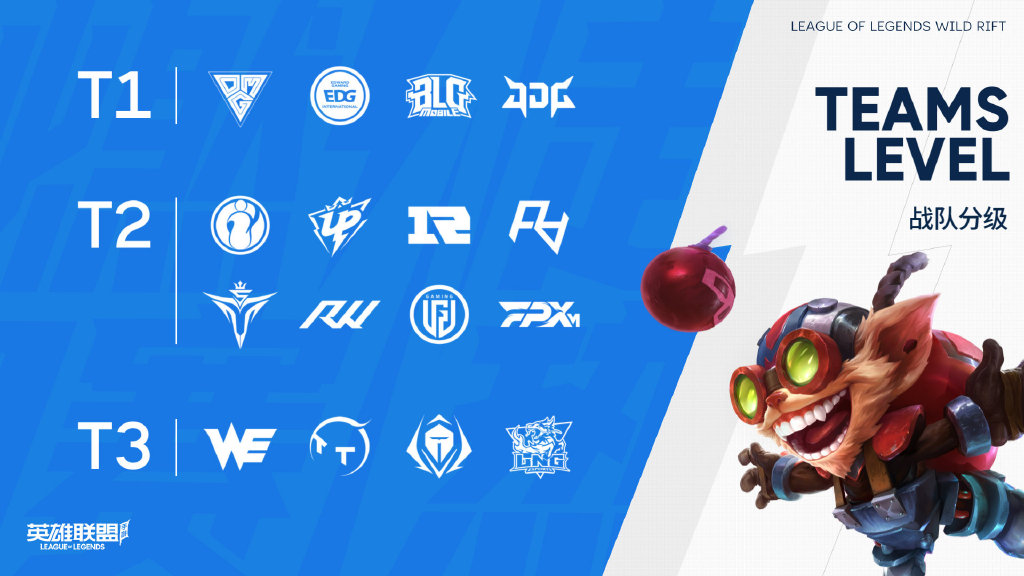 The winner of the LPL Qualifier will represent the region at the inaugural 2021 World Championship.
---
---
2021 LPL Warm Up Cup results
Oh My God (4-0)
Edward Gaming (3-1)
Bilibili Gaming (3-1)
JD Gaming (3-1)
Invictus Gaming (3-1)
FunPlus Phoenix (2-2)
Rare Atom (2-2)
Ultra Prime (2-2)
Victory Five (2-2)
LGD Gaming (2-2)
Royal Never Give Up (2-2)
ThunderTalk Gaming (1-3)
Rogue Warriors (1-3)
Top Esports Lance (0-3)
LNG Esports (0-3)
Tier 1
Oh My God
Bilibili Gaming
Edward Gaming
JD Gaming
Tier 2
FunPlus Phoenix
Invictus Gaming
LGD Gaming
Rare Atom
Rogue Warriors
Royal Never Give Up
Ultra Prime
Victory Five
Tier 3
Team WE
ThunderTalk Gaming
Top Esports Lance
LNG Esports
Oh My God's League of Legends: Wild Rift esports roster
Oh My God came out on top, winning eight out of nine games played and did not drop a single match. Oh My God went 2-1 against FunPlux Phoenix, and swept Royal Never Give Up, Invictus Gaming, and Edward Gaming 2-0.
Oh My God's roster was led by three former LPL League of Legends pro players. Current mid laner Lei "Corn" Wen played the same role for Vici Gaming until 2019.
Jungler Yan "Juejue" Hong, now known as Scenery in Wild Rift esports, spent most of his career in the same position with Oh My God and their academy team Oh My Dream in the LPL.
Jiang "Changhong" Chang-Hong was Dominus Esports' top laner in the LPL in 2019 before retiring. Now known as Jch, he is Oh My God's Baron laner.
READ MORE: Chinese LoL esports league LPL just adopted a giant panda