The ongoing Epulze Royal SEA Cup is taking place right now and features some of SEA's best Valorant squads.
In the Group Stage, an intense match between Thai squad Armory Gaming (AG) and Indonesian team BOOM Esports saw the teams tied at 6-6 on Haven. With AG on the attacker side, they were able to quietly walk right into the A-site, while BOOM decided to go for the full 5-man push out of mid for the flank play.
Both teams traded kills at A-long and A-short, but BOOM was able to secure three more kills as they took control of the A-site.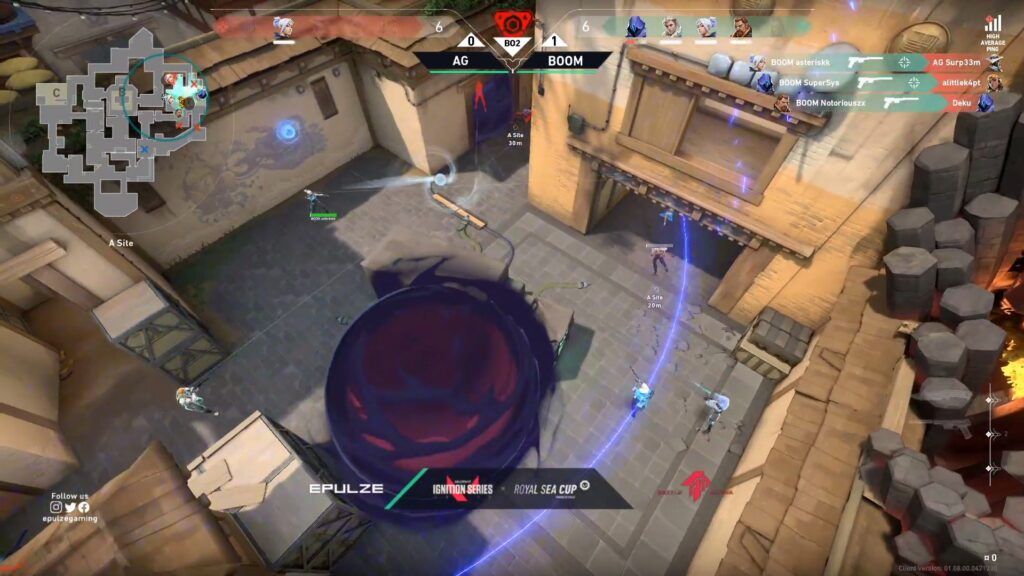 With three BOOM members surrounding the Spike, Armory Gaming's designated Jett main sushiboys landed three unthinkable Classic burst headshots that turned a 1v4 situation into a 1-on-1 scenario.
AG's sushiboys then finished the round in style as he used Updraft to get above the A-site, and dashed towards the planted spike with his Tailwind, and finished off the last remaining BOOM player.
Unfortunately for AG, BOOM Esports would not be denied as they would go on to win Haven with a 13-10 final score, and a 2-0 overall for the match.
BOOM's team captain Gary "blaZek1ng" Dastin and Adrian "adrnking" Setiawan carried their team by combining for 43/20/10 KDA record during the final game.
---
---
BOOM Esports finished their group stage run with a perfect 6-0 record and are scheduled to face BlackBird Ignis in the upper bracket quaterfinal of the playoffs.
Armory Gaming has been eliminated from the tournament with a 1-5 group stage record.
Fans can watch the upcoming Epulze Royal SEA Cup playoff games on Epulze Gamings' official Twitch channel.
READ MORE: Valorant may be coming to mobile