Tagged as the "home of the best players in France on Valorant", DfuseTeam is the talk of Valorant EU right now after scoring a huge 2-1 upset over G2 last week in Valorant Champions Tour Europe, earning themselves a slot in Valorant Masters.
With skilled players and a brutal style of play, the team shows lots of potential, but now they're in need of new management.
DfuseTeam has released a statement from CEO Non's, admitting to some administrative mistakes that has left them unable to support their team.
"I decided to allow our players to find another home that will be more convenient and more professional because they deserve it," writes Non's.
The members of DfuseTeam have confirmed this and have begun opening themselves to other opportunities.
The team is currently made of up:
Rodolphe "rodeN" Bianco
Logan "logaN" Corti
Dylan "hoppY" Aube
Jonathan "TakaS" Paupard
Alex "AKUMAAAAA" Lo Bello
Flavien "wallax" Lebreton – Coach
Dfuse has been praised for its talent and unpredictable, "NA-style" of Valorant, with rodeN, logaN, and TakaS, in particular, receiving universal acclaim for their performances against G2.
Despite having just two weeks of official practice time before the tournament, in-game leader rodeN was praised for his calls on Bind against G2, a map that G2 previously had a 25-game win streak on.
---
---
logaN was a standout for his innate ability to find high-value kills, turning his sentinel role into a duelist one. Formerly a part of the CS:GO team of Heretics, the player has a growing group of fans, with many analysts and casters among them.
Finally, TakaS's Jett held his own against G2 superstar, Oscar "M1xwell" Cañellas Colocho, and even finished with a higher 1.7 KDA.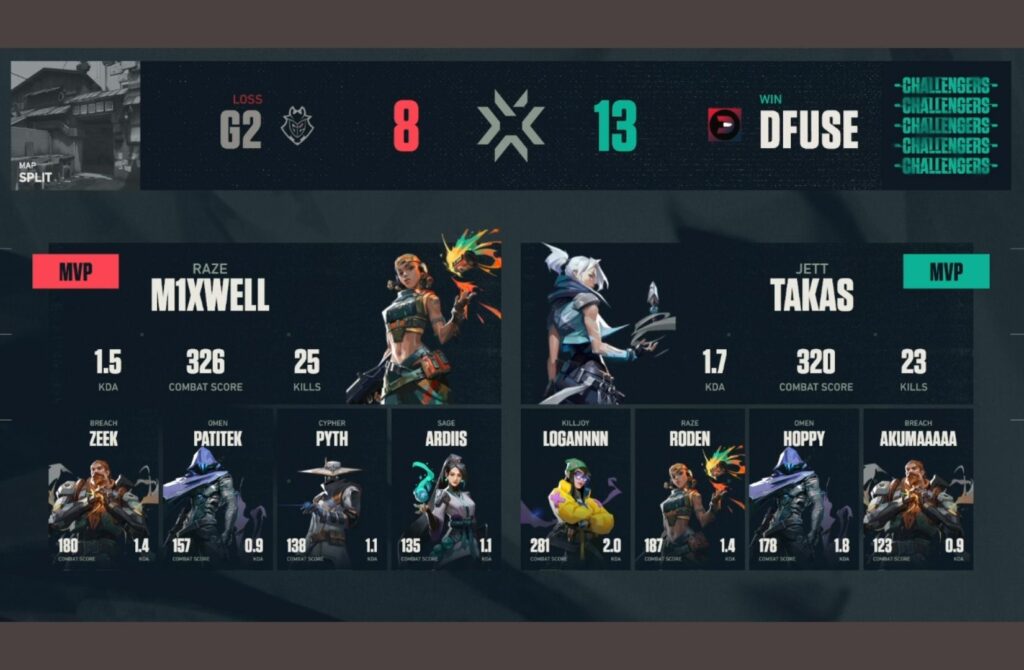 With just a handful of teams qualified for Valorant Masters and the sheer amount of talent on Dfuse, we don't expect the team to be without a home for long.
READ MORE: TenZ is joining Sentinels for Valorant Masters NA