Playerunknown's Battlegrounds Mobile (PUBG Mobile) just rolled out the full version of its 0.15.0 Update along with an all-new Halloween-themed event — Halloweeks. From October 23 to November 9, 2020, gamers can enjoy a ton of new content for the popular mobile shooter.
To celebrate Halloween in a big way, PUBG Mobile is offering a whole bag of tricks and treats for players. This includes the return of the hugely popular "Infection Mode"; "Halloweeks Mode" for the Erangel Map; a new leaderboard event for Training Grounds; the debut of PUBG Mobile's first-ever band — POWER4 and their new song; and new Halloween-themed in-game cosmetics.
Those keen on jumping right into the action and getting their hands on the limited-time content will need the latest build for PUBG Mobile. Once installed, they will gain immediate access to the following:
Infection Mode — Halloweeks 2020 (October 16 until November 9)
For this year's take on Infection Mode, players will play two in two opposing factions: Zombies and Defenders. The undead team, which starts with only three members and can deal damage via melee attacks and special abilities, must race against the clock to kill the good guys. The powers they can use include transforming into different zombie types — Fast, Stealth, and the King. Each mode comes with attack and defense boosts. Every kill they make will create a new zombie too.
As for the Defenders, they start with a team of nine and have access to the usual arsenal, with some weapons coming with Extended Mags. Their goal is to survive and if one member does when the clock runs out, then the team wins. When their numbers drop to three, the Defenders will transform into the Vanquishers and gain the "No-respawn Kill" ability. With this new ability, any infected they kill will not respawn.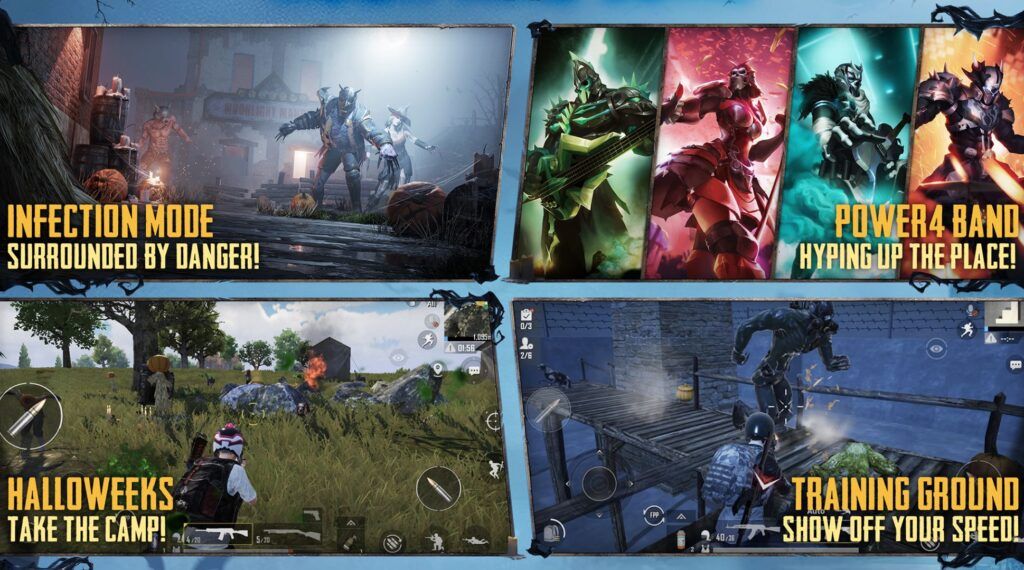 ---
Halloweeks Mode for Erangel Map (October 23 until November 9)
Players must band together and take out the Zombie Camps and the zombie army that protect these bases. Teams that destroy these undead locations will be rewarded with amazing loot. It's not as easy as it sounds with random Roaming Bosses appearing randomly in these bases. They're exceptionally deadly as they can ramp up their attack power upon damaging players. Defeating these overpowered bosses will give players essential battle supplies.
---
Moonlight Mansion House of Horrors (October 21 until November 1)
A new collection campaign has started, featuring Halloween candy — Lollipops — that players can earn when they complete specific objectives. This candy can be used to unlock the Haunted House, which is where players can generate Fright, upgrade the event shop, and purchase limited-edition prizes. This includes character vouchers, the Circus Dancer set, and unique usable/collecter items and weapons.
---
---
Cheer Park Training Grounds (October 20 onwards)
This PUBG Mobile feature now comes with an undead twist as it punishes gamers with waves of attacking zombies. Players must play solo when they take on this updated mission. Those who fight long and hard will be able to boost their Training Grounds Rankings.
---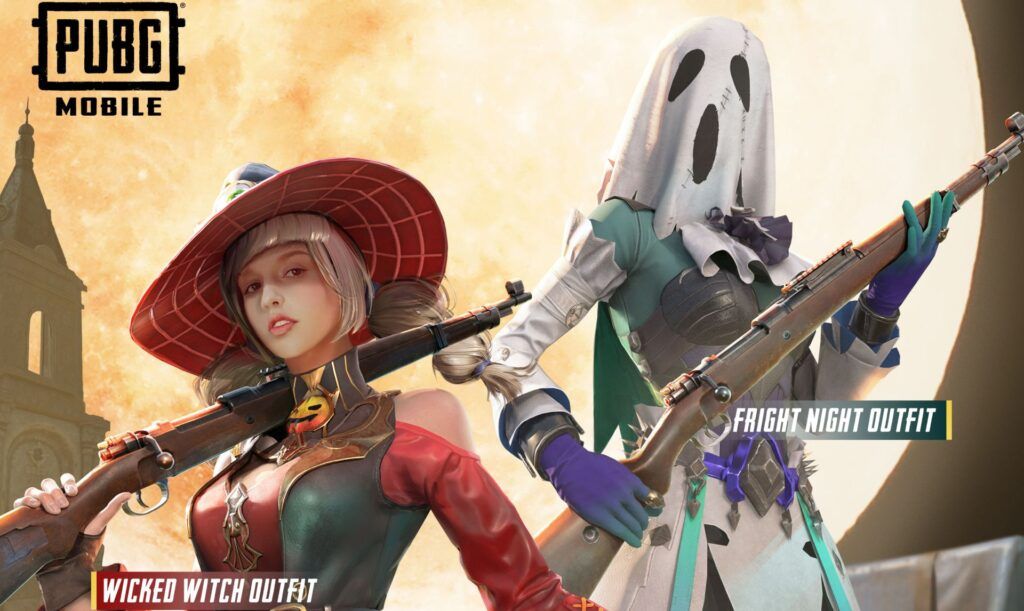 Halloweeks 2020 Costumes and Cosmetics
Beyond the new Halloween-based mission themes, PUBG Mobile will also be offering limited edition spooky costumers and in-game decorations. Besides the visual changes that provide a Halloween look and feel, the game also offers new thematic outfits and in-game items for all to earn.
This includes:
Zombies will be wearing Halloween-themed holiday masks
POWER4 costumes and looks
Hellfire cosmetic for the AKM assault rifle
Halloween Vehicle skins
Players can obtain these Halloween content by purchasing from the Moonlight Mansion shop, the normal store, or spinning for them at the Halloween Lucky Draw.
All details, including upcoming information, for the Halloweeks Update can be found at PUBG Mobile's Twitter page.
Read more: PUBG Mobile's answer to KD/A is Power4, a virtual power metal band