Viewers can experience the global culture of esports through the new gaming variety talk show series premiering across ONE Esports' digital channels on 4 July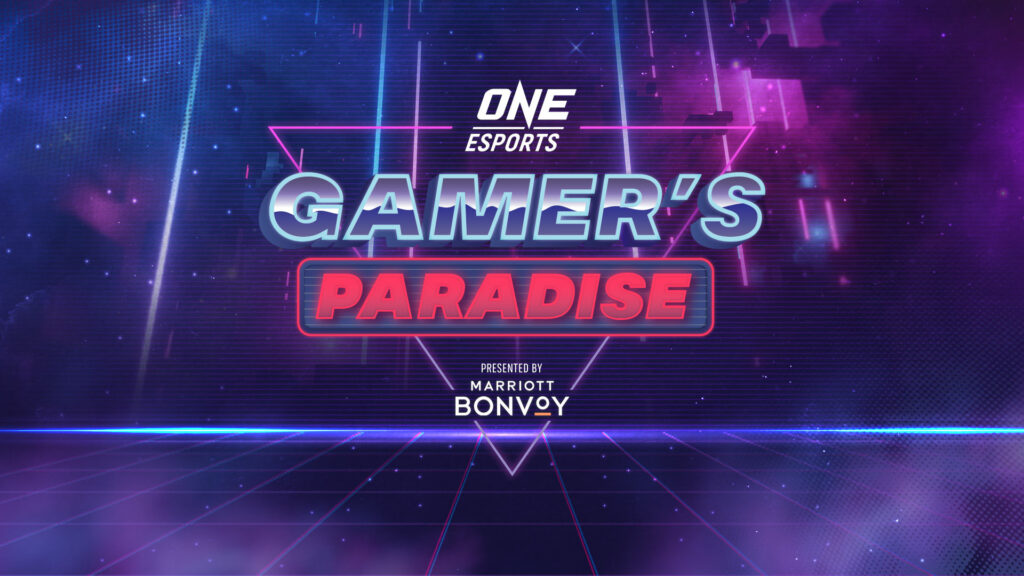 Produced by ONE Esports, a subsidiary of ONE Championship™ (ONE), and presented by Marriott Bonvoy, Marriott International's award-winning travel program, Gamer's Paradise is a 15-episode variety talk show series. The all-new program will feature content that celebrates the diversity of gaming and esports culture across Indonesia, Japan, Malaysia, Philippines, South Korea, Singapore, Thailand, and Vietnam.
Gamer's Paradise will feature the best esports athletes, gaming and influencer talent, and industry experts. Each episode will center on a theme, from deep dives into popular gaming titles to explorations of broad industry trends. The list of episode titles can be found in Appendix 1. Each episode highlights hotels and resorts from the Marriott Bonvoy portfolio in Asia and enables viewers to immerse themselves in travel destinations through the lens of gaming culture.
The program will be hosted by popular 'Super Host' and emcee Eri Neeman and ONE Esports' MikaFabs. Neeman has hosted several premiere esports events and tournaments such as the ESL One Birmingham 2019, ESL One Manila 2016, Manila Masters, and REV Major. MikaFabs is a writer, producer, and esports host, who has hosted for international tournaments for Valorant and League of Legends: Wild Rift.
Fans can expect to catch their favourite gaming and esports talent on the series and stand to win prizes from Marriott Bonvoy by engaging with the show online. Program guests include League of Legends player Teddy from Korean esports team Kwangdong Freecs; Dota 2 personality and host Sheever; Japanese Street Fighter player Kawano; Mobile Legends: Bang Bang players Edward and OHEB from Filipino esports team Blacklist International; popular cosplayer and streamer from Singapore Kiyo; gaming personalities Clara Mongstar from Indonesia and Megan Young from the Philippines, and many more. A full list of program guests can be found in Appendix 1.
Each episode will be broken down into five engaging segments:
| | |
| --- | --- |
| Segment title | Description |
| The Pulse | A panel of experts and gaming celebrities will discuss hottest gaming and esports topics. |
| Hero Story (Stories of Inspiration) | An in-depth interview with Asia's favorite esports heroes and personalities. Learn about the life of the pros and what it takes to chase their dreams. |
| Gamer's Haven (A Day Away From The Game) | A day of relaxation using Marriott's facilities, offering our esports personalities and gaming celebrities a much-needed break. |
| Side Quest | A feature on the best video game worlds in history. We'll focus on the games that were inspired by real-life locations. |
| House Party | Our hosts and guests that appear on the episode will participate in a variety of geek-themed party games. |
Gamer's Paradise will premier across ONE Esports' digital channels, including Facebook, Twitch, YouTube, and AfreecaTV, on 4 July 2022 at 8.30PM GMT+8. The program will air in English every Monday, with subtitles in Bahasa Indonesia, Bahasa Melayu, Japanese, Korean, Tagalog, Thai, and Vietnamese. View the trailer for Gamer's Paradise here.
"The goals for Gamer's Paradise are to celebrate esports, provide our audience with deep insights on the ecosystem and community, and share the stories of gaming and esports heroes who ignite the world with strength, hope, dreams, and inspiration. The series will highlight Marriott Bonvoy's portfolio of properties across Asia. Marriott Bonvoy is the perfect travel program for the gaming and esports fan, whose lifestyle consists of frequent travel, "said Carlos Alimurung, CEO, ONE Esports.
"We teamed up with ONE Esports on Gamer's Paradise to bring Marriott Bonvoy's expression of good travel in both virtual and physical settings to gamers across the region. This series is rooted in travel, and we hope to showcase how the digital and gaming worlds draw inspiration, energy, and community from the transformative power of travel," said Julie Purser, Vice President, Marketing, Loyalty & Partnerships, Marriott International, Asia Pacific. "There has been great synergy working alongside ONE Esports to execute this project together and we are confident Gamer's Paradise will be a thrilling spectacle that inspires audiences."
– END –
Appendix 1: Gamer's Paradise List of Episodes
About ONE Esports
ONE Esports features the world's biggest games, the world's best teams, and the world's best esports athletes. As the Home of Esports Heroes, ONE Esports unleashes esports heroes who ignite the world with hope, strength, dreams, and inspiration. ONE Esports also owns oneesports.gg, a top global esports site that reaches millions of visitors each month, and delivers to its community the latest esports news, reviews, features, how-to guides, and in-depth stories on esports athletes, teams, and fans.

For more updates on ONE Esports, please visit www.oneesports.gg, follow us on Twitter and Instagram @ONEEsports, Facebook at www.facebook.com/ONEEsports, and LinkedIn at www.linkedin.com/company/ONEEsports/.
About Marriott Bonvoy®
Marriott Bonvoy, Marriott International's award-winning travel program and marketplace, gives members access to transformative, eye-opening experiences around the corner and across the globe. Marriott Bonvoy's portfolio of 30 extraordinary brands offers renowned hospitality in the most memorable destinations in the world. Members can earn points for stays at hotels and resorts, including all-inclusive resorts and premium home rentals, as well as through everyday purchases with co-branded credit cards. Members can redeem their points for experiences including future stays, Marriott Bonvoy Moments, or through partners for luxurious products from Marriott Bonvoy Boutiques. With the Marriott Bonvoy app, members enjoy a level of personalization and contactless experience that allows them to travel with peace of mind. To enroll for free or for more information about Marriott Bonvoy, visit marriottbonvoy.com. To download the Marriott app, go here. Travelers can also connect with Marriott Bonvoy on Facebook, Twitter, Instagram and TikTok.
Media Contact:
ONE Esports
Elissa Young
Senior Manager of PR & Communications
(e): e.young@oneesports.gg
(m): +65 9226 4022
Marriott International
Edeline Berg
Senior Manager, Communications, Asia Pacific (excluding Greater China)
(e): edeline.berg@marriott.com
(m): +65 9238 8089