Overwatch 2 is coming this year, along with a new Tank hero called Junker Queen, new maps, and more. The game is also transitioning to a live service, free-to-play model, better positioning it to compete with other free-to-play shooters like Valorant and Apex Legends.
To entice existing players to return to the sequel, Activision Blizzard also announced the Overwatch 2 Founder's Pack, a free item bundle comprising two epic skins, an exclusive founder's icon, and a surprise gift to be announced before the game's October release.
Here's how you can get the Founder's Pack.
---
---
Get the Overwatch 2 Founder's Pack for free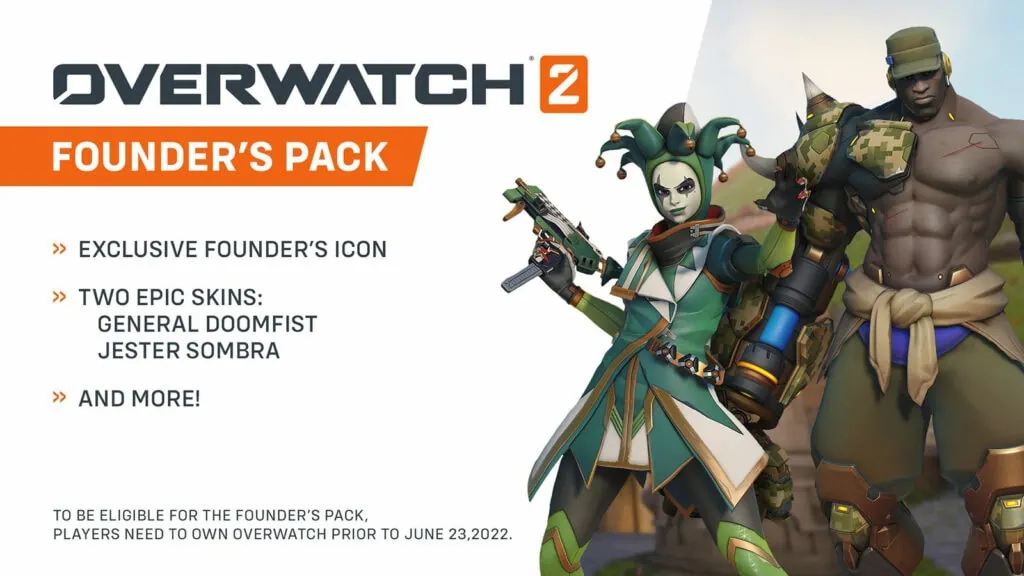 All players who own Overwatch prior to June 24, 2:00 a.m. GMT+8 | June 23, 11:00 a.m. PDT will be eligible to receive the pack. This means you can still purchase the game if you don't already have it.
To redeem the pack, simply follow the steps below:
Purchase Overwatch. If you already own the game, install it.
Log into Overwatch or Overwatch 2 by December 6, 2:59 p.m. GMT+8 | December 5, 11:59 p.m. PDT.
The two epic skins are the General Doomfist and Jester Sombra skins, both new looks for their respective heroes.
Doomfist is decked out in army camouflage and a military-style cap, while Sombra steps into the shoes of the court jester, complete with full face paint and a traditional fool's cap.
Overwatch 2 will launch as an early access release on October 4.
READ MORE: Where to buy the Finalmouse Starlight-12 gaming mouse