With the ONE Esports MPL Invitational just nine days away, we now know the full bracket for the first round.
The bracket was selected through a live draft that saw the four MPL Champions — Indonesia's RRQ Hoshi, The Philippines' Bren Esports, Malaysia's Todak, and Myanmar's Burmese Ghouls — take turns drafting teams to their quarter of the bracket.
If you missed the draft, you can watch the entire show here:
Here's the complete draft order:
Burmese Ghouls: Orange Louvre
RRQ Hoshi: EVOS Legends
Todak: Geek Fam ID
Bren Esports: Aurafire
BREN: Aura PH
TDK: Bigetron Alpha
RRQ: Alter Ego
BG: EVOS SG
BG: Execration
RRQ: Omega Esports
TDK: Resurgence
BREN: ONIC ID
BREN: ONIC PH
TDK: Blacklist International
RRQ Hoshi: Genflix Aerowolf
BG: Ronin Esports
And this is what the bracket looks like: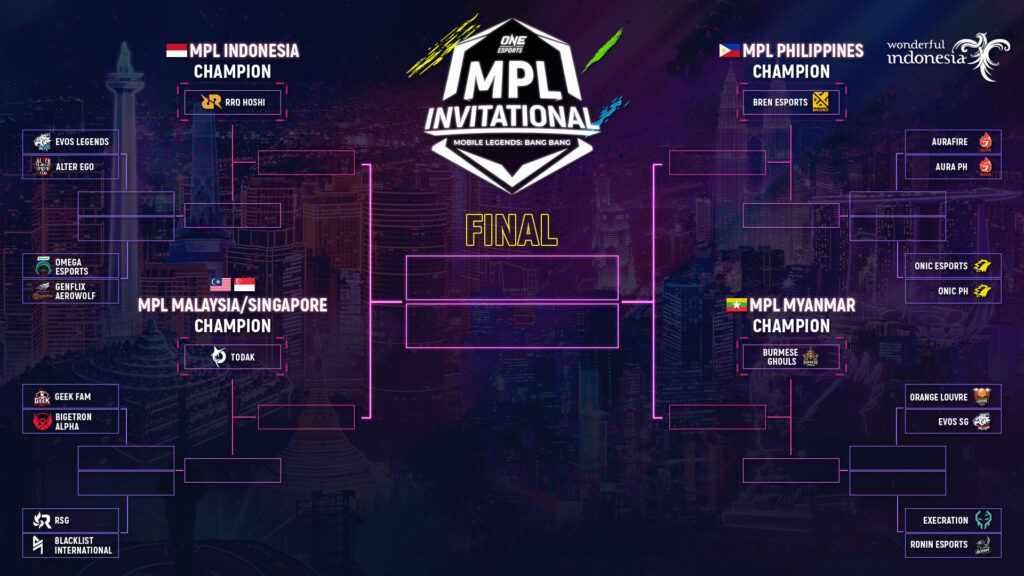 ---
---
RRQ's 9000 IQ draft strategy
While most teams were expected to use the draft to try to avoid tough competition like EVOS Legends and Alter Ego, RRQ Hoshi surprised everyone by immediately using their first two picks on their MPL ID rivals, setting up an epic first-round match.
When asked why they chose EVOS Legends and Alter Ego first, RRQ Hoshi said they want to play the best teams, but their strategy also means that at least one of their toughest competitors will be immediately eliminated from the competition.
Additionally, with EVOS Legends sporting a new squad bolstered by recent additions, Antimage and LJ, having them play Alter Ego in the first round could mean that they won't have time to build up team chemistry first playing against easier opponents.
Bren Esports trying to collect 'em all
Bren Esports also had an interesting draft strategy that saw them pit both of Aura Esports and ONIC Esports teams against each other. As a result, we now have Aura PH vs Aura ID and ONIC PH vs ONIC ID first round matches.
Both teams should be very familiar with each other through internal scrimming, so it will be interesting to see how these matches play out.
The MPL Invitational begins on Friday, November 27, and will span two action-packed weekends culminating with the final on December 6.
Be sure to bookmark our event site to stay up to date on the ONE Esports MPL Invitational