With the MPL Invitational just two weeks away, ONE Esports is proud to announce a unique Champion's Draft format that will determine the first round bracket.
The four MPL Champions — Indonesia's RRQ Hoshi, The Philippines' Bren Esports, Malaysia/Singapore's Todak, and Myanmar's Burmese Ghouls — will automatically qualify for the quarterfinals.
The remaining 16 teams will be drafted into four groups of four with representatives from each of the MPL Champions taking turns to draft teams into their quarter of the bracket.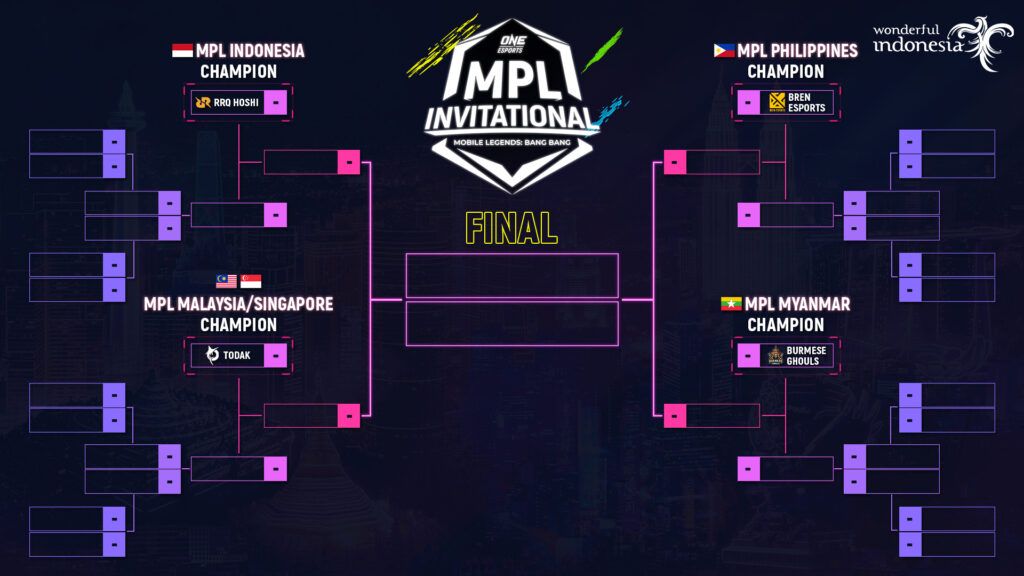 The 16 teams eligible to be drafted are:
Indonesia: Alter Ego, Aurafire, Bigetron, EVOS Legends, Geek Fam ID, Genlix Aerowolf, ONIC Esports,
Malaysia: Orange Louvre Esports,
Myanmar: Ronin Esports
The Philippines: Aura PH, Blacklist International, Execration, Omega PH Esports, ONIC PH
Singapore: EVOS SG, Resurgence
The draft order for the four champions will be determined before the draft with a lottery-style draw.
Once the order has been determined, the draft will proceed in a snake format (i.e. 1, 2, 3, 4, 4, 3, 2, 1) until all teams have been selected.
The champions will be allowed to choose any of the 16 teams available, and the bracket for the first round will be determined by the order in which the teams are selected.
How to watch the draft
The draft will take place live on Wednesday, November 18 at 8 p.m. (GMT+8) and will be streamed on our Facebook page and YouTube channel. The draft will be hosted by MPL caster, Momochan, and legendary Indonesian esports host, Gerry Eka.
The MPL Invitational itself will begin on November 27, and will span two action-packed weekends with the finals culminating on 6 December 2020.
Be sure to bookmark our event site to stay up to date on the ONE Esports MPL Invitational
READ MORE: Win Balmond Savage Pointguard by showing support for your favorite MPLI team