Aldous, One of the most played heroes in Mobile Legends: Bang Bang, will finally get his very own collector skin.
Realm Watcher Aldous will be arriving in the Land of Dawn, and will sport a brand new look along with a ton of visual changes to his skills.
First look at Realm Watcher Aldous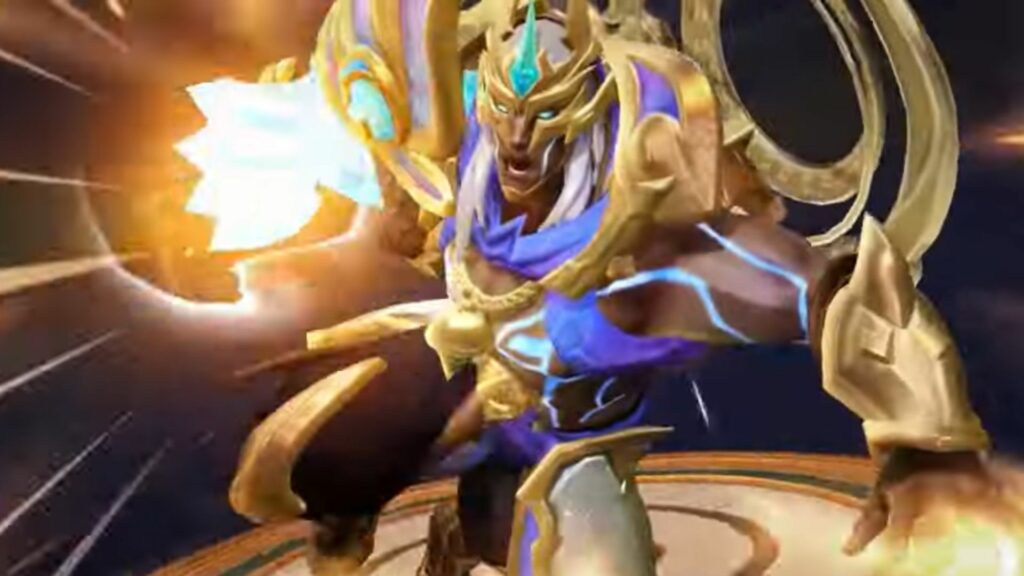 The collector skin was first announced on Mobile Legends: Bang Bang's YouTube page.
Aldous is now covered with glowing tattoos, and wears less armor compared to his previous skins, but still looks as intimidating as ever. He is also wearing a golden mask and pauldrons that really highlight his godlike strength.
What sets apart this skin from his previous skins is his majestic right arm, which is now gleaming with blue energy. Also, a small dragon wraps around his arm, making every punch Aldous makes a spectacle in battle.
Realm Watcher Aldous' updated skills
The skin features numerous changes to his skills. First off, lightning falls from the sky and the ground shatters every time you cast Contract: Soul Steal.
Aldous surrounds himself with a ball of energy and explodes ferociously after a few seconds with Contract: Explosion.
What makes this skin worth a buy is his ultimate, Contract: Chase Fate. Aldous turns into a giant dragon's head as he charges towards an enemy, where lightning erupts when he reaches his target.
Now that's a sight to behold!
Realm Watcher Aldous will be available in the in-game store on the first week of September.
READ MORE: Peony Bloom Pharsa lets you summon giant pink flowers during battle