Mobile Legends: Bang Bang Professional League Malaysia Season 8 (MPL MY Season 8) is now in full swing, with exciting matches and intense storylines for fans to witness.
This season brings new faces, such as Lu Khai "Sasa" Bean, who transferred from MPL ID to MPL MY. We'll also have to wait and see if RSG MY is able to defend their title.
---
MPL MY Season 8 format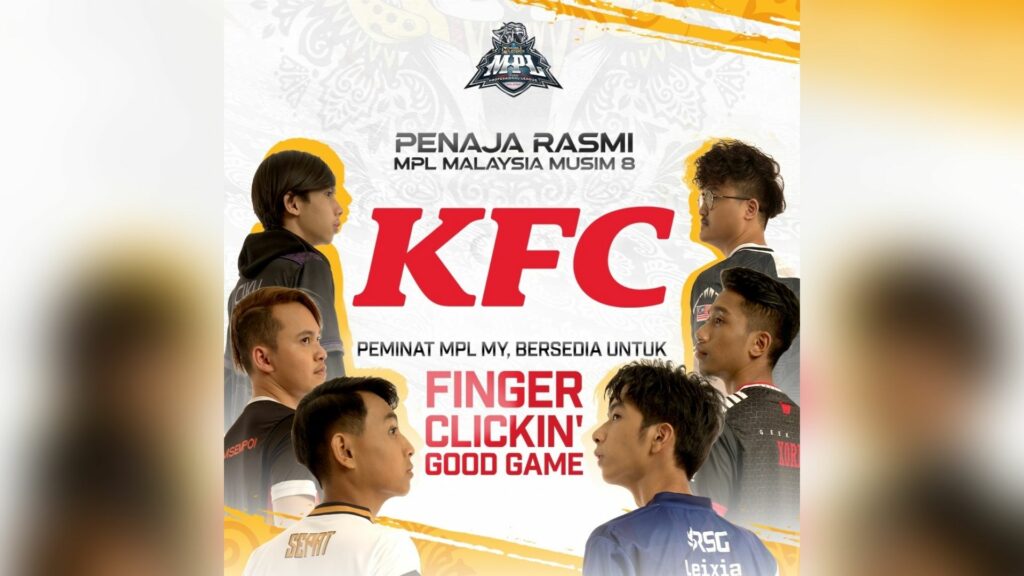 The ten teams for MPL MY Season 8 are divided into two groups, Group A and B.
The first phase of the tournament will be played in a best-of-three format. The second phase will involve the two groups competing against each other in a single-round format.
The top two teams in each group after the end of the season will proceed to the upper bracket of the playoffs. The third and fourth teams will be seeded into the play-in stage, where they'll fight it out for a lower bracket spot.
The playoffs will run in a double elimination bracket, except for the grand final, which will be a best-of-seven series.
---
MPL MY Season 8 schedule and results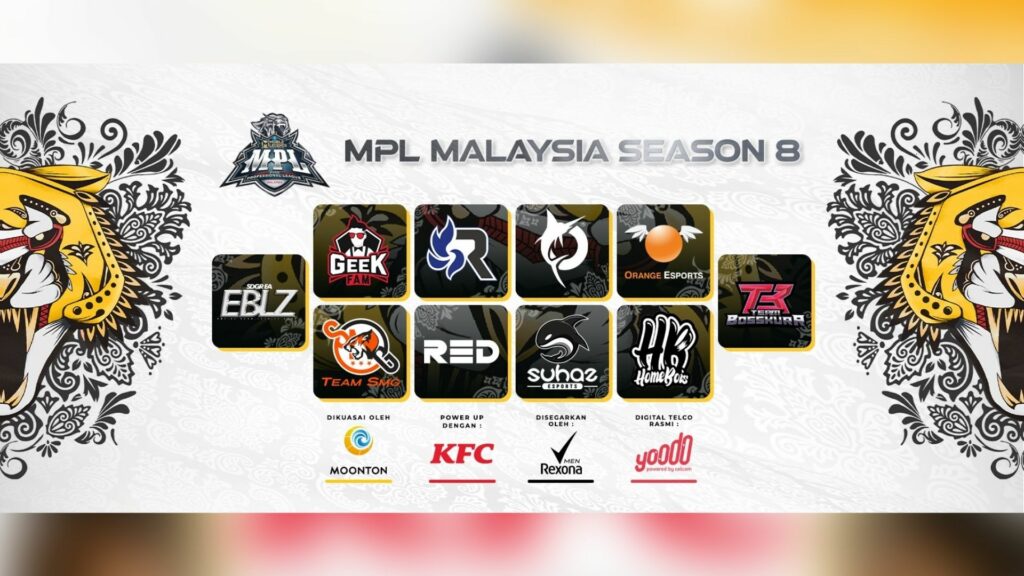 MPL ID S8 will feature eight weeks of Mobile Legends: Bang Bang action.
Week 1
AUGUST 13 (FRIDAY)
TEAM

RESULTS

TEAM
Suhaz Esports
2 – 1
EBLZ
Homebois
2 – 1
Team Bosskurr
AUGUST 14 (SATURDAY)
TEAM

RESULTS

TEAM
Orange Esports
0 – 2
Team SMG
RSG MY
2 – 0
Suhaz Esports
Geek Fam
1 – 2
Todak
AUGUST 15 (SUNDAY)
TEAM

RESULTS

TEAM
Todak
1 – 2
Homebois
Red Esports
2 – 1
Geek Fam
EBLZ
1 – 2
Orange Esports
---
Week 2
AUGUST 20 (FRIDAY)
TEAM

RESULTS

TEAM
Red Esports
0 – 2
Team Bosskurr
Team SMG
2 – 0
EBLZ
AUGUST 21 (SATURDAY)
TEAM

RESULTS

TEAM
Geek Fam
2 – 0
Homebois
Todak
1 – 2
Red Esports
Orange Esports
2 – 0
RSG MY
AUGUST 22 (SUNDAY)
TEAM

RESULTS

TEAM
RSG MY
2 – 0
EBLZ
Suhaz Esports
2 – 1
Orange Esports
Team Bosskurr
0 – 2
Geek Fam
---
Week 3
AUGUST 27 (FRIDAY)
TEAM

RESULTS

TEAM
Team SMG
0 – 2
Suhaz Esports
Homebois
0 – 2
Red Esports
AUGUST 28 (SATURDAY)
TEAM

RESULTS

TEAM
Suhaz Esports
2 – 0
EBLZ
RSG MY
2 – 0
Team SMG
Team Bosskurr
1 – 2
Todak
AUGUST 29 (SUNDAY)
TEAM
Geek Fam
0 – 2
Todak
Homebois
2 = 1
Team Bosskurr
EBLZ
0 – 2
Orange Esports
---
Week 4
SEPTEMBER 3 (FRIDAY)
TEAM

RESULTS

TEAM
Red Esports
2 – 0
Geek Fam
RSG MY
2 – 0
Suhaz Esports
SEPTEMBER 4 (SATURDAY)
TEAM

RESULTS

TEAM
Red Esports
1 – 2
Team Bosskurr
Todak
2 – 1
Homebois
Orange Esports
2 – 0
Team SMG
SEPTEMBER 5 (SUNDAY)
TEAM

RESULTS

TEAM
Team SMG
2 – 0
EBLZ
Orange Esports
2 – 0
RSG MY
Geek Fam
2 – 0
Homebois
---
---
Week 5
SEPTEMBER 10 (FRIDAY)
TEAM
Suhaz Esports
0 – 2
Orange Esports
Todak
2 – 0
Red Esports
SEPTEMBER 11 (SATURDAY)
TEAM

RESULTS

TEAM
RSG MY
1 – 2
EBLZ
Team SMG
2 – 1
Suhaz Esports
Team Bosskurr
0 – 2
Geek Fam
SEPTEMBER 12 (SUNDAY)
TEAM
Homebois
2 – 0
Red Esports
Team Bosskurr
0 – 2
Todak
RSG MY
0 – 2
Team SMG
---
Week 6
SEPTEMBER 17 (FRIDAY)
TEAM

RESULTS

TEAM
RSG MY
0 – 2
Homebois
Orange Esports
1 – 2
Geek Fam
SEPTEMBER 18 (SATURDAY)
TEAM

RESULTS

TEAM
EBLZ
2 – 1
Team Bosskurr
Team SMG
1 – 2
Homebois
Suhaz Esports
2 – 1
Red Esports
SEPTEMBER 19 (SUNDAY)
TEAM

RESULTS

TEAM
EBLZ
0 – 2
Geek Fam
Team SMG
2 – 0
Red Esports
Suhaz Esports
0 – 2
Todak
---
Week 7
SEPTEMBER 24 (FRIDAY)
TEAM

RESULTS

TEAM
EBLZ
0 – 2
Todak
RSG MY
1 – 2
Team Bosskurr
SEPTEMBER 25 (SATURDAY)
TEAM

RESULTS

TEAM
EBLZ
0 – 2
Homebois
Team SMG
1 – 2
Todak
Orange Esports
2 – 0
Red Esports
SEPTEMBER 26 (SUNDAY)
TEAM

RESULTS

TEAM
Orange Esports
2 – 1
Homebois
Suhaz Esports
2 – 0
Team Bosskurr
RSG MY
0 – 2
Geek Fam
---
Week 8
OCTOBER 1 (FRIDAY)
TEAM

RESULTS

TEAM
Orange Esports
2 – 1
Todak
Team SMG
2 – 1
Geek Fam
OCTOBER 2 (SATURDAY)
TEAM

RESULTS

TEAM
RSG MY
0 – 2
Todak
Suhaz Esports
0 – 2
Geek Fam
Team SMG
2 – 0
Team Bosskurr
OCTOBER 3 (SUNDAY)
TEAM

RESULTS

TEAM
Team Bosskurr
2 – 1
Orange Esports
Suhaz Esports
2 – 1
Homebois
RSG MY
2 – 0
Red Esports
---
MPL ID Season 8 standings
*As of September 12 (Week 5)
Group A
| | | | |
| --- | --- | --- | --- |
| TEAM | MATCH W – L | GAME W- L | POINTS |
| Orange Esports | 8 – 3 | 18 – 8 | 24 |
| Team SMG | 6 – 5 | 14 – 11 | 19 |
| Suhaz Esports | 6 – 5 | 13 – 13 | 16 |
| RSG MY | 4 – 7 | 10 – 14 | 14 |
| EBLZ | 2 – 10 | 6 – 22 | 6 |
Group B
| | | | |
| --- | --- | --- | --- |
| TEAM | MATCH W – L | GAME W – L | POINTS |
| Todak | 9 – 2 | 20 – 8 | 25 |
| Geek Fam | 7 – 4 | 16 – 9 | 22 |
| Homebois | 8 – 4 | 18 – 12 | 22 |
| Team Bosskurr | 3 – 8 | 10 – 18 | 11 |
| Red Esports | 3 – 8 | 8 – 18 | 9 |
---
Where to watch MPL MY Season 8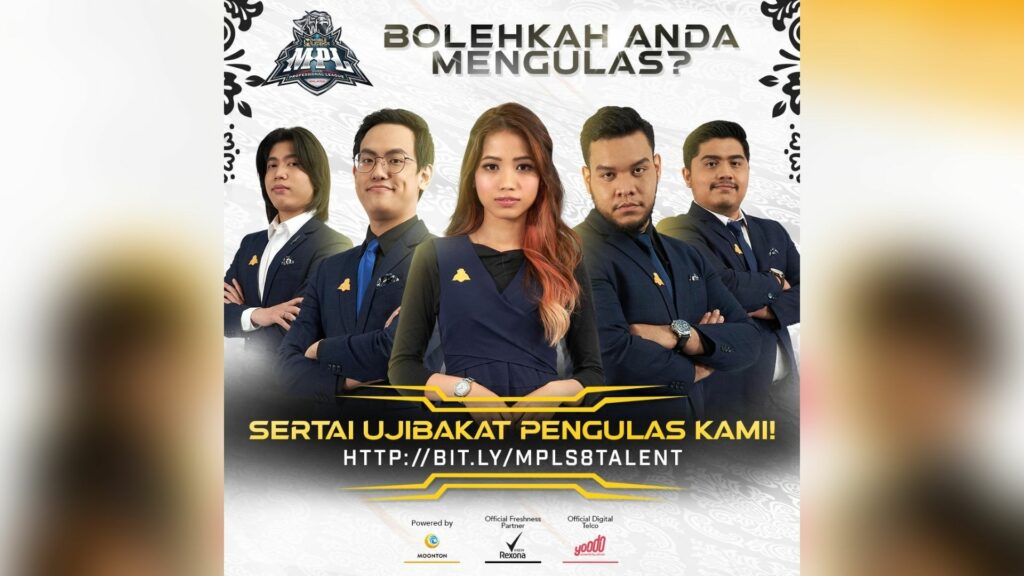 The tournament can be watched on various channels. Here are the official MPL MY S8 social media platforms for live games:
READ MORE: MPL ID Season 8: Results, Schedule, format, where to watch