While the North America region is known for having a reliance on League of Legends veterans, the League of Legends Championship Series is now turning a new leaf with a revamp of its Academy system.
Ditching the mirrored LCS season, Academy will now incorporate amateur teams into its competitive scene. While the official Academy teams will have a shortened season from January to February, the teams will compete for different qualifications in the new format. Instead of playoffs, teams will enter into tiered tournaments and will end the season around April with the LCS Proving Grounds.
The LCS Proving Grounds will host 16 teams comprising amateur and Academy teams. The Academy season will automatically qualify its top six teams into the LCS Proving Grounds.
As for the amateur teams, they will go through a series of Tier 2 tournaments to qualify for the three Tier 1 tournaments. The Tier 1 tournaments will mix the four Academy teams left with amateur teams to determine the final 10 to qualify for the LCS Proving Grounds.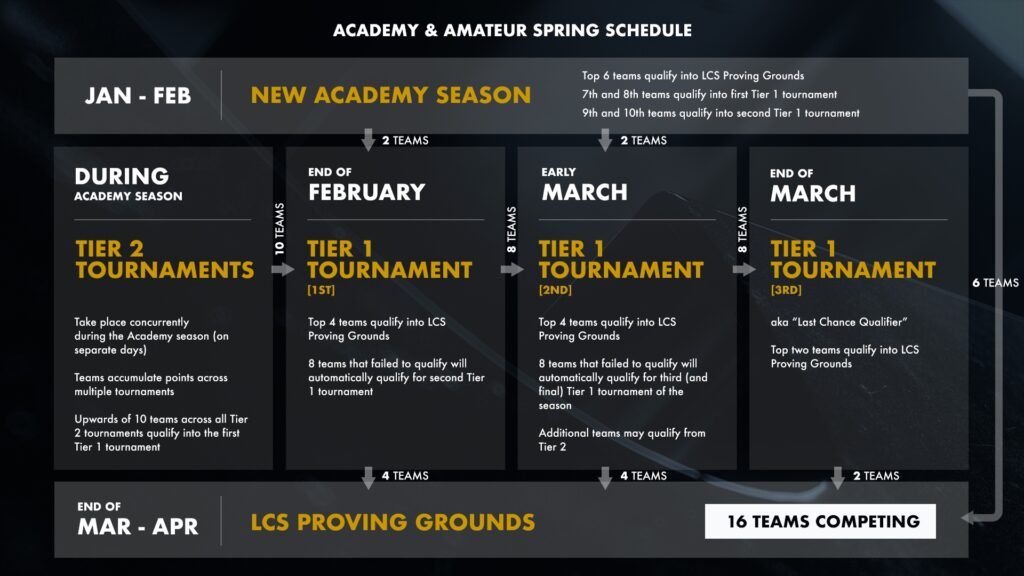 ---
---
While the new format may be considerably different compared to the previous Academy setup that echoed the pro scene, it opens a lot of opportunities for up-and-coming players in the region. Even if your team is lacking in sponsorships and exposure, this would provide you with the chance to meet LCS teams, third-party tournament organizers, brand sponsors, and other amateur teams unaffiliated with the LCS to develop your team credibility.
The new ecosystem will undoubtedly help develop Academy teams in terms of their competitive experience. Aside from getting a taste of a regular season, the Academy teams will face unknown talent when going against amateur teams in the Tier 1 tournaments. In terms of developing rosters, it would also be a great way for Academy teams to scout out young prospects in a more professional setting.
Though it might be a sneaky way for strong organizations to scope out the next generation of stars, the LCS has reflected the same poaching restrictions to the new Academy system. Amateur players are only signed to one-year contracts to be able to test the free agency market while amateur teams are protected by player-acquisition compensation and have no requirement to transfer any of their players to an LCS/Academy org.
This is a solid way for the LCS to cultivate the NA region's local talent in a progressive manner. Instead of relying on just one event like LCS Proving Grounds to make or break an amateur player's career, more and more players can participate with the new tier tournament set-up and see if they have what it takes to play in the bigger leagues.
READ MORE: Cloud9 promotes Academy top laner, Fudge, to main LCS roster